404 Ink and Neu! Reekie! announce Christmas extravaganza
Neu! Reekie! and 404 Ink have put together a wonderful literary gift this festive season called The Big Ten For Christmas, featuring readings from Helen McClory, performances by Darren Loki McGarvey and The Honey Farm – plus a virtual Margaret Atwood
This Christmas Neu! Reekie! and 404 Ink will celebrate the big one-oh (sort of) – they've come up with a tenth anniversary celebration as Edinburgh poetry collective Neu! Reekie! have been going for eight years now, and independent publishers 404 Ink have reached the terrible twos. Spurious mathematics or not, the two outfits have come together to create a mouthwatering literary line-up at Summerhall this Xmas. 
404 Ink – aka those "nasty women shaking up the book industry" – are bringing flash fiction extraordinaire Helen McClory to Summerhall to this event, along with powerful poetry performer Nadine Aisha Jassat. Another great Christmas gift from 404 Ink is Scotland's weirdo laureate Chris McQueer, who'll be reading some of his absurdly hilarious short stories.
Neu! Reekie!'s guests are no less exciting. There's performances from hip-hop artist and social commentator Darren 'Loki' McGarvey and all-female hip-hop supremos The Honey Farm. Their final Christmas surprise is that they'll be beaming in the mighty Margaret Atwood on a live feed from Canada, who'll be giving an exclusive reading and taking part in a Q&A. If that wasn't enough, we're told the hosts for the night will be Neu! Reekie!'s Michael Pedersen and Kevin Williamson, team 404 Ink, and both Jesus and Santa!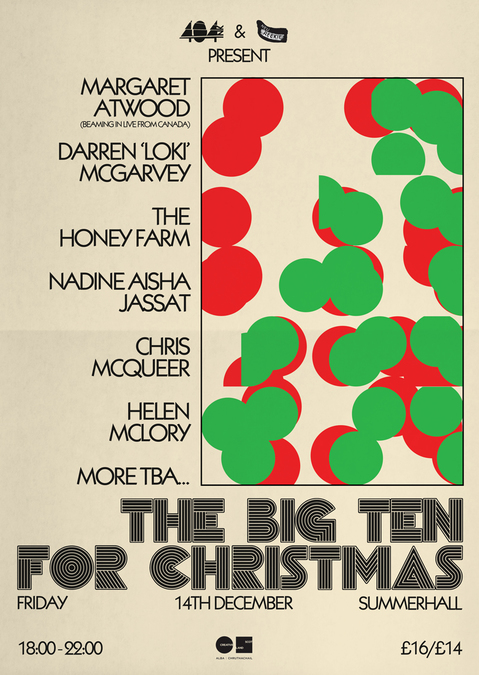 ---
The Big Ten For Christmas, 14 Dec, Summerhall, Edinburgh, £14-£16. More info and tickets here: summerhall.co.uk/event/the-big-ten-for-christmas