William McIlvanney: Laying Down The Law
As Canongate prepare to republish the complete works of William McIlvanney, starting with his Jack Laidlaw detective novels, we talk to "the Clark Gable of Scottish crime fiction" about inspiration, influence, and the importance of imagery
Speaking at the annual Aye Write! Book Festival in Glasgow, William McIlvanney reflects on the admiration of his peers in the Scottish crime fiction community, collectively known as purveyors of 'tartan noir' – a genre he kick-started almost single-handedly in 1977. His fellow writer Val McDermid refers to McIlvanney as "the Clark Gable of Scottish crime fiction," a title he more than owns, even in his 70s. With a trim, neat moustache and carefully combed hair, he is still the very image of the glamorous 1950s Dapper Dan; a strikingly handsome man with a proud, firm jut to his chin and a mischievous twinkle in his eye.
The reverence with which other crime writers refer to McIlvanney, particularly here in Scotland, is both touching and completely justified. When he published the first Jack Laidlaw novel, simply titled Laidlaw, in 1977, it was a revelation. Never before had a police procedural been set on the mean streets of Glasgow, or anywhere in Scotland for that matter. Arguments could be made for seeing James Hogg's Confessions of a Justified Sinner, or perhaps some of Robert Louis Stevenson's novels, as crime fiction – but Laidlaw was the first Scottish novel to fully employ the tropes common in detective fiction. His central character, Jack Laidlaw, became something of a model for the heroes of subsequent Scottish procedurals, with more than a trace of McIlvanney's distinctive style visible in characters like Jim Taggart and John Rebus.
Imagined as "a bathyscaphe sunk in to society" in order to explore McIlvanney's social concerns, Jack Laidlaw was created in part as a reaction to the smattering of detective fiction McIlvanney had read. He says of Agatha Christie: "Murder at the vicarage? No, that's not for me." Instead, he wanted to explore the gritty, colourful and dangerous underbelly of 1970s Glasgow, a city riddled with economic deprivation and riven with numerous divides; economic, social, sectarian and cultural.
Asked if he sees the Laidlaw novels, of which there are currently three – Laidlaw, The Papers of Tony Veitch (1983) and Strange Loyalties (1991) – in a different light to his other work, McIlvanney answers with a firm no: "I don't see them in any sense of commercial difference at all. To me, they're part of an overall framework. Without being too ponderous, I think the books are all connected, and I think that Laidlaw – the character of Laidlaw – and the form of those books allowed me to examine certain areas of society. You could look at the darker places and still create the necessary excitement and, hopefully, entertainment through that as well. So I see him as an explorer of the same society that I write about in the other books, but going to darker places."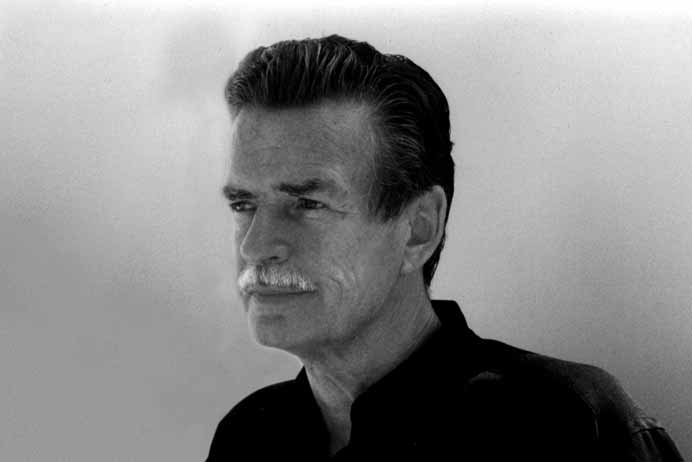 The Laidlaw novels, despite their seminal influence on writers such as McDermid, Ian Rankin and Denise Mina, remained out of print for several years until this month, when Edinburgh-based Canongate Press republish the first. Its two companion volumes will follow in the coming months along with, it has been revealed, the rest of McIlvanney's justly-revered work, including his debut novel Remedy is None (1966) and Docherty (1975), a family saga novel set in the early years of the twentieth century. Last year at the inaugural Bloody Scotland Crime Fiction Festival in Stirling, McIlvanney spoke eloquently of his work as an attempt to engage with the social history of working-class Scotland – and this motivation is as clear in Laidlaw as it is in his non-genre work.
How does McIlvanney feel about the renewed interest in his work? "It's just amazing to have it resurrected like that," he says, a huge smile cracking his face. "I thought all of my books might be dead in the water when Canongate turned up, so the first thing that I want to say is that they're terrific publishers." He describes them as "positively Pentecostal" about books: "They don't just publish, they publish with passion." He is pleased to see Laidlaw in particular get a new lease of life, and reach a new generation of readers: "He meant a lot to me," he says. "I think of him warmly, and he may resurrect yet."
---
"I don't like describing things in vague ways, I like to concretise them. The main dynamic of my writing is imagery" – William McIlvanney
---
The resurrection he alludes to refers to another exciting prospect mentioned at both Bloody Scotland and Aye Write! – the author's half-formed plans to bring back the character of Jack Laidlaw in a new novel. Whether that new appearance would take the form of a prequel, returning to the richly-evoked territory of 1970s Glasgow to meet a young Laidlaw, or a modern-day update featuring the retired detective being brought in to work on a present-day case, has yet to be decided. In his view, Laidlaw would be at sea in the world of computers, databases and wi-fi which we now inhabit. McIlvanney is proudly "technologically illiterate" – he still writes all of his novels in longhand, and his soon-to-be-launched website, which features essays, reflections and observations from the author, is run by his son.
What about Glasgow itself – in all good crime fiction, the city is as much of a character as the detectives and villains. Has the city he adopted as home (McIlvanney originally hails from Kilmarnock) changed a lot in 35 years? "The same essence of Glasgow survives that was there in the 70s when I wrote Laidlaw," he says. However, "the surface changes in our society are phenomenal: there were no mobile phones, there was no internet. I think the essence of Glasgow stays the same, but the surfaces through which it operates are hugely different. Laidlaw would be lost, trying to function in the kind of context that we have today." Perhaps the prequel is the more likely bet, then.
As a character, Laidlaw – certainly in the first novel – is something of an iconoclast, both intellectually, and in terms of his attitude. He doesn't fit in with a lot of his peers, particularly in the police force. To what degree was this something of a self-portrait? "That's a very hard question," says McIlvanney. "I honestly don't know. As far as I know, I've always fitted in fairly comfortably to society; but I think any writer is a kind of outcast in a way, because they don't simply live their lives, they overtake them and examine them. So I think I'm both: I think I can fit easily into society, but when I do I take away notes for my privacy, where I get another perspective on it. I've never felt out of place or anything; I think maybe I'm just a good con artist."
One thing that continues to impress in McIlvanney's writing is his economy of style – he is the master of the pithy observation, and the intricately constructed, compact image. "I've always believed in images," he says with firm conviction. "I write in an imagistic way because I think that an image is a very succinct way of putting across a meaning; and it's also a very democratic way of doing it. We all understand images." I put it to him that this is the essence of good writing, but he rebuffs my point with self-deprecating humour. "You would have to tell me what the essence of writing is – I just write the stuff, I don't know." He smiles again.
"To me it feels like the essence is that it's concrete. I love concretion, I love not getting airy fairy, and I think images keep you nailed to the earth. It seems to me – and you would have to make up your own mind about this – that what drives Laidlaw most is the concretion of the images. I don't like describing things in vague ways, I like to concretise them. The main dynamic of my writing is imagery." This compactness, this concreteness, recalls noir greats like Raymond Chandler, but McIlvanney admits: "I haven't read much noir, I haven't read much crime fiction." He says the reason he created Laidlaw was simply that after the historical concerns of Docherty, he was suffering from "contemporary starvation." Although he is not dismissive towards crime fiction as a genre, he admits he used it for his own ends, seeing it as a form that could "fight as a middleweight rather than a flyweight" in literary and commercial terms.
Discussions over the literary merits (or otherwise) of crime fiction aside, McIlvanney is thrilled by the warmth and admiration with which he has been welcomed back by the tartan noir literati. "I'm stunned by how generous they've been towards me; they have been terrific," he says. "There are a lot of literary things you go to, and there are people wandering about with knives sticking out their backs that they don't know are there. What I discovered last year at Bloody Scotland was how generous these people are," he says, talking of Rankin, McDermid et al. "I know I came in early, but that I had such influence kind of took me by surprise." He shrugs modestly. "That people would acknowledge such influence kind of knocked me out, it just made me feel far better than I thought I was going to feel. So, I mean, I don't know how much of an influence I've been, they'd have to tell you that, but I'm very proud to be acknowledged as having influence by those people."
---
"Don't lose the personal mania that makes you write. It's great to be helped by others, but finally you have to help yourself" – William McIlvanney
---
It seems that the new association with Canongate and the warmth and attention he has received from his peers have given him a new lease of life. "If you can get published by people who love books, you've got a chance," he says, speaking of the Pentecostal Canongate once more. "I've real hope that the books may effectively resurrect and that they'll be appreciated; but obviously it's always a gamble in this game, so I would just say I'm just delighted to be published by Canongate, and if they don't make it work for me then nobody could, so I'll take my chances."
A lifelong socialist, does McIlvanney have any thoughts on the recent passing of the Iron Lady? "First of all," he says, "reports of socialism's death are greatly exaggerated." Nonetheless, he goes on to say that the left is "very unwell," and in need of rehabilitation. Is this Thatcher's fault, directly or indirectly? "She made the Labour party trim itself so far to meet the terms she had created that it lost its own identity, so I don't think there is a serious Labour movement just now," he says. "As a socialist, I'm deeply disappointed. I don't think that there is serious socialism in this country, but I think it will come back. I think it has to come back, because I think that the kind of superficial gibberish that has followed Mrs Thatcher's death is appalling. My ma once said to me that if you can only speak ill of the dead, then don't say anything, and I can only speak ill of the dead in this case... so I'll not say anything." Nevertheless, he adds: "the canonisation of a woman whose horizons she kept in her purse, I find appalling."
With time drawing on, I ask McIlvanney if he has any advice for the next generation of aspiring Scottish writers. "It would be 'Take advice but don't take it slavishly.' I think that anybody who is a writer, they write, first of all, for themselves; out of themselves," he says. "Don't lose the personal mania that makes you write. It's great to be helped by others, but finally you have to help yourself. Take all the advice you can get, but don't take it too seriously, and obey your demon. Obey the bit of you that wants to say something, and knows what it wants to say."
In McIlvanney's case, one can only hope the demon keeps whispering for as long as possible. It is a hugely exciting prospect to imagine a new generation of readers discovering his stark, imagistic prose, and his deeply-held belief in the importance of social history. As a chronicler of life in the West of Scotland, his work ranks alongside our best and most celebrated writers; as tough and bleak as Kelman, and as compulsively readable and relevant as Denise Mina. We're lucky to have him, and Canongate's resurrection of his work is both timely and exciting. In a world where, according to David Cameron at least, "we are all Thatcherites now," Jack Laidlaw could be just the hero we need.
Read our review of William McIlvanney's Laidlaw here.
Laidlaw is published by Canongate, out 2 May, RRP £7.99.
William McIlvanney will be discussing Laidlaw at Waterstones Edinburgh West End on 2 May at 6pm, and Waterstones Glasgow Argyle St on 16 May at 7pm.
http://www.canongate.tv/laidlaw.html