BHP Comics' Sha Nazir on The Bold Collection
Glasgow-based BHP Comics' Sha Nazir on their new Bold Collection, the challenges of indie publishing, and fostering more diverse voices in the Scottish comics scene
There's a certain joy that comes with running a publisher, discovering new writing talent and bringing that out into the world. But there are some projects that start at a more granular level; instead of seeing what writing is out there already, you're able to start at square one and craft something from scratch. This is the origin story of the Bold Collection, the new offering from Glasgow-based BHP Comics. After weathering the past few years that threw up many challenges for small companies across the board, they're returning with a whole new universe for readers to enjoy.
"Gary [Chudleigh] and I set out with a plan to create comics we wanted to read," explains BHP founder Sha Nazir. "So we both made a long list of ideas and pitched them to each other. From there we created a shortlist of eight ideas and then wrote a short synopsis of each. We then threw it back and forth until we agreed on the four ideas we moved forward with. At that point, the focus was about making each story work in its own world and making that story as complete as possible. Most of this is done by Gary and I writing up a bible for each idea, with character breakdowns, synopsis and story beats long before it's handed to a writer to execute."
The resulting four comic books each tell a "jam-packed, self-contained story in 20 pages, but when combined, the comics tell a bigger story within a shared universe that explores the dynamics and consequences of power," Nazir explains. 
Readers can travel through the new Bold universe via Storm Hunter, by Gary Chudleigh, Lorna King and Kat Hall, featuring mythical warriors fighting giant beasts; Principle, by Umar Ditta and Robin Richardson, featuring an immigrant superhero who fights for justice; The Losers' Club, by Tara Mallen and Chris Stefanova, with a group of superhero sidekicks in hiding; and Agents of Mi7, by Kumail Rizvi and Daniel Coloma, spotlighting the elite spy squad who take out supervillains, all lettered by Hassan Otsmane-Elhaou.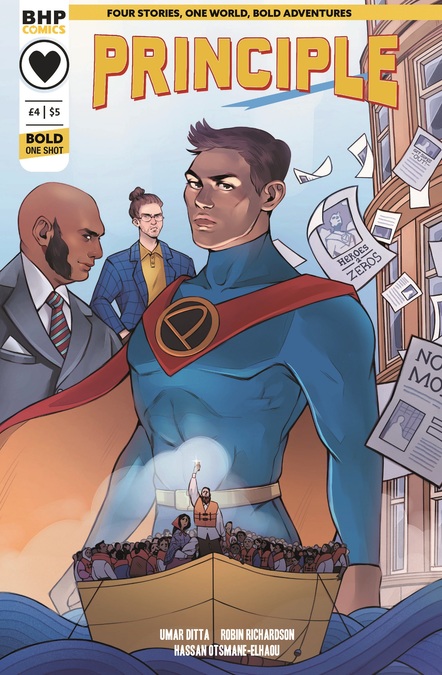 Though this project started as an idealistic 'What would we want to read?' affair, it too allowed the publisher to support exciting writing talent. BHP are keen to not only be at the forefront of new, bold comics publishing, but to continue to foster emerging creators across both writing and illustration. "I've always mentored or tried to help others around me," explains Nazir. "There was nothing there for me when I was coming up, and it's in my nature to want to share knowledge. We support talent in lots of ways, from practical help, advice on pitches and their journey and importantly opening doors and shedding light on the industry knowledge I've accumulated. And equally it's about getting more diverse voices out there in comics which is a predominantly white space in Scotland.
"We didn't have any preconceived ideas [for the comics themselves] apart from quality – the look of each book and who we assigned to the projects for script and art duties almost came as a gut feeling. The artist had to have something to offer the characters and the writer challenged our ideas and made their own input without going out on a limb.
"We had this vision that [tying the books together] was something we'd like to do but didn't push it until it sort of naturally occurred," he continues. "Once the moral spine of each story was solidified, we then organically started the 'Kevin Feige' part of subtly tying each book together into a shared universe. For us, it was an opportunity to have fun, and explore how our universe actually sat together across the whole timeline. From the larger picture, readers will see how the world unfolds for them and discover reoccurring characters across the four comics, as a whole giving a more satisfying read and leaving the door open for more story strands."
The series, on top of its narrative merits, also includes firsts, such as the first mainstream non-binary super character, and first British South Asian superhero in UK comics. "As the only South Asian heritage publisher in Scotland and only South Asian comics publisher in the UK, I guess it kind of fell to me to do," notes Nazir, "at least coming from a space where it gives the character some genuine background and empathy. It's probably taken so long because of the system and timing, and decision makers not wanting to put their necks on the line. And yeah, for BHP it's not important to do firsts, but we just happen to be the only ones saying yes to other ideas and more representative characters, like Jamie from The Losers' Club, a first mainstream non-binary super character in UK comics."
It is a testament to the indie scene that, in the face of numerous challenges, many publishers are emerging with new projects of such scale and ambition – new imprints, new series, and, here, new fictional universes. A lot of it comes from the creative desire to branch out, but a lot is also a nimbleness, adapting and reacting to increasingly difficult climates to publish in. "[The last few years have] been pretty tough, we'd eaten into all our reserves, sales have been down 80%, so finding the focus to hold it all together has been challenging. Mixing up how we engage as a publisher has changed, mainly due to COVID and Brexit both playing a part in this form of publishing. By going back to shorter form comics it allows us to reduce costs in shipping and production, allowing us to be greener by only printing what we need and creating the one-shots as a suite which could be combined into a collected book, which makes sense in the book world as well as comic stores.
"Bigger publishers have been doing great guns with established IP, young adult graphic novels are still going strong. Indies have taken a massive hit though, with rising costs of raw materials and shipping due to Brexit, low sales due to COVID and once-reliable sales platforms turning to blockchain has disrupted large sections of the indie scene and its ability to sell direct to readers.

"Our approach going forward is to create more one-shot, shorter form comics in print and digital, digitally publish larger collections and experiment with ideas as we transition our focus less about print and more about screen-based media."
There's so much continued excitement in the world of comics, whether that's blockbuster movies with cornerstone characters, or the likes of Alice Oseman's Heartstopper, which started as a Tumblr webcomic and is now sweeping people up with its Netflix adaptation, or physical events and comic cons finally being able to return, and the continued brilliance of indie comics creators and publishers continuing to put new and vibrant stories out into the world.
"I really hope they enjoy a fun-filled adventure and action comics with strong messages for all ages," says Nazir. And really, when launching a new comics universe, what more could you wish for.
---
For the latest on the Bold Collection, visit bhpcomics.co.uk