Station Approach: Jenn Ashworth and Richard Hirst on an interactive e-book inspired by Preston's Brutalist bus depot
As Jenn Ashworth releases her latest book, an interactive text co-written with collaborator Richard Hirst, The Skinny chats to the two authors about the notorious bus station behind its inspiration and why every story is unreliable
Jenn Ashworth seems to have languished on 'new, exciting writers' lists for longer than most – she has a Betty Trask Award for her first novel A Kind of Intimacy, has been featured as one of the UK's 12 best new writers by the BBC's The Culture Show and been given the unofficial title of the Northwest's up-and-coming writer for some years. With three celebrated novels behind her, a TV adaptation of The Friday Gospels – a tale of Mormonism, delusion and loss – in the works, and a prodigious schedule to match, it seems that Ashworth's 'emerging writer' label is now obsolete.
As we meet to discuss her new e-book, Bus Station: Unbound – written with long-time friend and artist/writer Richard Hirst – it is clear that the Preston-based author is at a prolific time of her career. Ashworth bundles towards me with a coffee in one hand, her dinner in the other and a slightly hurried look on her face. She is apologetic for a delayed train and the presence of a muffled cough: "Sorry, it's just been very hectic."
Ashworth has emerged as an author with an aptitude for writing the unreliable narrator. She is interested in the silenced, ignored and overlooked voices in our society – all of which she explores through a comic lens that is both astute and incisive. "I like writing in first-person because I'm interested in voice," she says. "I suppose poets know that language is about sound, expression and emotion. Prose writers get tangled up in other things like plot and structure, which are also important, but the way stuff sounds when people talk is important to me. I realised very early on that there is no first-person narrator that isn't unreliable. We don't all lie as obviously as the narrator in [he short story] Dinner for One, or perhaps like Annie in A Kind of Intimacy, but we can only tell the bit of the story that we know."
Ashworth is keen to underline that the new interactive book is all about "place, really." The place in question is Preston's contentious bus station, which was threatened with demolition in 2012, has been voted Preston's most hated building, and been part of Ashworth's life for as long as she can remember – she regularly used the station to travel to school. "I grew up in Preston and it's quite an iconic and controversial building and is very noticeable," she says. "People either love it, or hate it."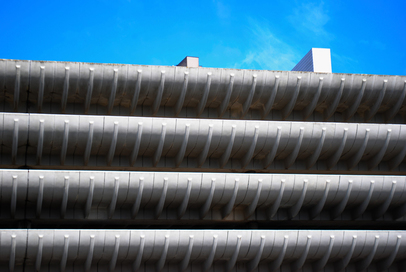 Preston Bus Station: Brutalist masterpiece or concrete eyesore?
The idea to turn the controversy surrounding the much-maligned building into a narrative of memory and choice was sparked by the article Love, Hate and Concrete by Martin Baker in The Independent. "He quoted people who described the station as monstrous, and it was that word that set us going about wanting to set a story inside the bus station. We wanted to experiment with a book that's almost like a game, so it started from there."
The adventure tale is a rare, experimental find in a time of tentative publishing. The book's form is unusual, perhaps even novel: the reader is able to choose, and dictate, the series of events depending upon their preference and mood. The reader momentarily takes on the role of author.
"The text presents you with a choice," Ashworth observes. "Do you want to stay on the bus, or get off at the bus station? We couldn't do a print version of it. It remembers the choices that you take, so there are various opportunities. There's a lot about it that even we as writers can't control. We wanted to write a novel in the shape of a building. Depending on the choices that the reader makes, it could be quite a supernatural, Gothic tale about possession and haunting, or it could be about loneliness and forgetting."
I wonder aloud how this works logistically; the amount of writing involved must be vast. "Yeah," Ashworth nods. "One of the things that has been quite peculiar is that Richard and I have quite distinctive voices as writers, but this thing that we've made is not him or me. It feels almost haunted in a way, or like it's taken on a life of its own."
Or, as Hirst puts it when I later catch up with him, "it's a lot like there's been a third, invisible author working secretly on the book. One of the spookier elements of the novel for us is when we've both been proof-reading a certain section which neither of us have any memory of writing."
"What was interesting is that we didn't tend to plan or divide the work by plot strand, but by place," continues Ashworth. "I was interested in writing about a cleaner's cupboard in the station and a series of public lectures that were taking place in an abandoned shop and Richard was very interested in letting the reader explore the subways and basements of the station. So we did colonise different bits of the space, but the plots very easily and quickly overlapped."
---
"We wanted to write a novel in the shape of a building" – Jenn Ashworth
---
Hirst describes the station as an ambiguous space – borderline futuristic and functional. This sense of being in-between locations and thresholds reverberates throughout the book. The station has a "utilitarian aesthetic, which somehow translates to a look of futuristic sci-fi," he says. "That's something which we tried to replicate with the novel: the paths the reader chooses will lead them down a narrative which seems both totally arbitrary and tightly structured. Many of the characters they encounter are on the borderline between humdrum normalcy and heightened lunacy; the genre weaves between all-out horror and kitchen sink." 
The book is published by Curious Tales, an independent publishing collective, where Ashworth and Hirst – who won the Manchester Fiction Prize in 2011, and is currently working on a novel called Ark – and a number of other artists and writers create work that is uncanny in tone. The collective want to offer an alternative way of publishing and control every part of the books produced, from their artistic design to the envelopes that they are sent out in. "It wasn't as much two fingers up at mainstream publishing, but just seeing something that mainstream publishing wasn't doing, or perhaps wasn't interested in doing," Ashworth reflects. She enjoys this way of working because it is decisively different to her everyday writerly life: "My main work as a novelist will involve me sitting on my own for a long time working on one project for three, or four years. It's very solitary and very private. Because we are cooperative and we try to do everything by consensus it's hard, but really interesting as well."
We are sitting in a quiet corner of the newly refurbished Manchester Central Library and the conversation, inevitably, turns to the demise of library culture as we know it. Given her former work as a prison librarian, Ashworth is clear that the ramifications of closures (49 libraries in the UK closed last year) are huge. "In my experience of working in libraries it seems to me that they're hugely useful for people who have a question, but don't know who to ask that question to. We'd have people come in and ask about benefits, or how they could register with a health visitor. So I think the effects on literacy and opportunities for the unemployed to jobseek are hugely important, but it is a little bit wider than that. Just it being the face of local government that people actually like and aren't afraid to go in and ask. Little libraries are really important and those are the ones that are closing."
As for the rest of the year, Ashworth shows no sign of slowing down anytime soon. She is finishing a novel, "set in the early 1960s in Grange-over-Sands and Morecambe Bay," working on a collection of short stories and reading a lot of Shirley Jackson – the influence behind this year's Curious Tales anthology. The list slightly takes me aback; does Ashworth ever take a break? "No," she asserts. "I'm either writing, or reading all the time. You can see I've rushed in here eating my tea during the interview, then I'm going do an event and we have another event tomorrow!" Her strong work ethic is underlined by a distinctly unromanticised view about the life of a writer; there are no Coleridgean sporadic visions of inspiration, or Joycean obsessions with a word a day here. "It's my work, it's my job," she says. "Most people work 40 hours a week, if not more, and so do I. At the moment I have a lot of ideas, but if I needed to stop for a while, or work much more slowly on a project, I would definitely. I suppose I'm quite disciplined."