The New Normal of Scottish Spoken Word
As we venture ever more carefully out into the world with the easing of restrictions, it feels the perfect time to check in with Scotland's spoken word scene: what has changed, how do we return to normal – and should we?
Back to normal. It's a phrase we're hearing with increasing regularity, as if one day a switch will be flipped and we'll jump right back where we were over a year ago. For programmers and performers, and events in general though, the landscape has shifted vastly, sometimes irreparably; on the precipice of entering back out into the world, it feels the perfect time to check in across Scotland's spoken word scene and see: What has been normal? What could it now be?
"Like many in our quirky gang, the big still caused us to have to rejig every element of a full year's event programme," notes Neu! Reekie!'s Michael Pedersen. "But nowt is truly lost in this game right, there's always resurfacings and reincarnations? Here's hoping." It was a similar case for Sonnet Youth. "It happened so fast we didn't have time to get upset or freak out," explains co-founder Cat Hepburn. "We just put our heads together and focused on how we could still reach our audiences and keep artists working."
There was a chaotic, fun energy to their work; and it's something that was picked up from the performer side too. "At first, it was very daunting," acknowledges poet and performer Nadine Aisha Jassat. "But I also felt a huge energy from organisers and artists alike to keep moving, and keep performing."
Poetry at Inn Deep was one of the first events to pull the plug when the pandemic struck, notes host Sam Small, but they didn't feel the live atmosphere could be captured with full justice, instead focusing on their own publisher SpecBooks, where they utilised Zoom for launches.
Change wasn't just in the physical vs digital realm. "It was also what we needed from performance, or even that we needed it," continues Jassat. "In a time of change, fear, grief and huge uncertainty, performers were able to offer something to their audiences as small comforts or distractions." Across the board, the industry went "giddy into the digital ballrooms" – Neu! Reekie! experimented widely online, including having to replace their planned 10th birthday extravaganza at Central Hall with Neu! Reekie! #TV1, a live stream including Garbage's Shirley Manson and Nova Scotia the Truth.
Challenges were manifold, whether for performers to 'be on' while they're also overwhelmed humans in a pandemic, or the vulnerability of inviting people into your home rather than the "protective cloak of a stage", trying to set boundaries, or being 'Zoom bombed'. Some found a great opportunity in Zoom workshops and performance, others found it more difficult to engage with people as easily.
While the driving forces have unquestionably been bad, not all experience has been, and as we step ever more carefully back into the world, it's worth remembering the highs: reach and accessibility. "When we start our night back up, we'll definitely be keeping an online element," notes Small. "Live streaming events and online workshops can work hand-in-hand with IRL events."

"I am now a Zoom workshop queen!" says Jassat. "There have been so many positives, including being able to work with international poets at the drop of a hat/Zoom link, being able to reach a variety of audiences so easily. Online events can be so much more accessible, and have helped bring us closer together in a safe way."
Without the barrier of travel costs, Sonnet Youth were able to invite guests from further afield, a recurring positive; the chat section became a new take on applause, allowing for discussions to open up. "It unified us together in a time that felt quite unknown and scary sometimes," says Hepburn.
We have ultimately been waiting for the moment where we can return to normality, but – the real question is – should we? The lost year is naturally shrouded in difficulty and struggle, but from there, everyone who has had to power on has found something new.
The international accessibility of streaming digitally is key for Neu! Reekie! and something they're hoping to include in all new projects; accessibility is recurring – events have opened up like never before, and none plan to close that off.
"Unfortunately, we've seen a lot of our favourite venues fold under the lack of support from the government," Hepburn acknowledges, "so we don't know what the live arts landscape will look like when things reopen. We are hopeful that regular nights and gigs will be reintroduced, and know that by its very nature, poetry will always find a way to get heard. We're seeing some fantastic emerging voices who are digitally savvy and can work both online and on a real stage, so we're looking forward to seeing what the new wave of spoken word artists come up with."
"I would love to see spoken word able to thrive in digital and in-person spaces where audiences and performers can connect, and words and minds and emotions can thrive and inspire," concludes Jassat. "I hope that for us as spoken word performers, for whom voice is so key and connecting to our voices and our audiences especially, that we can keep connecting to ourselves, to community, to creativity, and to the world in the next steps as we go forward!
"And hopefully with lots of funding, too!"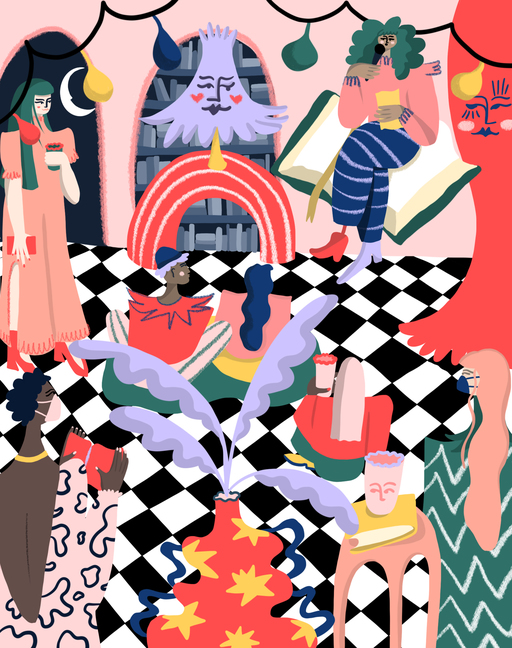 ---
Listen to the SpecBooks poetry podcast at specbooks.net/podcast
Find out more about Neu! Reekie at neureekie.scot
Sonnet Youth's upcoming events:
SY Social Club #29: Poetry from Malaika Kegode and Kevin Mclean, comedy from Paul Black and music from The Grime Violinist, Thu 10 Jun, 8pm
SY Social Club #30 Showcase: Hosted and curated by writer and poet Hannah Lavery featuring poets Marjorie Lotfi, Courtney Stoddart and Nasim Rebecca Asl, Thu 24 Jun, 8pm 
SY Social Club #31 Season Finale: Poetry from Tawona Sitholé, Leyla Josephine, Jim Monaghan and comedy from Rachel Jackson, Thu 8 Jul, 8pm 
Subscribe to Sonnet Youth's Patreon at patreon.com/sonnetyouth
Illustration by Viki Mladenovski