Marjorie Lotfi on debut poetry collection The Wrong Person to Ask
We chat with American-born, Iranian-raised and Scotland-based author Marjorie Lotfi about her debut poetry collection The Wrong Person to Ask and what it means to belong to a place
"The past few years, I've gotten to know a patch of the sea very well," says Marjorie Lotfi, reflecting on her connection to Scotland's landscape. On a cool autumn morning in September, we are sat in a café just on the edge of the Meadows in Edinburgh to speak about her long-awaited debut, The Wrong Person to Ask: an exploration of her personal experiences of growing up in revolutionary Iran in the 1970s and her family's eventual migration to the United States. Themes of emplacement and belonging sit heavily on both the collection and Lotfi herself; her collection, in a way, is an interrogation of what it means to understand a patch of anywhere – land, sea, or air – after a lifetime of migration and exile.
"I wanted to answer the question of what can happen and how we start to make a home once we've had one removed from us," Lotfi says of the questions that run through The Wrong Person to Ask. "And secondly, I wanted to move away from this idea that people are just the sum totals of their traumas."
Being of mixed-heritage, Lotfi explains, she has had a lifetime of being interrogated on any number of diplomatic dramas between her two homelands. "Part of me really wanted to include poems about all sorts of other things," she adds, "but then when I started looking at those, they really were about home [and] trying to anchor myself in this place."
A regular on the Scottish literary scene and co-founder and director of Open Book, which provides creative writing sessions across Scotland, Lotfi has been writing poetry since childhood but has always been a tough self-critic. "As a little girl, I had this idea that what I was writing – the words – were not perfect enough yet." And so Lotfi continued to seek out writerly perfection, but life took a different course when she started work as a lawyer in New York City.
"I always wrote quietly on the back of napkins," Lotfi explains eagerly, but her return to writing came when she was admitted into an online writing master's at the University of Edinburgh. There she found refuge and the time to dedicate to her poetry.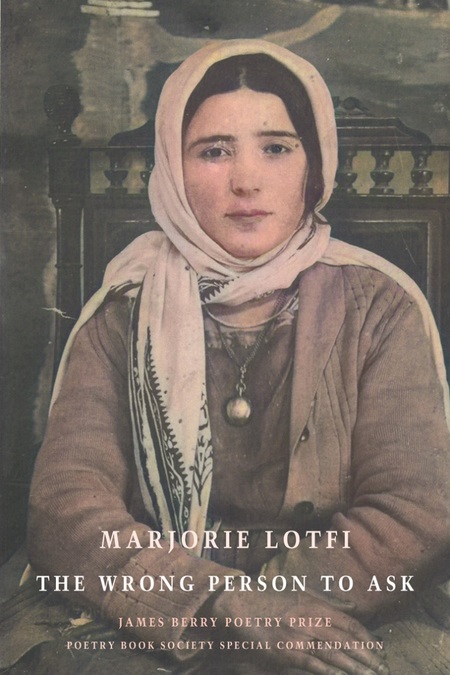 The Wrong Person to Ask by Marjorie Lotfi. Credit: Bloodaxe Books
"Like most of us, life gets in the way of publishing…" She pauses to mull this over. "Lots of people were helping me put a collection together, and then I would think: 'I'm not ready yet.'" She credits the James Berry Poetry Prize and the team at Bloodaxe Books for helping her to finally send a collection out into the world.
The Wrong Person to Ask, then, is the culmination of these years and years of writing, giving voice to Lotfi, the Iranian people and all those who have sought refuge in new countries. In her poems Alarm I and Alarm II, Lotfi shares memories of revolutionaries setting fire to her school in Tehran and then living through air raid drills in Washington DC during the Cold War. "The Principal announces/ on the loudspeaker in every class/ that today's exercise was only/ a drill, that we'd done it well," she writes. It encapsulates the strange irony of Lotfi's diasporic experience: surviving a childhood in which gunshots and bombs were a very real backdrop only for her new life to be spent preparing for imagined wars.
Yet Lotfi's collection not only touches on her own childhood but also on her great-great grandmother who, after Iran closed its borders to Azerbaijan in 1917, lost touch with her daughter. "It's more a working out for myself of the stories" Lotfi says of this intergenerational interweaving, "trying them on to find a way of ordering my history and my family's history. All the things we see as politics are personal for me. Politics affect human lives."
Yet against this backdrop of rigid political boundaries, Lotfi's collection is also in intimate conversation with the natural world, a relationship which offers new ways of understanding emplacement beyond ideas of nationhood. Lotfi, a seasoned marathon runner and open water swimmer, recounts a particular run through the Pentlands in which she paused to look out on the landscape. "In the hills, nobody is asking you why you're there or where you come from. You're just there." Lotfi smiles. "I can picture where I was on this particular run, thinking: 'hang on, this is me. I can stop lamenting what I don't have, and I can just create it.'"
In her final poem The Hebridean Crab Apple, Lofti writes of a lone apple tree on an uninhabited Hebridean island: "This, I understand: the instinct to cling,/ at any cost, to the place you are rooted,/ to see another season through, though/ the others seed elsewhere." For a poet who has built a life in Scotland after a long journey both towards her debut collection and a sense of belonging, it offers a fitting end. As Lotfi says: "This is the place I feel at home."
---
The Wrong Person to Ask is out with Bloodaxe Books on 19 Oct, with a launch event at The Portobello Bookshop on 12 Oct featuring performances by Marjorie Lofti and fellow poets