Radical Archive: 30 Years of Glasgow Women's Library
We chat with Gabrielle Macbeth, the Volunteer Coordinator at Glasgow Women's Library, about documenting erased histories, the rich community of Glasgow's East End, and the importance of radical practices
How did Glasgow Women's Library get started?
Glasgow Women's Library started 30 years ago pretty much exactly. It grew out of an organisation called Women in Profile, which was set up in 1987 in the lead-up to Glasgow being the 1990 European City of Culture. It was a group of women artists, writers, and creatives who wanted to make sure that women's contributions to culture were going to be visible. Colleagues who were around at the time say there was a real sense that: "if we don't do this, then no one else will" – those who had control over the cultural programme that year were not thinking about women's contributions to culture at all.
It was an activist reaction, really, which has run through our work ever since: a real commitment and desire to see women's lives and contributions properly valued and recognised and documented. Glasgow Women's Library grew out of it, from starting as a group of volunteers to having paid staff to bigger premises and to now being the only accredited museum to women's history in the UK.
What are some of the ways that the goals of the library have changed over the last 30 years? Or have they pretty much remained the same?
As part of our 30th anniversary year we've been taking time to reflect and we're seeing that anti-racist, LGBTQ+ and green work have always been featured in our practice. So I don't know if our goals have changed massively really, it's still about giving a voice to women [inclusive of trans, intersex and nonbinary people] who don't have a voice or whose stories have been erased. Although the term intersectional feminism hadn't been coined 30 years ago, that's definitely been part of our thinking all along: involving working class women, women of colour, women with disabilities, migrant women.
So have the exhibitions and the lending library always been a part of Glasgow Women's Library's project?
Showcasing creatives' work has always been part of what we do, and so has the library. We've become more professional in terms of our library and archive – we didn't have a librarian [or an archivist] for the first ten or 15 years. That didn't mean that our materials weren't cared for – quite the opposite – but it's meant we have a nice balance between caring for the materials and encouraging people to access them. Archives in particular, from my experience, are not particularly accessible places. Students and academics use them but others may not. We want our tools to be accessible and for anyone to feel that they can spend time with and have a sense of ownership of them, because actually these are materials about our history and our lives.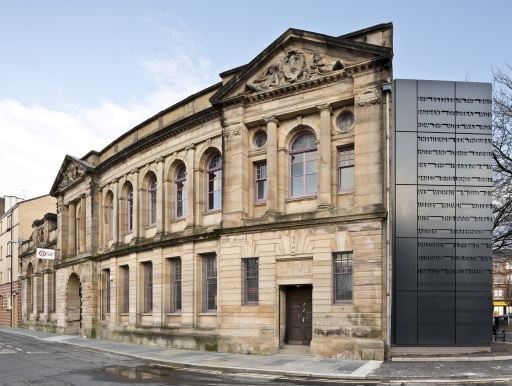 Glasgow Women's Library runs a volunteer scheme – what are some of the ways you hope the library can engage with the broader community?
We are a grassroots organisation: we started as a group of women who made all this come about. So we see ourselves as the community – I work for Glasgow Women's Library but prior to that I was a member who borrowed books and came to events. There isn't this us and them relationship, and I suppose volunteering reflects that, because the volunteers are a part of our team but they also benefit from volunteering. We work really hard to identify what it is that volunteers want to get from the experience and then develop a role that is going to be exciting and challenging.
I think this idea of the relationship with the community being symbiotic is really interesting. You mentioned that this is the only accredited museum of women's history in the UK, but it is also a specifically Glasgow institution. What are some of the ways that particular community is reflected in your work?
Although we feel this could have happened almost anywhere – there's nothing particularly special about collecting materials about women's history and a lot of our materials are not Glasgow focused – we are based in the East End of Glasgow and we are very proud of that and have very close contact with the community. When we moved to this location, we researched the history of women in the area and developed a guided tour that takes people down to Glasgow Green, where suffragettes congregated and where women would go to dry their laundry, and down to the Barras where women worked as hawkers. We've also done projects with local groups as well, groups that focus on women's history or groups who offer specialised services to women who have experienced homelessness and sexual abuse, providing a space for them to display work that they've made.
You also have the only lesbian archive in the UK, is that right?
We've actually just finished a two-year project to make that collection more accessible. It is significant: it makes up about a third of what we have and was one of the earliest collections to come to us in the mid-90s. And obviously we've been adding to it because lesbian history has continued! An element [of this project] was to involve volunteers in listing and digitising it, although unfortunately that was stalled because of COVID.
But another element was commissioning an artist called Ingrid Pollard to make work that responded to this collection – her show, which was originally for Glasgow International 2020, launched in May of this year and was our first post-COVID exhibition. What I found particularly interesting about Ingrid's work is that she's a bit older and she remembers some of the materials, like she was actually involved in printing some of the posters [in our collection]. It's this really amazing connection where she can go back and say: "Oh, this is what this was about", and also reflect on how some of the issues haven't really changed and all the rights that have been gained are once more under threat.
It strikes me that a lot of the work at Glasgow Women's Library is not just speaking to these issues but is very explicitly radical. I visited one of your exhibitions recently and there was an anti-police raid poster on display from the 80s, which felt very timely but also not something that a lot of institutions would display. Does this radical approach feel central to what you do?
I think a lot of institutional organisations do things because they've always been done in a certain way. Whereas, and this comes back to the reflective nature of how we work, we can say: "well, this doesn't make sense" and we have the freedom to do it differently.
The expression I've heard colleagues use is that we don't mind being the grit in the oyster. In the example that you mention, we were showing archive materials about something that has happened. These materials happen to be in our care and we're displaying them, and people can kind of take what they want from that. I think it is radical to give marginalised voices a space. It is radical to break the mould and do things in a way that is true to our values.
---
Visit Glasgow Women's Library to explore their exhibitions and collections, 23 Landressy St, Bridgeton, Tue-Sun, times vary