Comics and capes: A chat with Glasgow Comic Con
Glasgow Comic Con boss Nicola Love tells us what we can expect at this year's convention
Let's set the scene: you're walking through Glasgow, a tiny Wonder Woman zips around the tail end of Sauchiehall Street, fighting an equally small Hit-Girl; Captain America and Batman leap into the action. Cosplayers are everywhere, people are buzzing, there's a hell of a queue. The winner of the battle is undetermined.

For adults and children alike, comic cons are a beacon of fandom that brings people together. Glasgow Comic Con is a particularly bright beacon.

Started in 2011, when Sha Nazir and John Farman bit the bullet and decided to launch a convention, Glasgow Comic Con began in Mackintosh Church and continued to grow, first to the Centre For Contemporary Arts, and again to the Royal Concert Hall in 2016. Come 2017, Nicola Love took over as boss – "you don't want to fuck that up!" – continuing to evolve the event and its programme with their audience. It returns for the second year under her command on 30 June.

"A man emailed me the other day and told me I had made the event 'too gay' and female-focused," she recalls. "I mean, he's not entirely wrong… we're for everyone, so of course our show is going to reflect that.

"Glasgow Comic Con has two main focuses: families and comic fans. We're a friendly bunch, really. You can expect plenty of comics which isn't always a given at comic conventions, I guess. We showcase everything from the biggest international names working for DC and Marvel to self-published, small press creators. It's not just superheroes (though there are also plenty of those too, we're big superhero fans); people are making comics about everything and anything – last year my convention haul included books about traveling, mental health and sexuality.
"We've also a dedicated Kids' Zone, which debuted last year, focusing on workshops for our younger audience where you can create your own comic book character or get stuck into some comics-themed crafts. Plus we've got the usual mix of back issue sellers, bookshops and merchandise."

Love is right that comics aren't always a given, with events increasingly focusing on films, TV, animation and large franchises under the comics moniker. Why is it important to them to keep the focus firmly on comics? "We just really like comics! I like TV and film as well but you could see them start to overtake books at self-professed comic conventions and that can be frustrating. We never wanted artists and writers to just be a couple of tables up the back, we want the medium to be the centre of attention.
'Comics tell stories in a way that, in our humble opinion, no other medium can and it's exciting to be able to expose people to that'
"The convention calendar is pretty full and different shows exist for different interests (it's an exciting time to be a geek, really), it just happens that our main interest is comics. Comics tell stories in a way that, in our humble opinion, no other medium can and it's exciting to be able to expose people to that. We usually find that the people who come to Glasgow Comic Con are totally up for exploring comics, if they're not already avid readers. Being people's introduction to comics is a privileged position to be in. We don't take it for granted.

"There's definitely a celebration and enthusiasm for the medium shining through. I mean, you don't get the plot of Avengers Infinity War without comic writers like Jim Starlin or Jonathan Hickman. You can love the movies without loving the source material (and vice versa) and that's totally fine, but it makes sense to nod to the thing that started it all."
2018's one day comic celebration is almost here, so what's in store? "Every year, I say our line-up is the best yet. Every year I mean it. I was really fortunate in the sense that pretty much everyone I invited was able to come this year. We've got Kris Anka, an incredible artist who is knocking Marvel books out of the park right now. You have Jen Bartel, an illustrator whose covers and reimagining of popular characters got her recognised in comics and is now starting to work on her own stories. Mahmud Asrar's art is well-known among X-Men fans and Christian Ward's cosmic style is just a breath of fresh air. All of our guests work on different books but the one thing they all have in common is that they're committed to making mainstream comics accessible to everyone, which is kind of like Glasgow Comic Con's mission statement.

"I always look at doing something we didn't do the year before because I don't want Glasgow Comic Con to repeat itself. I keep an eye on what comic fans are talking about and we're always looking for feedback in terms of who people want to see. We want to be representative and showcase as many parts of the industry. Put it this way: I don't ever want to have a diversity panel with four white guys on it. We want to strike a balance between having a laugh and being entertained and people walking away from a panel having learned something."

Beyond the guests, the convention is also jam-packed with exhibitors. "We have about 100 between creators, publishers and merchandise vendors. They're mostly comics-focused, making books on every subject you can imagine. We have kids' books, queer books, superhero books, autobiographical books. Everything. We also have your favourite high street shops like Forbidden Planet and Waterstones there too, and they'll have books from our guests if you're looking for something to get signed. If you just want to buy a Pop! figure, you can do that too."

With the event on the horizon, what does Love hope people get from attending Glasgow Comic Con? "Books. Lots of books! I hope people have fun, pick up something to read and get the chance to meet a creator they never thought they would get to meet."

Glasgow Comic Con takes place on Saturday 30 June at the Royal Concert Hall in Glasgow. Information can be found at glasgowcomiccon.com
---
Looking for some comic recommendations? Nicola Love has you covered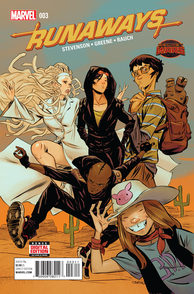 Runaways: Kris Anka and Rainbow Rowell's revival of the early 2000s Marvel series is my favourite monthly title right now. It's a sweet, action-packed book and Matthew Wilson's colouring is to die for.

Black Bolt: Saladin Ahmed's take on the Inhumans world is definitely a Marvel hidden gem and Christian Ward's art is a breath of fresh air for mainstream comics.

Heavy Vinyl: I wish Carly Usdin and Nina Vakueva's music-loving, patriarchy-smashing, crime-fighting girl gang story had existed when I was in high school.
---