Andrés N. Ordorica on his debut poetry collection
Poet and fiction writer Andrés N. Ordorica discusses his debut collection, At Least This I Know, from his earliest memories of poetry to the ongoing journey of the self
At Least This I Know, the debut poetry collection from poet and fiction writer Andrés N. Ordorica, is a journey through grief and love to find belonging: both as an immigrant person in new countries, and as a queer person searching for a found family. Ordorica has read and loved poetry since he was a teenager, and he fondly recounts his first memory of falling in love with the form when hearing Robert Frost's The Road Not Taken, aged seven or eight.
"I was just so enamoured with it… I don't know why – I just thought the poem was really beautiful. I don't even know if I totally understood what the poem was about, but there was something about the poem that really resonated with me."
From then on, poetry had always been in Ordorica's periphery. When he was 14, and had just moved schools mid-year, he started writing more of the form, as a way to process this huge physical uplifting of his life. "Some of [the poems] are quite cheesy," he chuckles. "But, also, some of them were quite profound. It was my way of dealing with a sense of unsettledness, and moving country and starting over again. My dad got stationed at an air force base in Japan, and I started school in the middle of the school year. I really was the new kid, and I did try to be brave with the move, but it did unsettle me."
He wrote a lot of poems at that time and, he admits, the "funny thing is that one of those poems is in the collection – almost word-for-word."
What is so interesting about the inclusion of this poem, and his reflection on being an uprooted 14-year-old writing poetry, is that "a lot of those poems were trying to tease out ideas that I'm still trying to work out in my 30s." This is a really striking statement: the acknowledgement that things we deal with as children – that shiver of not feeling that we completely belong where we are or who we're with – can still be in flux, even now.
And it's this journey of finding the poet's self – both as an emotional, inward journey and as part of a physical space – which makes this collection so authentic and relatable. It encourages the reader to pause in reflection, which Ordorica does too, over one poem in particular, Breakdown on I-35. The poem is from a moment in his late 20s, when he was confronted by feeling a lack of accomplishment in his writing career. The narrative is set in that moment of breakdown; in that moment of, as he says, thinking, "God, it's going nowhere."
When asked what he would say to that past self, he replies: "If I were to speak to the 'me' in that poem, I would definitely say that it's just going to continue," Ordorica laughs. "Which I know isn't the happy answer, but I think if I was going to revisit that poem even in my mid-30s I'd still be trying to work through lots of stuff… I'm so excited and grateful to have this collection coming out, but I think once you hit a certain stage in your writing career, it then becomes about knowing what's next, but not knowing what's next. I think there will always be that sense of driving along the highway and feeling like you're not moving forward, even though you are."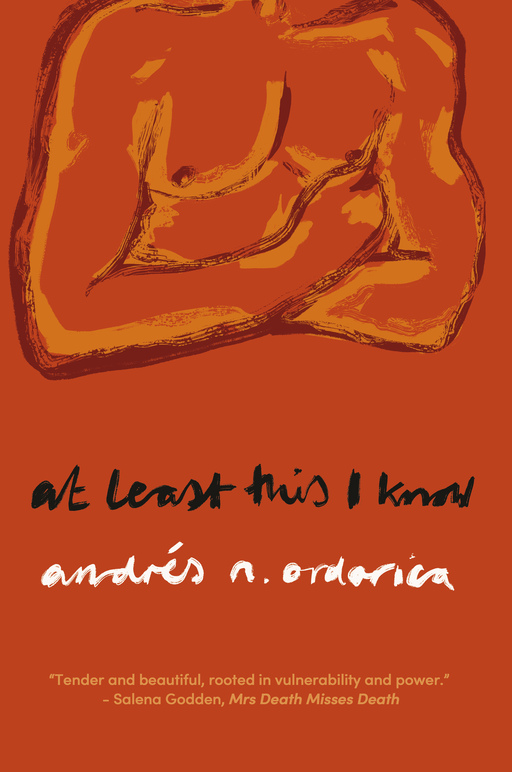 At Least This I Know is such a moving, comforting, and well-crafted collection. With ambitions to continue with his poetry, as well as fiction work in progress, the debut is likely to cement Ordorica as a writer to watch closely. His poetry is not only a profound exploration of that struggle through the unknown, but also an inspiring celebration of that very same struggle. He sums this up perfectly when asked how he would like his readers to respond to his poetry.
"I hope it inspires this understanding that we're allowed to lay claim to who we are, but also that we're allowed to be malleable; that we're always evolving and reflecting. And that's okay. It's okay to go through life and not feel like you have a total, full sense of yourself, because I think that is very true to the human experience. My hope for this collection is to even challenge its title: what can you really know? You can know many things, but what you know is changeable. And that's okay too. It's okay to feel that you're moving through life and you don't always know where you belong, because you will find it. And you'll find it in different ways, but there might be a struggle to get there."
---
At Least This I Know is out via 404 Ink, 27 Jan, £9.99