The Work: The Lyrics of Scott Hutchison
The love and care put into this book of Scott Hutchison's lyrics serves to lift up his work and focus on the legacy that he left behind
Book title:
The Work: The Lyrics of Scott Hutchison
Whether it was a snowy night at the Barrowlands or a drunken singalong in Bloc, every fan has at least one vivid memory of a Frightened Rabbit gig. The band could soundtrack the most devastating break-up of your life and the most jubilant night with friends, often at the same time. Central to that was Scott Hutchison and his raw, unflinching and delightfully inelegant songwriting sensibilities.
The premise of The Work: The Lyrics of Scott Hutchison is simple: it is an exhaustive collection of the words from those songs. Designed and typeset by Dave Thomas of dlt, who has worked closely with Scott and the band throughout their career, there is a generous helping of handwritten lyric sheets, doodles and illustrations. Scott's sense of humour is sprinkled throughout too. The lyrics to Snake, a cult favourite that the singer was heckled to play at almost every show, are scribbled out. A footnote from the singer reads: "Fuck off."
This collection memorialises Scott, who died in May 2018, in a way none of us wishes it had to – however the love and care put into the book serves to lift up his work and focus on the legacy that he left behind. "I haven't quite found the right word for what it is, whether it's therapeutic or cathartic," Scott is quoted as saying in the book's foreword. He gave so many of us both.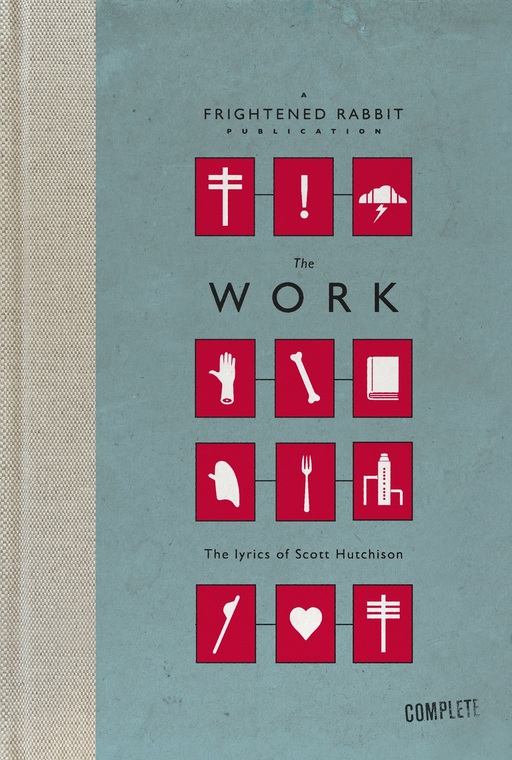 ---
The fee for this review was donated to Tiny Changes