The Roles We Play by Sabba Khan
Sabba Khan's tenderly sketched graphic memoir is an unequivocal labour of love that hones in on the Kashmiri immigrant experience
Book title:
The Roles We Play
There is an almost therapeutic quality to The Roles We Play, Sabba Khan's tenderly sketched memoir of personal and collective displacement. Spanning the history of Partition to her own coming-of-age in the diverse boroughs of East London, Khan's autobiographical graphic novel is a startlingly vulnerable exercise in introspection, an investigation into how self-identity can be cultivated amidst encompassing metanarratives of diaspora and intergenerational trauma.
The prose occasionally forays into didacticism but is at its strongest when lingering in questions rather than answers. Khan brings a cultural specificity that is sadly still missing from much of the British canon, honing in on the nuances of the Kashmiri immigrant experience and the legacy of liminality inherited by the second generation: the tension between collectivity and individualism, the experience of religion as both anchor and weight.
Khan's creative approach is markedly loose, abandoning the rigid bounds of traditional comic panels for hand-drawn storyboards and striking whole page illustrations that stress her constant, determined quest for self-expression. Khan's background lies in architecture and perhaps unsurprisingly, her art achieves a depth that her writing doesn't quite match: figures fragment across the page and surreal dreamscapes sit alongside intimate portraits of a complex family life. The beautiful production doesn't stop at the pages either: with poignant endpapers and a curated playlist to accompany each chapter, The Roles We Play is an unequivocal labour of love.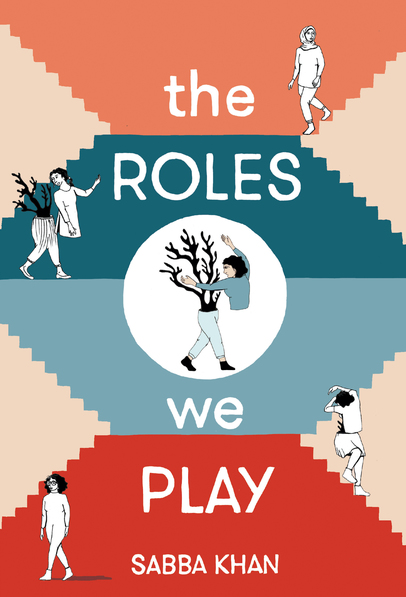 ---
Myriad Editions, 15 July, £18.99