Yon Afro Collective: The Skinny Showcase
We look at the work of members of the Yon Afro Collective, ahead of their group exhibition at this year's Glasgow International festival
(Re)imagining Self and Raising Consciousness of Existence through Alternative Space and (Re)imagined Place is a mixed media group exhibition by Yon Afro Collective at Govanhill Baths, presented as part of Glasgow International 2018.
If People Make Glasgow, which People will be allowed to Make a future Glasgow?

This exhibition seeks to amplify the lives of Black women and/+ Women of Colour (WOC) in Scotland, and tell stories which are often ignored. (Re)imagining Self... explores the private vs public spheres, the presentation of self, and how the Black Other is viewed. (Re)imagining Self… challenges the concepts of positive initiatives, the performance of being ourselves and examines WOC and/+ Black women's existence as resistance within social, political and geographical environments.
The selection of work on display reflects the artistic and eclectic talents of Najma Abukar, Layla-­Roxanne Hill, Sekai Machache, and Adebusola Debora Ramsay. While each of these artists approaches their craft in a different way, the thread that runs throughout their work is an exploration of issues related to the particularities of the lives of Black women and/+ women of colour, in the form of paintings, photography, sculpture and text.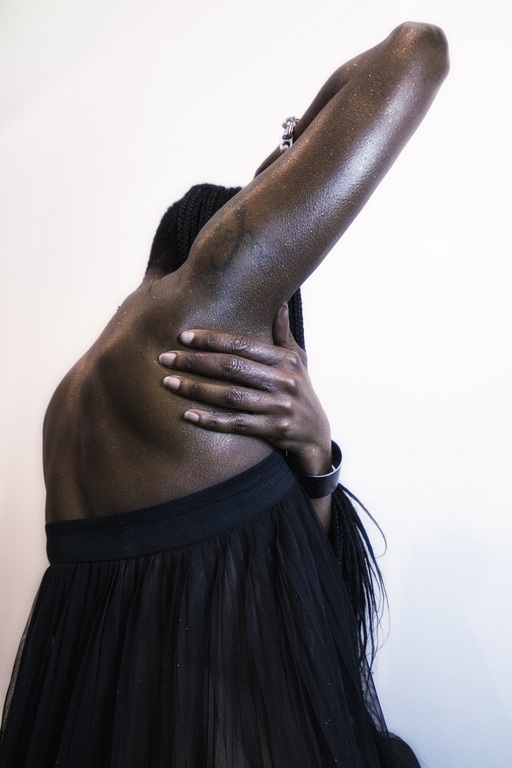 Untitled by Najma Abukar.
Najma Abukar (b. 1986 in Mogadishu, Somalia) is a photographer based in Glasgow. Abukar documents cultural and gender identities, the African diaspora and immigrant experiences.
She has exhibited at BAaD, Glasgow (2016) and Fields of Wheat: Members' Show at Transmission, Glasgow (2017).
Abukar's Dear Nina (2018) is a photographic portrait series. Each portrait is inspired by a line from the song Four Women by Nina Simone: My Skin is Black, My Arms Are Long, My Hair is Wolly, My Back is Strong, My Skin is Yellow, My Hair is Long, My Skin is Tan, My Hair is Fine, My Skin is Brown, My Manner is Tough.
Twitter: @NajmaAbukar | Instagram: @najmahusseinabukar 
---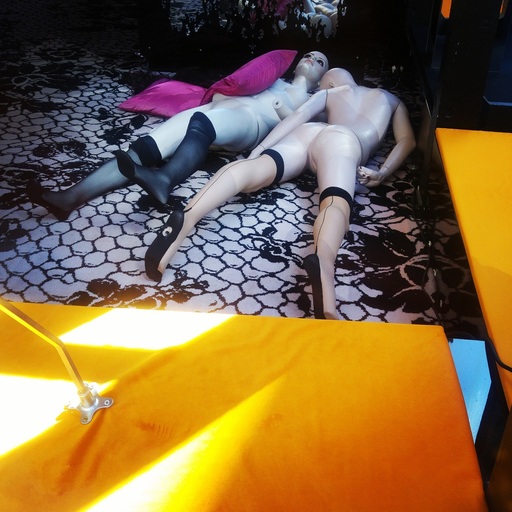 which i which... by Layla-Roxanne Hill.
Layla-Roxanne Hill (b. 1984 in Kano, Nigeria) thinks of Glasgow as home(-ish). Influenced by Black feminism and the activist, she seeks to visibilise Black Scottish lives. Head of Engagement at The Ferret, she utilises new media for communities to create (hi)stories. She is co-founder of Yon Afro, and in addition holds positions within the National Union of Journalists. Shortlisted for Write to End Violence Against Women Awards, group exhibitions include: The House That Heals The Soul, CCA, Glasgow (2017).
Hill's work Mulatto Manifesto: Tragic Retelt (2018) uses experimental mixed media and text responsive to the changing room spaces within Govanhill Baths and the ways interracial identities are always shaped by environments.
Twitter: @lrh151 | Instagram: @cuberoxo 
---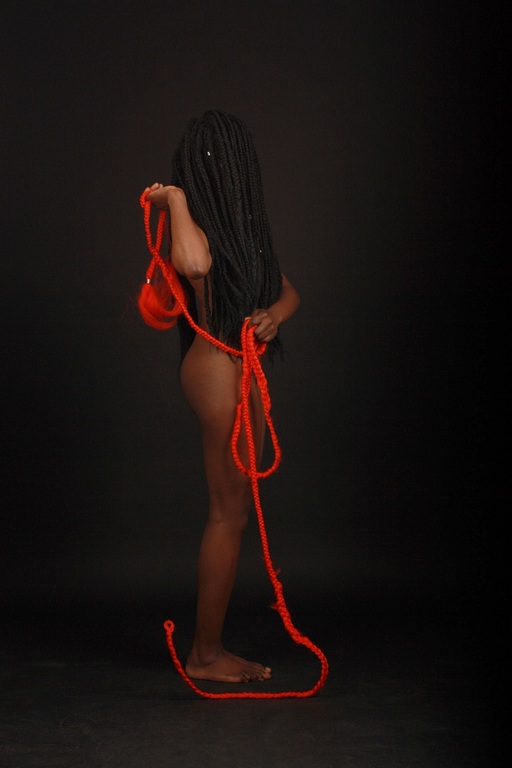 Musoro 2 by Seki Machache.
Sekai Machache (b.1989 in Harare, Zimbabwe) lives and works in Dundee, Scotland. Her work is based on a deep interrogation of the notion of self. Having been born in Zimbabwe and raised in Scotland, she has a particular interest in W.E.B Dubois' notion of Double Consciousness which expresses the psychological challenge of having African heritage while living in the West.
Machache has developed a multi-disciplinary practice utilising a wide range of media including photography. Her photographic practice is mostly formulated through digital studio based compositions using body paint and muted lighting conditions to create images that appear to emerge from darkness.
Solo shows include a solo feature in Ethics and Aesthetics; Living in a Material World, St. Andrews Museum (2017).
Group exhibitions include Focas Document Shortlist, Ann Lantair, Stornoway, Scotland (2017); Jill Todd Award, Stills Gallery, Edinburgh, Scotland (2015); AnyAndOrCollective Group Exhibition, Coburg House, Edinburgh, Scotland, (2013).
Machache presents works from her photo-series Musoro (2016). Revisiting her previous video piece Braiding Across a Room (2015), Machache will bring Braiding Across a Pool (2018), a sculptural performative work to Govanhill Baths, based on the tradition of braiding, central to many African cultures which has been transmuted across many generations throughout the African diaspora.
Twitter: @SekaiMachache | Instagram: @sekaimachache

---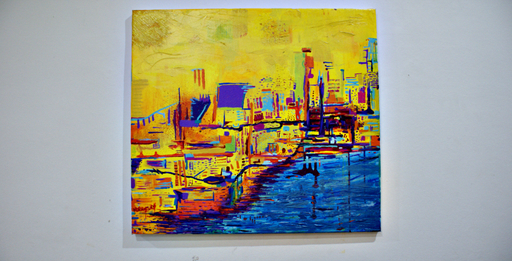 Origins by Adebusola Debora Ramsay.
Adebusola Debora Ramsay (b. 1983 in Lagos, Nigeria) lives and works in Glasgow. Her developing art practice features bold colour and textural detail. She's also exploring the concept of racialisation, its intersection with other forms of oppression, and inter-generational trauma. Ramsay's abstract paintings are a therapeutic endeavour for which inspiration comes from Yoruba art, architecture and the weave/pattern-making of traditional cloths such as Aso-Oke, Kente and Adire from West Africa. Other influences include Bauhaus, Impressionism and Expressionism.
Ramsay is also a co-lead on Black History Month walking tours commissioned by Coalition for Racial Equality and Rights, highlighting the historical links between Glasgow's built heritage and the transatlantic slave trade and chattel slavery, empire and colonisation.
Ramsay presents a series of abstract works rooted in her affinity with and use of vibrant colours. Through her pieces Origins (2014), Untitled/Viscera (2017), Twists & Turns (2018) and obfuscation of reality (2018), Ramsay explores the concept of racialisation, its intersection with other forms of oppression and inter-generational trauma.
Instagram: @soulfoodhaus
---
Yon Afro Collective, part of Glasgow International, Govanhill Baths, 20 Apr-7 May. Open Mon, Tue, Wed, Fri 1.30-6pm, Thu 2-8pm, Sat 11am-5pm, free. Preview 19 Apr, 6-9pm