Nick Cave @ Tramway, Glasgow
Filling the large main space of Tramway, Cave has hung shining metal sculptural "spinners" from ceiling to floor, arranged flea market ornaments into fantastical tableaux and detailed beaded wall coverings at a large scale
It's Saturday afternoon (just) and the invigilators open the double doors. The room is immediately overwhelming. Delicate cut 'spinners' are metal and dazzling. Thousands of these are hung around the room. Although different shapes, they each have the same basic structure. A central shape is cut metal, then revolving around it on the same axis there is a one centimetre outline, then there's another and another, like the flat metal ripples of the central shape that shimmer as they in turn reflect the light. 
There are thousands, hung in columns ceiling-to-floor, and half the huge mainspace of Tramway is filled with them. As well as Spirograph-looking asterisk shapes, there's a repeated gun motif, a threat amongst the shining decoration.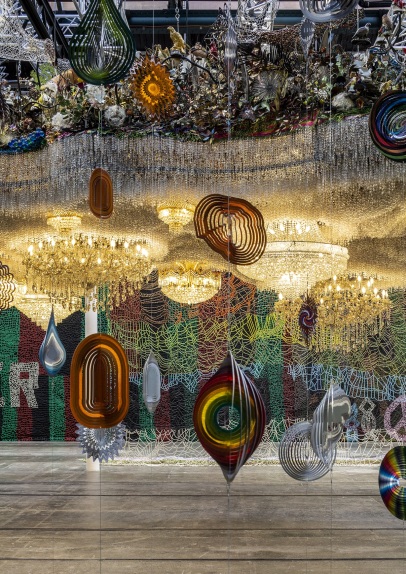 Beads are studded into patterned net wallcoverings around the room. Yellow stair ladders lead to the island of sculpture above. Up there is dense with thickets of fake foliage and flowers, populated by aged ornaments that have been breathtakingly embellished with slow craft techniques. Amongst the thickets of fake plants and flowers and chintzy knick-knack sculpture, there are caricatured black minstrel figurines with old tennis rackets taped into their hands, turned into huge nets with swooping billowing looking beadwork. It sounds a note of uncertain menace into the fake paradise as it's captured in the feathery nets set in the replicas of racist blackface. 
Working back around the room on the designated path, spot the gun shape at the centre of one of the 'spinners'. Incongruent with what might be expected of glitzy decor, it's a reminder that on the wall it reads 'POWER' writ large. This dazzling display of glitter, glimmer and novelty ornaments, with its delicately disturbing details is an imaginary splendour that nevertheless belies the harsh conditions that make escapist flight so necessary.
---
Nick Cave: Until, Tramway 1, until 24 Nov, free
Photos: Keith Hunter