Life After Love @ Generator Projects, Dundee
Two solo exhibitions come together as artists Ross Fleming and Joseph Cotgrave envision the present and futures of queer clubbing, sex and socialising
With both Joseph Cotgrave and Ross Fleming having their solo exhibitions cut short due to a global pandemic, Generator Projects' Life After Love exhibition lets their mutual explorations of queer culture and HIV not be overshadowed by that 'other' virus.
The hiss of a smoke machine is barely audible under the blare of Cher's anthem Believe; pink neon lighting peers through the glory holes that litter the black partition that dominates the space. Ceramic minutiae of club life (a key, a pill bottle, a bottle top, a singular PrEP or Eviplera pill) cluster on various surfaces in a play of visual contrariness: precaution meets hedonism and safety courts danger in Cotgrave's artistic conservation of the gay club scene in Liverpool.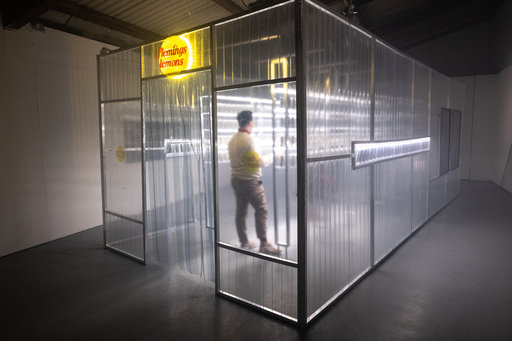 Fleming, while also referring to the past, offers a glance at a potential future: a participatory-installation of a pop-up shop offering canned PrEP-infused lemon elixirs, challenging the stigma around HIV with a playful nod to consumerist culture. Outside the transparent shop structure, the debris of crushed cans and used condoms litter the sides, paradoxically as the debris is symbolic of a certain type of responsibility. Transparency and personal narrative are intensified by the scrawled graffiti on the outside walls of the structure showing the (expired) phone number of Daryll Rowe – a man arrested for intentionally transmitting the HIV virus whom the artist had known previously.
Themes of responsibility and exploitation unite the two exhibitions by the two-way mirror which fuses the separate rooms. This exhibition combines individual experience and public information to highlight the importance of open, honest dialogue free from stigma. As the world holds its breath for a vaccine, the complex history of HIV – at the personal and political level – offers a wealth of insight moving forward.
---
Run ended
generatorprojects.co.uk/projects/life-after-love