V&A Dundee to Celebrate Video Games
V&A Dundee's new exhibition will celebrate video games. Titled Videogames: Design/Play/Disrupt, it'll feature a series of new commissions and special events showcasing video game design from Scotland and around the world
The humble video game will be celebrated by V&A Dundee this year with exhibition Videogames: Design/Play/Disrupt. From commuters playing on mobile phones to eSports professionals watched by tens of thousands of spectators, video games are embedded in the fabric of our society and V&A boldly claim that Videogames: Design/Play/Disrupt will be the "first exhibition to fully consider the complexity of videogames as one of the most important design fields of our time."
The exhibition will concentrate on the design and development of video games since the mid-2000s when major technological advancements transformed the way games are designed, discussed and played. "The exhibition shows how a wonderful range of creativity is involved in making a videogame, from hand-drawn sketches, to the design of characters, environments and music," said Philip Long, director of V&A Dundee. "Videogames: Design/Play/Disrupt also importantly looks at how games explore complex issues, and how designers are challenging discrimination and damaging social stereotypes."
The exhibition isn't just for video game-nuts suffering from RSIs though; even if you've never picked up a joystick, Long says you'll find interest in the exhibition. "Videogames are for everyone, and anyone with an interest in creativity, design and fun will enjoy this exhibition. We want everyone to get involved – from the Family Design Day to our next Tay Late – with making and playing videogames."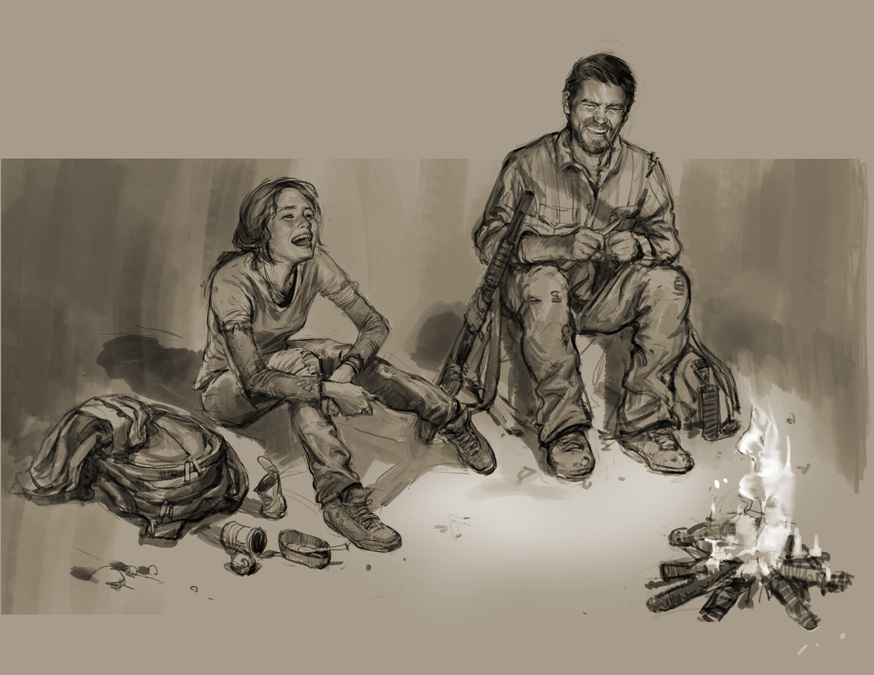 Ellie and Joel character sketch, The Last of Us™ –  Sony Interactive Entertainment LLC
Glasgow-based illustrator Ursula Kam-Ling Cheng has created a "colourful and chaotic" mural for the exhibition, with the artist taking inspiration from gaming and the virtual world. There'll also be a DIY arcade complete with bespoke arcade cabinets designed by Edinburgh studio We Throw Switches and featuring video games designed by Abertay University lecturer Niall Moody (Hummingbird) and Abertay graduate Llaura McGee (If Found, Please Return by Dreamfeel).
You can also get an insight into the creators of games like The Last of Us, Bloodborne and Journey with displays of their notebooks and original sketches. Games challenging issues of discrimination, identity and sexuality will also feature in the exhibition alongside a video wall celebrating the online communities who create and play together in games such as Minecraft and Overwatch.
There's even a new game been commissioned for the exhibition. Called Plaything, it's a collaboration between filmmaker Will Anderson and game-maker Niall Tessier-Lavigne, and we're told the game will explore character development and the idea of self in video games. Visitors to Videogames: Design/Play/Disrupt will be able to get a taste of an early version of the game.
---
Videogames: Design/Play/Disrupt will run from 20 Apr-8 Sep. Tickets are available at www.vam.ac.uk/dundee/videogames