Scottish Art Events & Exhibitions: October 2023
October welcomes a dense and diverse set of new exhibitions, screenings and performances across the country – here are the highlights
At Edinburgh Printmakers, From Where I Stand (1 Oct-3 Dec) brings together prints and multimedia works by seven contemporary artists from India and Scotland. Exploring the intersection between arts and heritage, the exhibition has been curated by Future Flow, a new creative fellowship which connects and develops artists working in Scotland and India. 
At Edinburgh Castle, Tanatsei Gambura has developed a series of soundscapes titled Nzira Yeparuware (until 30 Nov), which brings together field recordings from Harare, Zimbabwe which were recorded at locations in the city named for places in Scotland during the colonial era. The ten sound works, which also feature music by members of the Composers' Orchestra, can be accessed through QR codes at various points around the castle.  
At Fruitmarket, Florence Peake will present four painterly performances (21-22 Oct). Expanding on the relationship between painting and dance, a troupe of dancers will drag, suspend and fold canvases in an exuberant performance in the gallery's Warehouse space. 
In Dundee, Turner Prize-nominees The Otolith Group will present …But There Are New Suns (13 Oct-16 Dec), part of Cooper Gallery's ongoing programme The Ignorant Art School. The collective's 2022 film What The Owl Knows will make its UK premiere, screened alongside their 2018 film O Horizon.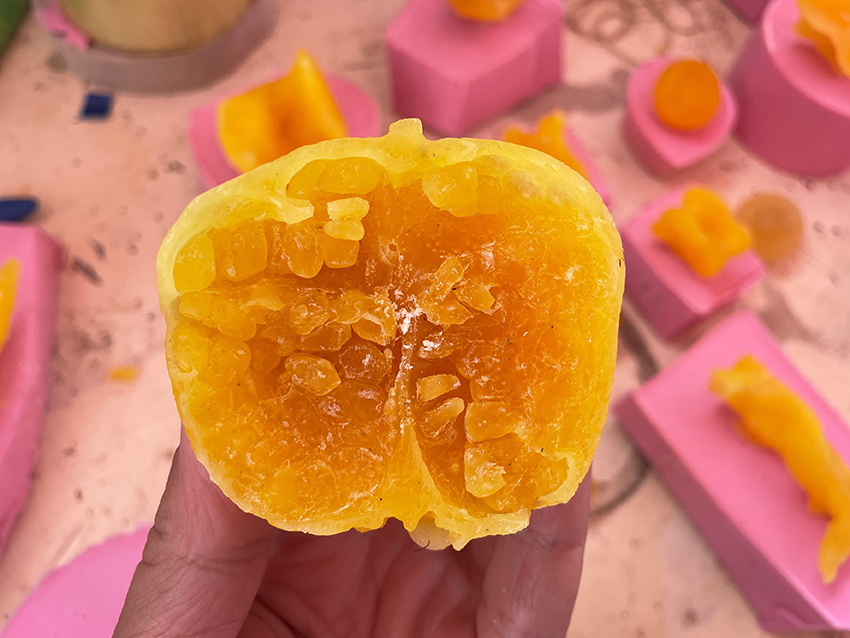 Jumana Emil Abboud, I am my own talisman II (from the Unbearable Halfness of Being). Image courtesy of the artist.
At St Andrews Museum, the first iteration of touring show Crafted Selves: The Unfinished Conversation (14 Oct-29 Feb) will open to the public. Curated by Cat Dunn, the exhibition brings together the work of 13 Scotland-based artists who examine dual identities in their work, including Sekai Machache, Ashanti Harris and Rae-Yen Song. 
In Glasgow's Tramway, you can catch the last few days of Jasleen Kaur's sculptural installation Alter Altar (until 8 Oct) and the first solo Scottish presentation of Johannesburg-based Billie Zangewa's intricate hand-stitched silk collages. Titled A Quiet Fire (30 Sep-28 Jan), Zangewa's figurative silk collages challenge the historical stereotypes used to objectify Black women. Annual performance festival Take Me Somewhere takes over 13-28 October – highlights include Mamela Nyamza, Clarinda Tse and Desire Marea. 
Near Dumfries, Cample Line will present The Unbearable Halfness of Being (10 Oct-17 Dec), a new, dynamic exhibition of drawings, textiles and sculpture by Jerusalem and London-based Jumana Emil Abboud, whose practice draws on Palestinian storytelling and folklore.