Ian McKellen opens LGBT+ rights exhibition
Sir Ian McKellen gave a stirring speech in Manchester last night to launch Never Going Underground, a new exhibition at the People's History Museum exploring the fight for LGBT+ rights
Developed by nine community curators, Never Going Underground: The Fight for LGBT+ Rights marks 50 years since the partial decriminalisation of homosexual acts in England and Wales (Sexual Offences Act 1967), and examines the events that took place leading up to the Act.
Telling the stories of diverse LGBT+ communities and drawing upon slogans and campaigns that pushed the movement towards equality forward, Never Going Underground uses photographs, media reports and personal memories to document protests including the huge march in Manchester in 1988 against Section 28, and includes artefacts such as posters from the Lesbians and Gays Support the Miners group, who featured in the 2014 film Pride.
Actor and LGBT+ rights activist Sir Ian McKellen introduced a packed hall in the People's History Museum to the exhibition, recalling the feeling of arriving in Manchester to participate in the 1988 march and reflecting on the city's radical history.
"So much that is radical has come out of Manchester"
Relating how he discovered, through the programme Who Do You Think You Are?, that his ancestor Robert Lowes, a Mancunian, had been "the principal force behind establishing the half day holiday on a Saturday, which created the weekend," McKellen said: "It wasn't a surprise to me to learn that such a radical figure had come out of Manchester. 
"So much that is radical, politically and socially, has come out of Manchester. The Suffragettes, and right through to the gay rights movement. What was it about Manchester that made us want to change the world?
"I think probably because the world in Manchester was a pretty miserable place," he said, to a knowing laugh from the crowd. "I'm not referring to the rain," he continued, "I mean the standards or lack of them that applied to workers' conditions, and the strength of the unions which helped put that right."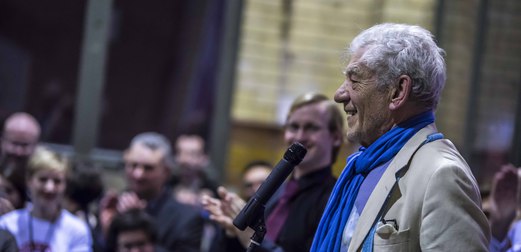 [McKellen speaking at the event last night. Photo: People's History Museum]
Born in Burnley, Lancashire, McKellen has strong ties to Manchester and has publically campaigned for LGBT+ rights since coming out as gay in 1988, and co-founding the Stonewall charity that same year in protest against Section 28. At the Museum, he described leaving Manchester town hall on that day in February 1988 and meeting the group who founded the Albert Kennedy Trust, the charity set up to support homeless LGBT+ youth ("homeless because of their honesty"), of which McKellen is a patron.
"Did you know the Albert Kennedy Trust last year dealt with 150 gay teenagers on the streets in this city?" he said. "And 250 in London, and a hundred in Newcastle? And I can't tell you about Edinburgh or Glasgow or Aberdeen or Southampton or Cardiff, Coventry, Birmingham; we don't have the figures, we don't have the resources. And so the battle goes on." 
Ending on a hopeful note, McKellen talked of his experiences raising awareness among young people in schools and remarked on recent trips to Russia, India and China, "meeting people fighting for their rights against very difficult odds."
He spoke of his hope that the exhibition will be able to travel around the country; that while many children growing up in the UK today "cannot believe there was a time when it was illegal to be gay," these stories must be told.
"In this room today are so many heroes, standing here, some of them not with us any longer, on the walls," he said. "And it is an experience that I think every child in Manchester should have access to... [to] meet the people who have been through this history and learn more about what it is that makes this city so special."
Never Going Underground
With a timeline beginning in 1625 and working towards the present day, Never Going Underground celebrates the achievements of the movement towards equality while making it clear that the fight is far from over. 
"There are so many dimensions and layers to this fascinating story and movement, which the exhibition seeks to capture and reflect in as many ways as possible," comments Catherine O'Donnell, engagement and events officer at the People's History Museum. "It's also a very personal story, which is something that we've been very mindful of in our approach," she adds, referencing the show's nine community curators: Adrian Smith, Heather Davidson, Jenny White, Kirsty Roberts, Kirsty Jukes, Lu Tolu, Sarah Wilkinson, Stephen M Hornby and Vivien Walsh.
Made possible with money raised by National Lottery players and partners The Proud Trust, LGBT Foundation, Proud 2 b Parents and Manchester Lesbian and Gay Chorus, Never Going Underground runs at the People's History Museum, Manchester, until September.
---
Never Going Underground: The Fight for LGBT+ Rights
People's History Museum, Manchester
Until 3 September 2017
phm.org.uk