Edinburgh Printmakers: Opening date & first exhibitions
Edinburgh Printmakers opens the doors to its new home at Castle Mills in Fountainbridge at the end of April
The new home of Edinburgh Printmakers will open its doors to the public at the end of next month. The building – formerly the North British Rubber Factory – will open on Saturday 27 April.
The new venue is more than double the size of Printmakers' previous home on Union Street, and will feature a pair of gallery spaces, a cafe and a shop. The three-storey building – renovated at a cost of £11 million – will be one of Europe's biggest printmaking facilities, with an open access print studio on the top floor offering digital and traditional print methods. The building will also feature artists' accomodation, a creative industries hub and a print archive.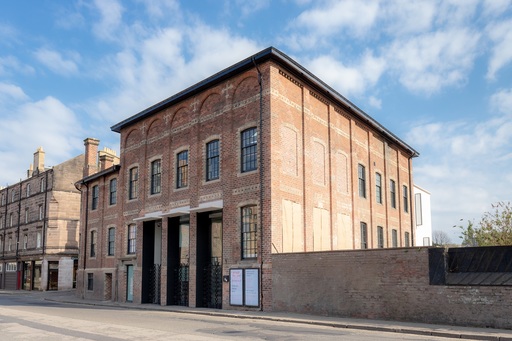 Edinburgh Printmakers. Photo: Jules Lister
The restoration of Castle Mills, built in 1870, is a rare surviving local example of 19th century polychromatic brickwork. The restoration of the building includes a host of public-facing artworks and commissions inspired by the building and area. These include new front entrance gates by Rachel Duckhouse, an artwork on the exterior of the building by Mark Doyle, and a 'kaleidoscopic intervention' in the café by artist Calum Colvin and Suzy O'Leary and Peter Smith from Page / Park Architects, who were responsible for the project.
Edinburgh Printmakers chief executive Shân Edwards says: "Edinburgh Printmakers is an arts charity with printmaking at its heart. By 2023, our spaces will be creative communities that lead with our knowledge and heritage, innovate through our practice and ambitions and welcome the wider world to art."
Exhibitions: Thomas Kilpper and Callum Innes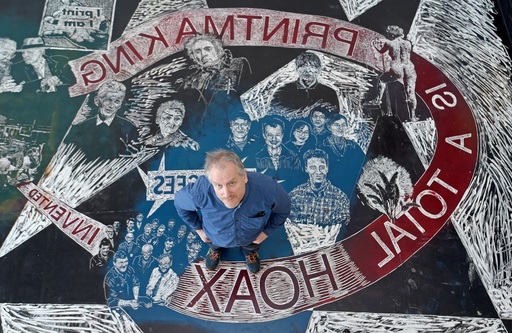 German printmaker Thomas Kilpper opens the main gallery with a new, site-specific exhibition. The Politics of Heritage vs. the Heritage of Politics takes the form of a floor carving commissioned by Edinburgh Printmakers to celebrate the history of their new home. Tackling the area's past, and its imagined future, Kilpper will 'cover the entire gallery floor with rubber, creating a giant floor based printing template, providing him with a rubber matrix on which to carve images that relate to the social history of the building.'
Kilpper says: "Right now across the world decisions are being made by politicians that I think need to be challenged. Decisions on the environment, on coexistence and our way of living together. It is a phenomenon that societies are getting more polarised, right-wing parties reappearing and sowing prejudices and hatred against minorities, and politicians unwilling to protect the powerless in our society and instead promoting the interests of the banks and giant corporations.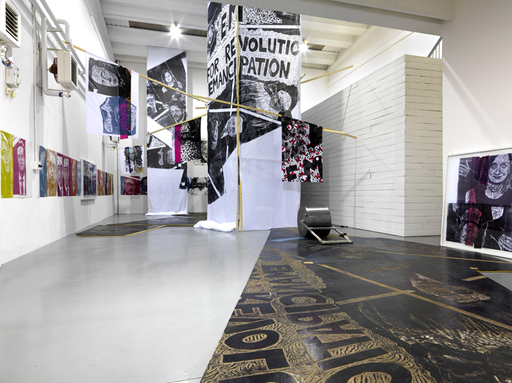 "We have a shift back to the dark side of nationalism, not only Trump's 'America first' slogan but also UKIP, the Italian, Austrian, Polish government or even Marine Le Pen's policy paradigmatically indicate. Coming to Edinburgh at a time when Britain is planning to leave the European Union while Scotland would prefer to stay, will be very interesting. As an artist I am dealing with aesthetics in the broadest sense which includes questions around how to address conflicting social issues.
"These questions highlight fundamental concerns about our future, that I hope to be able to examine through this project. Castle Mills, after being abandoned for several decades, shall again be brought to life and become a space for production. This time a place of artistic production based on a diverse range of critical voices at a challenging time in our history."
In EP's other gallery space will be a selection of original prints by Callum Innes, an Artist Patron of Edinburgh Printmakers. This exhibition 'will chart Innes's artistic journey through the medium of print and display artworks from Edinburgh Printmakers' print collection, commissioned and published by Edinburgh Printmakers over the years.'
---
Printmaking courses and artist residencies begin in April 2019; Edinburgh Printmakers opens to the public on Sat 27 Apr