Community art – Assemble win the Turner Prize 2015
Architecture and design collective Assemble won the Turner Prize 2015 for their renovation of otherwise-retired housing stock in Liverpool.
In Glasgow's Southside last night, architecture and design collective Assemble were awarded the Turner Prize for their work to renovate otherwise-condemned housing stock in Liverpool.
Not just because of the inclusion of this kind of architectural, legal and artistic activism, there's no argument that the different works within the Turner Prize 2015 exhibition posed a certain incommensurability. Yet, there is some parallel between the experimental use of pre-existing forms by Assemble and Janice Kerbel's operatic composition and Bonnie Camplin's resource room.
The selection of work of this kind made very obvious a conventional feature of the Turner Prize exhibition – that it involves a certain amount of restaging, or repeating of an original exhibition. For multimedia artist Janice Kerbel, this meant daily performances of excerpts from what was originally a longer, one-off event. Yet Assemble's presentation in its form is entirely documentary. That's to say, it is designed to be an accessible and clear communication of a live project.
---
Assemble's collective structure effaces a certain historical egotism that goes with architecture
---
As a year that brought to attention artists working in unusual media, Turner Prize 2015 also highlighted the difficulties of re-presenting this kind of work. For Janice Kerbel, her space is mostly empty for a large proportion of Tramway's opening hours, except for a poster with some skewed text that relates to the lyrics of her sharp performance work.
For Assemble, their resource room serves its purpose as a site of information. There are video and sculptural elements, but they are presented in a simplistic, straightforward way, rather than operating critically or reflectively. There is an opportunity for more considered documentation of works that don't easily fit into the gallery.
This kind of judgment edges near to the comments that Assemble shouldn't be considered as contemporary artists. Maybe this kind of discomfort is a recognition of the most exciting feature of this year's Turner Prize.
Usually nominations come as an acknowledgment of a work of contemporary art as exemplary, or worth publicising and repeating in a large public institution. However, in a moment of arrogation, this year the Turner committee took it upon itself not only to choose Assemble as important artists, but also to decide that their efforts are artworks – over-and-above Assemble's own idea of itself.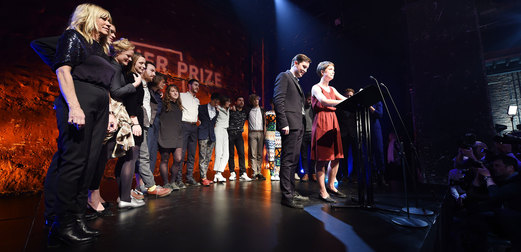 Assemble receive the 2015 Turner Prize. Photo: Ian Watson
Social improvement and community benefit
An interesting take on Assemble is to consider the idea of the "media" they use to address the problematic idea of social improvement.
For example, legal regulation in their practice can be considered an important medium. Their 10 newly-opened houses in Liverpool are managed within a Community Land Trust, an innovative form of collective ownership. From this comes a reinvestment into collectively beneficial projects of any added value that attaches to the land surrounding the houses. Assemble, in this way, distinguish their property development from the usually socially disengaged associations of this kind of work.
As well as using the law to work out how to structure ownership innovatively, there are several easily identifiable disciplines in the work of Assemble. Between architects, designers and structural engineers there is a complex, evaluating and advising how to convert derelict structures into liveable housing. Yet, these often dry avenues of interest are made sensitive to the problems usually thought of at a distance in regular architectural projects.
Assemble's aesthetic and design
Design is deployed here as a means of encouragement to thoughtful use of what is available, where possible. Assemble, in this way, align to the most effective instructions and relatively inexpensive materials. There is a colourful and blocky aesthetic present in the lampshades and door handles, yet it is instrumentalised as a means of making for attractive interiors. In this instance, the more political or avant-garde elements of the project exist not in a visible aesthetic, but in the conscious structuring of design around making objects that are cheap to produce and easy to replicate by amateurs.
While Assemble may not identify as artists, a present concern is that recognition on such a public forum reserves their place as the "original" architectural collective. Already, their collective structure effaces a certain historical egotism that goes with the inherent monumentality of architecture. Unlike other nominees, Assemble's work is of a kind that could become more valuable and interesting in its appropriation and repetition by equally qualified practitioners, as a further displacement of the single, genius architect.
In Tramway, a former depot turned major public art gallery, there is already a sense of the complex network of the arts, regeneration and gentrification. Most importantly, last night's win for Assemble is a clear indication that there is place for the arts other than to inadvertently serve private profit in problematically holistic transformations, and erasures, of communities.
---
Turner Prize 2015 is at Tramway, Glasgow until 17 Jan 2016