Raissa Pardini on MUSICA! MUSICA! MUSICA!
Ahead of the Lunchtime Gallery launch of her first solo exhibition, we speak to graphic designer Raissa Pardini about her twin loves – music and design – and why she relocated to Glasgow to pursue her career
First exhibited at London's The Social before touring to Milan's Parco Gallery and Manchester's Pink, MUSICA! MUSICA! MUSICA! will be on show in the designer's adopted hometown of Glasgow at The Lunchtime Gallery until 14 March. 
Pardini's style is characterised by an experimental approach to traditional typography and lettering forms. The exhibition focuses on her posters for an eclectic mix of bands like IDLES, Squid, The Orielles and Snapped Ankles featuring retro patterns and colourful detail. The posters have been organised differently in each city to maximise the benefits of each unique location. In Milan's exhibition in the Parco Gallery, the first graphic design exhibition space in the city, all of her posters were organised closely next to one another forming what Pardini calls "a sort of propagandistic wall of adverts.
"Manchester was extremely cool as we saw an opportunity to use a listed space in the heart of the city with big walls, huge windows and an incredible industrial view. Glasgow is next up and I'm so excited to work alongside Lunchtime gallery – an incredible space connected to the amazing Good Press in the Saltmarket. They work hard on grassroots artists. Lunchtime has a unique layout so expect big posters and big letters all around. Colours will be bright and so will the messages!"
The energetic Italian began designing at an early age, studying graphic design from the age of 13 – she recalls discovering music at the same time. "They immediately became two worlds that needed to run next to each other for me. Monday to Friday was to study hard and weekends were for bands and gigs. However I soon needed a bigger city to challenge me and the European Institute of Design in Milan was famous for allowing you to work alongside real creatives. I moved there from a small town and did my studies in Visual Arts and Graphic Design for the next three years."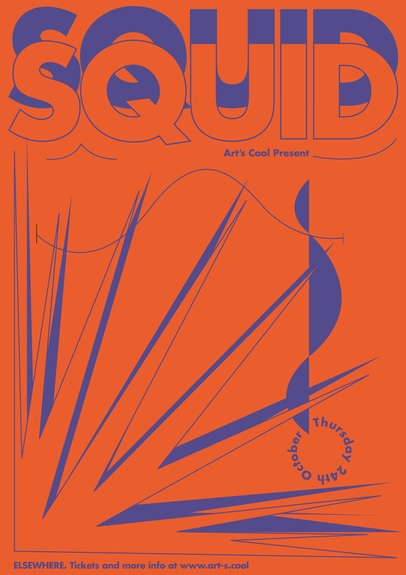 After a short stint working in Berlin, Pardini spent six years in London where she threw herself into music. "I was working in record shops, hosting a radio show, touring with my band and DJing around London and having a good time!"
She began working for Music Sales Group, the biggest music publisher in the world, but working for studios and companies left her cold.
"I was only able to give them 20% of my creativity when I wanted to give them everything I had inside. London played a major role in starting my career, it introduced me to the right people, but London didn't show me who I was as a designer."
After visiting Glasgow a few times with her band she decided to move here and make design her focus.
"Moving to Glasgow was the best thing that could have ever happened to my career. Freedom comes from many things: affording a studio, a space for yourself, a little home where you go and produce things that need to come out of your brain. Being able to afford a space is crucial for an artist. Limitations are barriers to ideas and London is a city full of limits. Glasgow made me feel free and took away the anxiety and pressure I had. Glasgow turned the risk into excitement. I'll always owe this city for giving me this; my best work was to follow and I felt like a real designer for the first time!
"Glasgow's community is so strong and you notice such a big difference in people as soon as you come out of Central Station. The design community is very individual and there are amazing studios all around the city. Ed and Kerr at Cause & Effect took me under their wings from the beginning. Their constant support shaped me as a designer and as the person I am behind projects. Their massive success at the latest Scottish Design Awards made me so proud of what they can create and reach."
Pardini is passionate about the role public exhibitions play in instilling confidence in designers as well as demonstrating the cultural value of design.
"When designers and artists are given the chance to build their own vision for an exhibition, they can finally show the world what they've been up to, make their work tangible, being seen and felt by many people from many walks of life. Not just curators or art writers. Exhibitions make people think, and reformulate contexts, meanings, opinions. Exhibitions help us to question ourselves culturally. And since design is in everything – and it seems difficult to explain what it does – putting up design exhibitions is so significant."
---
MUSICA! MUSICA! MUSICA!, Lunchtime Gallery, Glasgow, Tue-Sun, 11am-6pm; A1 posters on display are for sale and can be also reprinted by commissions. Some special riso-printed A3 posters will be available to purchase