Local Heroes: Too Gallus
For the latest edition of our Local Heroes design column, we speak to Barrington Reeves about culture, creating creative experiences and the future for Too Gallus
Barrington Reeves is the Creative Director of Glasgow design agency Too Gallus. The multidisciplinary studio works across nearly every field of the creative process and is known for its fresh, slick and modern approach. 

"I like to think of us as an agency that is future forward and rooted in youth culture. We craft culturally relevant solutions to content, branding, web design, film and photography. Connection and emotion is at the heart of all of the work we do and we aim to create brands and work that people are fanatical about; we want people to feel that instant passion when they see a brand we've worked on!"
The summer of 2020 has been all about planning for Reeves, who has spent the last year expanding his team and moving into a chic new studio on Glasgow's King Street.  "We're learning new skills like 3D rendering and Shopify, working on portfolio pieces, and getting our work flow right. It's been intense to say the least. Now that we have those building blocks in place it's time for us to reach out and start pulling in clients to put them to use. Since day one we've never done any outbound sales or marketing so I'm really excited to see what kind of connections we can make now that we are proactively seeking new clients."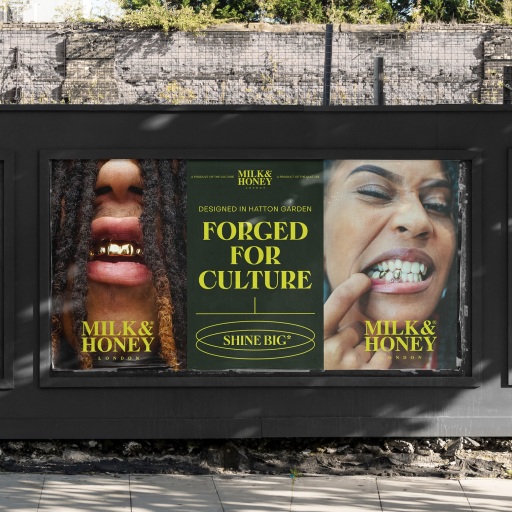 Too Gallus set out to prove that it's possible to work with the kind of clients they love and be successful outside of London. Reeves is committed to helping foster the creative community and spirit within Scotland, he explains, "to prove to people that your location doesn't matter anymore, it's about creating work with people that you love, and as long as you are great at it you can do it from anywhere you want."
Previous experience working with big agencies created a distance from clients and offered a lack of autonomy that frustrated the young designer. "For better or worse, I'm very headstrong and when I was working in agencies I often felt my ideas were being swept under the carpet or ignored due to being a junior, or I found ideas were often diluted and key design decisions were made by account managers. I think to achieve design work that really communicates the true essence of both parties that process has to take place between a client and a designer which is why I found the small agency model so much more appealing. When you talk to a client directly you can see what makes them excited, what gets them fired up, and those are the points you can carry through into your work."

The Too Gallus approach to photography and styling is distinctive and original, winning them Instagram followers by the thousands and an impressive roster of clients for a young agency. Says Reeves, "I think it's possible to inspire so much connection and emotion with photography that I often find myself using it as the main communication tool in our work. Almost the minute that I start working on a company's branding I begin envisioning the photography and styling because I think it's something that needs to work seamlessly with their identity, rather than be shoehorned in afterwards. It's really important to work with people who understand your vision as a creative director. We've been working with amazing photographers like Stewart Bryden who is the perfect fit for our fashion clients and Donna McGowan who works on our beauty campaigns."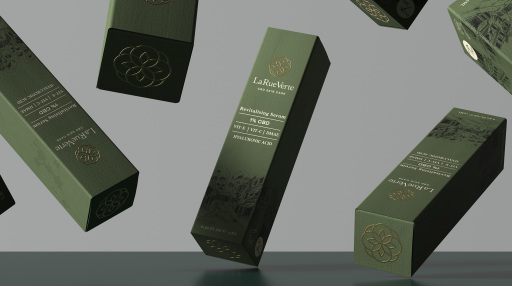 Too Gallus were behind this year's self-assured campaign for menswear brand Slaters and a sophisticated set of animations for cosmetics brand Isle of Paradise. "Our work for La Rue Verte has been particularly gratifying. It's been an entirely integrated project that we built from the ground up and as our first luxury client we had the opportunity to pull out all of the stops. It was our chance to flex on everything from naming, brand identity, packaging design, photography, art direction, videography, 3D rendering, illustration and a full Shopify ecommerce build. Our client has put so much trust in us and we've built up such an amazing relationship it's become a really fulfilling project to work on."
The laser-focused agency are now developing new technologically driven services to offer in-house with a focus on interactive 3D websites.
"Everyone already knows how powerful 3D rendering can be when launching a product and for us the next logical step is bringing it online with interactive 3D websites, allowing people to create AR / VR products and experiences on their e-commerce websites. I think it's the future and I want to make sure we're leading the charge on it."
---
Barrington Reeves is the founder of the Black Scottish Business Fund which has raised over £25,000 to support and encourage Black owned businesses. He spoke to the Scottish Parliament in June about the need for British colonialism and the transatlantic slave trade to be part of the Scottish educational curriculum.

You can read his recent interview with Anahit Behrooz here where he discusses what it means to be a Black creative in 2020.