Passion Projects: Carrie Maclennan on being a 'Concept Librarian'
A sense of curiosity and wit is palpable in all of Carrie Maclennan's projects and her new role as Concept Librarian at one of the most talked about hotels, The Standard, London, is, without an ounce of hyperbole, a marriage made in heaven
For the past year Carrie Maclennan has been creating both her dream job and an intricate and strange hotel library where 28 different sections are labelled with topics such as Hope, Pets, Chaos and Mathematics. A place where guests should expect to find books with titles like Salads or Sybil: The True Story of a Woman Possessed by 16 Separate Personalities.
In design, the phrase 'doing it for the love of it' doesn't always acknowledge things like paying the rent but Maclennan's story illustrates that staying true to yourself – as well as following your heart – can deliver you to your passion project.
"I joined the Design Team in Feb 2019 and began building upon the 'public library' concept dreamed up by designer Shawn Hausman and the in-house team at The Standard, London. I started referring to myself as 'Concept Librarian' which has kinda caught on!" explains Maclennan. "The hotel is in what used to be the old Camden Town Hall Annex. The original building opened in 1974 and the building as it is now still speaks to that mid-70s-into-the-80s time.
"The concept was built around this story – partly truth but mostly fiction, that when the council offices closed, the public library was abandoned but left intact. At the time King's Cross was pretty gritty. Lots of squats. We pretended that squatters had commandeered the old library and 'made it their own'. We pretended that artists, punks, political activists took the space and reinvented it as their own."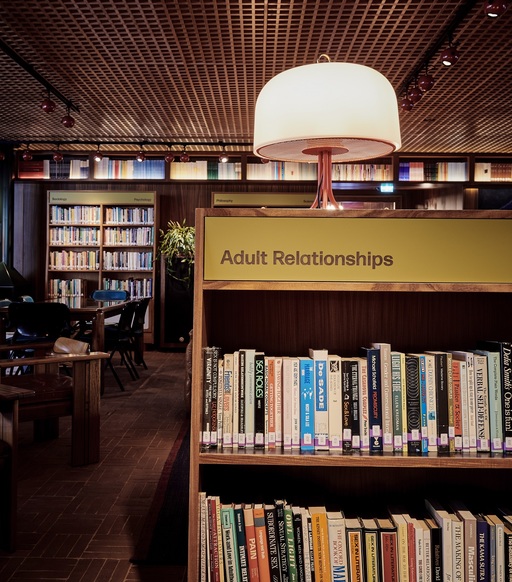 Accordingly, the Politics section sits next to the Tragedy section. And the Tragedy section is actually yet more books about politics. Romance sits next to Technology in a nod to the nature of modern dating. For Maclennan, the stories that run through these section headings and shelves that she has themed around music, art, design and fashion are highly personal.
"I mashed up the idea of the squatters, and what they might do with the space, with vibes that sit at the heart of what The Standard, London brand is. And I mashed up my own biography and how I was feeling about myself and the world at the time. It felt like the most exhilarating thing I'd ever done.
"It was such a weird scenario in that I felt that somehow lots of things I was interested in and truly loved had aligned into this one amazing project that I was in complete control of. From reconnecting with academic texts I'd read or meant to read during that part of my life, to finding humour in crazy titles or subject themes to choosing covers based on excellent typography, crazy colourways and bonkers photography."
Originally from Glasgow, Maclennan moved to East London in 2012. In her previous career in marketing, she felt a serious disconnect.
"I didn't really feel like myself – fragmented in a way. What I was doing for work and money felt at odds with my heart and my brains," she says.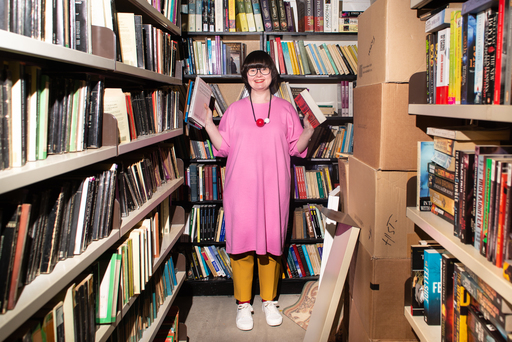 Her lifelong obsession with creating stories through objects led to the creation of Not The Kind, an online gallery and gift shop.
"Not The Kind was borne out of frustration, really. I needed an outlet to experiment and be silly and do what I wanted. When I first started I did have this dream of it being something that I could earn a living from... but it didn't take long for me to figure out that that just wasn't going to happen. Not with the time I had to invest in it, the little money I had and the masses of energy I'd need to devote to doing it on my own.
"At that point, I was really struggling, both in terms of my mental health and in terms of who or what I was and what I wanted to be work-wise. But in January 2019 I decided that I would give Not The Kind a proper bash.
"Now this is going to sound quite strange... but I got my tarot cards read for the first time that month. The reading, 100% contrary to how I was feeling at that moment, told me I was going to get everything I was wishing for, that work-wise I would find my place, that everything would be super successful and that I'd make money etc., etc… Crazy positive. Even the tarot reader was like, 'Um... This never happens...' I took it all with a massive pinch of salt because it seemed to me at that time completely impossible for things to turn around so dramatically.
"I got the call from The Standard, London literally 5 weeks later and I started work there right away. Every. Goddam. Thing. Was true."
Maclennan says the role has given her a whole new perspective. Principally, realising that she has skills she didn't know were valuable.
"As a non-designer, I think I bring a unique perspective to my team – different insights. I have the itch to pull all the strands together: the brand; the marketing; the events; the objects; the stories; the design; the art; the publishing; the EVERYTHING! And I don't have to pretend to be someone else. I can be interested in what I truly love. I can like what I like and I can share my taste (as jarring as it can be sometimes!)
"I've curated the library, I made a pop-up library for Frieze London, I concepted Christmas and now I'm launching retail. Dreams I didn't even know I had have come true."
Like all great stories, this one has highs – and even an element of magic – but refreshingly Maclennan isn't afraid to acknowledge the lows.
"Fear of failure, perfectionism, low self-esteem – blah, blah – it's all in there. And you know what? IT'S ALL IN THE LIBRARY TOO!"
---
standardhotels.com/london/properties/london
Carrie Maclennan photo by Garry Maclennan