Art Battle Manchester: Inside the phenomenon
An energetic live experience where artists compete to create a masterpiece against the clock, Art Battle Manchester has taken the city by storm. We go behind the scenes of this popular phenomenon, and meet a painter gearing up for the next event...
Surrounded by a circling crowd so tense and hopeful, you'd be forgiven for thinking the boxing match of the decade was underway, but this battle is like no other. With its contestants swapping red gloves for paint brushes and sweat dripping from their foreheads as the clock ticks loudly, masterpieces unfold before the eyes of a boisterous audience.
Deemed "art's biggest adrenaline rush" by the host of Manchester's event, the Art Battle craze has swept across the map from its home in the USA. Originally founded in 2001 by New Yorker Sean Bono, who hosted the very first contest in Downtown NYC, the battles' popularity has exploded since they first began 15 years ago – with Japan and China hosting their first battles to unprecedented attention in 2016.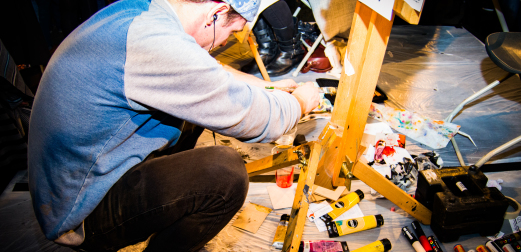 [Photo: Richard Crisp] 
In Manchester, John Macaulay was inspired to start his own Art Battle events three and a half years ago. John and his wife Sophie, an art historian, decided to combine their love of gigs and art to create a unique event in the city.
"Sophie and I looked for a way that we could collaborate and almost recreate a gig atmosphere in an art environment," says Macaulay. "The first one we ever did was at Twenty Twenty Two in the Northern Quarter and it was just incredible.
"We choose different venues and artists each time to keep the event fresh, and it has evolved from small beginnings. It seems to capture people's imagination and the good thing about it is we are giving people a platform to increase their profile as well."
"It's pretty nerve-wracking..." 
Art Battle Manchester has so far run eight live competitive painting events, and the organisers choose iconic and unique venues across the city. John and Sophie even got married at a former Art Battle venue. "The great thing about doing the events is you get to see some amazing buildings," Macaulay says. 
"Some of the places we've used have been mills and disused warehouses. We've seen some amazing buildings across the city centre. We got married at Hope Mill Theatre, which was just the bottom floor of a mill when we did it – Art Battle is very much part of our story."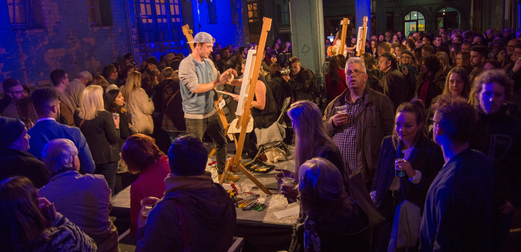 [Photo: Richard Crisp] 
Hosting his ninth Art Battle Manchester on 17 February, this next event will take place at Gorilla on Whitworth Street West.
One contestant, Lee Hartley, a wall mural painter and all-round creative genius, is nervously awaiting his turn to take the floor and face 300 lively audience members. Hartley started as a full-time artist two years ago, after working in web design. "It's pretty nerve-wracking," he says. "You only get 30 minutes to paint something and practising isn't for me. I'm just going to go for it on the night and see what I can do.
"In my own style I've taken bits from abstract and graffiti and mixed them together, so the background is quite an abstract look, then an urban style on top with nice crisp lines and bright colours. I like to mix metallics and my colours together and mess around with paints to see what I can come up with."

[Hartley at work on a mural.]
But does Lee think he has what it takes to win?
"I like to stay modest," he says. "There's some really good talent out there. I'd just tell the others – Don't Smudge!"
"It's art's biggest adrenaline rush!" 
As Art Battle events gain increasing attention across the 50 cities worldwide they have already launched in, it seems certain that more and more people will be inspired to dig out their old brushes and have a go themselves.
"For anyone who thinks they want to give it a try – do it," says Macauley. "It's art's biggest adrenaline rush and it'll get your creative juices flowing, push boundaries and take you out of your comfort zone."
---
Art Battle Manchester IX: The Thrilla in Gorilla is on 17 February at Gorilla, Manchester, 7pm, £10