Wendy Ramshaw: An icon of design
As The Scottish Gallery opens its doors to a magical collection of work by Wendy Ramshaw (OBE RDI CBE), design curator Dr Stacey Hunter speaks with the gallery's Christina Jansen about a 24ct gold icon of British design
Stacey Hunter: It feels right that the finale of your 175 year anniversary celebrations includes Wendy Ramshaw. Her work remains so fresh and so modern – yet her history is astonishing. The play between the ancient and the futuristic never seems to date.
Christina Jansen: Absolutely – there is the ancient Egyptian mixed with an 'out of this world aspect' of fictitious landscapes like Alice In Wonderland and then some of the characteristics of the machine age. You know when we did a special 'capsule' at COLLECT this year with Wendy and [her husband] David Watkins the very young people coming to see the show just saw these pieces as great design – as opposed to 'design classics' and that's to do with the presentation, and the photography – it is just such an amazingly rich series of work.
L - R: Timeless Pendant Earrings (2008) silver, gilt enamel with lapis lazuli on brass stand inlaid with bands of colour; Pink Dream Ringset (2004) 18ct yellow gold, tourmaline and garnet, clear acrylic stand; Moon Dreamer Ringset 7 part set: 18ct yellow with moonstone on turned acrylic stand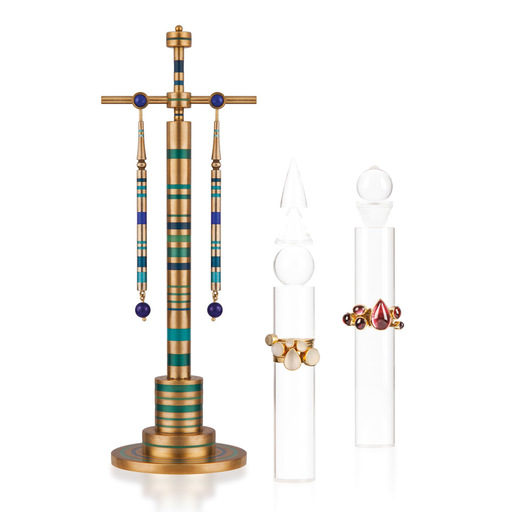 SH: Some of the pieces you have here are so iconic; the Ringsets on their stands that have been turned by Wendy on a lathe and then painstakingly enamelled. It's really amazing to see them in such an intimate setting – outside of a museum context.
CJ: The Ringsets presented as they are on these beautiful stands literally puts them head and shoulders above other jewellery. Wendy is considered a sculptor and a fine artist and remember that many of these were created while she was a working mother in the 1960s and 70s. It makes me very happy that people can come into the gallery and see this work up close. Her work is pure theatre and for this show, the gallery is like a dressing-up box where jewellery can take you into another world. I believe there is something here that anyone could come in and really love and connect with.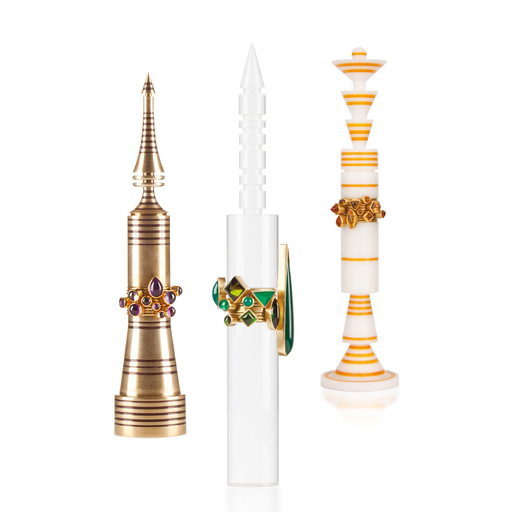 L - R: 10 Part Amethyst Ringset (1995) 18ct yellow gold, amethyst; Green Goddess Ringset (2000) 18ct yellow gold with a matt finish, emerald, carnelian, tourmaline, green garnet, clear acrylic stand; Yellow Buzz ringset (10 parts) c.2010 18ct yellow gold, citrine, on a white delrin stand with yellow bands Photographs: William Van Esland
SH: The sense of affection and and respect you and your staff have for Wendy's work is palpable – how far back does the relationship go?
CJ: The Scottish Gallery has been fortunate enough to present some of Wendy's most ambitious ideas through exhibitions like Picasso's Ladies (1989), Rooms of Dreams (2002), Prospero's Table (2004) and a Journey Through Glass (2007). I've known Wendy since I was in my early twenties and working at the Crafts Council. Wendy wanted to talk to anyone who was working with customers on the shop floor – she understands that if you love her work you'll communicate it. I've become a Wendy Ramshaw addict. I have several pieces now and I know what it's like to wear her jewellery. You're wearing a little badge if you wear her ringsets as you've bought into her dream – I know clients with very expensive jewellery yet it's the Wendy Ramshaw pieces that they say they get comments on. And I know people with her Ringsets who can't bear to take them off. It's indicative of how beloved her jewellery is that they don't come up in secondary sales.
Picasso's Ladies was produced over ten years with Wendy designing one or more jewels for each of the 66 portraits of the women who played important roles in Picasso's life as wives, mistresses and friends he fell in love with.
Ringset (eight parts) 2014, 18ct white gold, onyx on a turned black anodised aluminium stand. Photograph: William Van Esland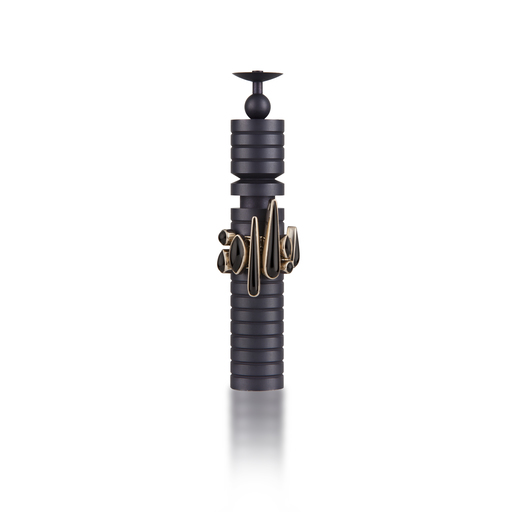 SH: The titles and timeline of the shows you just mentioned illustrate not only the significance of her literary and artistic inspirations but the sheer breadth of her career as a designer.
CJ: Wendy translates the world in a really unusual way: Prospero's Table was inspired by Shakespeare's The Tempest with many of the contents in locked compartments so you have not only jewellery and objects related to Prospero or the sea but the combining of precious and non-precious materials. Plan in a Gold Circle is a small piece of jewellery that is actually a maquette for the Edinburgh Gate in Hyde Park so you've got a designer working at many different scales and also incorporating so many different technologies and new materials. In the collection we have on display currently are the signature ringsets of course, and brooches, neckpieces and earrings in gold, platinum, and non-precious metals, enamel, glass, precious and semi-precious stones.
SH: You mentioned the Edinburgh Gate at Hyde Park and I wanted to ask about Wendy's connection with Edinburgh as it seems there have been many significant exhibitions here – not just at The Scottish Gallery but also at Dovecot and the National Museum of Scotland.
CJ: I'd say that Wendy has always loved Edinburgh – and the train journey from Newcastle. Edinburgh has been a city that she connected with as part of her art eduction was the Edinburgh Festival.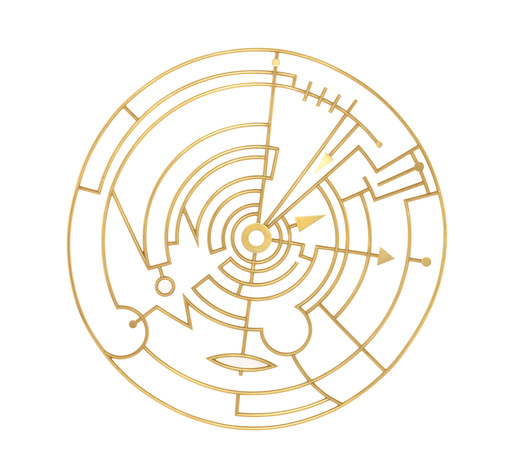 Brooch by Wendy Ramshaw, Plan In A Gold Circle – a fine drawing that has been rendered in 18ct yellow gold by the designer and maker Wendy Ramshaw in 1988. We are currently exhibiting a significant collection of Ramshaw's signature ringsets, brooches, neckpieces and earrings in gold, platinum, as well as works in non precious metals, enamel, glass, with precious and semi-precious stones.
"You may know that the lines of imaginary maps are often evident in my pieces. They are some kind of homage to my father's profession. Constructed form fine gold wires, they may be symbolic of travel and potential discovery, I am often working on a subconscious level." Wendy Ramshaw, Rooms of Dreams (2012)
Edinburgh Gate at Hyde Park by Wendy Ramshaw (Creative Commons License)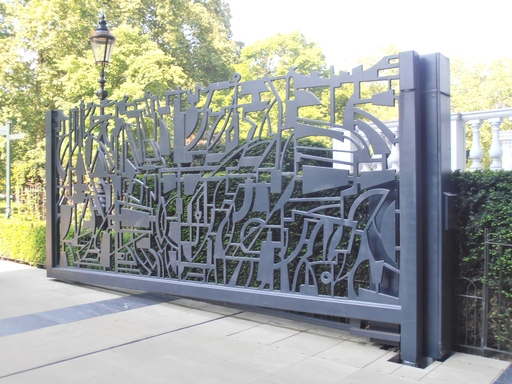 'Jewellery is Joy'
SH: Christopher Frayling said of her work: "Wendy Ramshaw's jewellery self-evidently has imagination and skill… it succeeds in being modern Art and modern Craft both at the same time."
CJ: Wendy herself has always said that "Jewellery is joy," and one forgets that simple sentiment. Though the symbolism behind this collection is so layered and so deep, for example — she'd kept all the sea-glass her mother collected in Sunderland and it features in many of her sculptural pieces – beyond all of the symbolism is the fact that her jewellery simply brings many woman a great deal of joy and it appeals to anyone from five to 95. It's work that women really like – we are accustomed to a grandmother, mother and two daughters all having their own ringsets.
SH: Earlier we talked about how Wendy's work is futuristic and ancient. When I look at White Queen (1975), I see its influence on designers like Alexander McQueen and John Galliano – she was so utterly ahead of her time. [For the V&A, Wendy produced a full-sized figure of the White Queen from Alice in Wonderland made in calico and white wax with a cast of her own head and hands which wore one of her delicate neckpieces.]
CJ: She's from that post-war generation who were rebuilding Britain and her partnerships with and interest in industry and history helped take her work to the next level using unconventional materials. The Wedgwood series [earrings pictured below] are a part of British design history.
These earrings and this neckpiece are examples of Wendy Ramshaw's collaboration with English ceramics manufacturer, Wedgwood.
The earrings incorporate Wedgwood basalt discs with 18ct gold, and cornelian. Most of the ceramic forms were turned on a replica of a Wedgwood lathe installed by the first Josiah Wedgwood in 1763.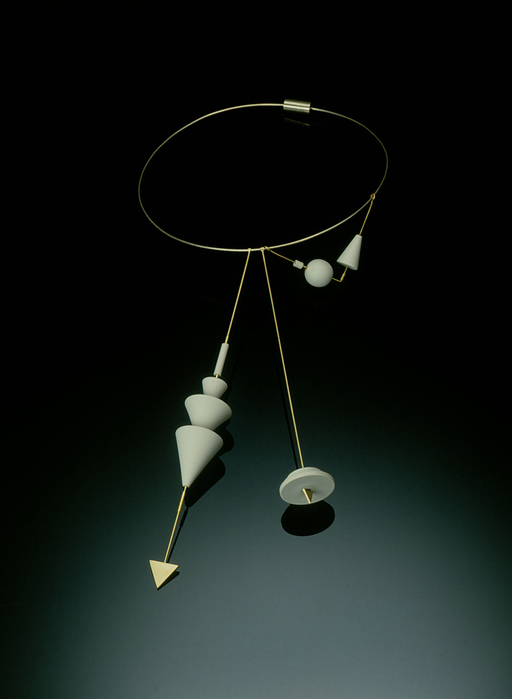 Pictured: Three Cone Necklace, 18ct gold, Picasso Jasper
The jewellery series – initiated in 1982 – was fabricated using materials like basalt and jasper. The ceramic elements were created in Barlaston and subsequently turned and assembled by Ramshaw in her studio. Wendy's Wedgwood collection was later immortalised in a famous V&A Museum poster which promoted the avant-garde aspect of the museum's collections in 1992 (Graham Hughes 2009).
CJ: And she's done knitwear and garments – she's obsessed with how you can wear things on the body. I was with her in Chicago and she bought a Native American orbit neckpiece for David, and when I saw her with it I saw how her work connects right back in time to ancient civilisations. She loves the PreRaphaelites and their use of natural stones and stones with natural inclusions – you can see this mix of approaches with the natural alongside the geometric and controlled.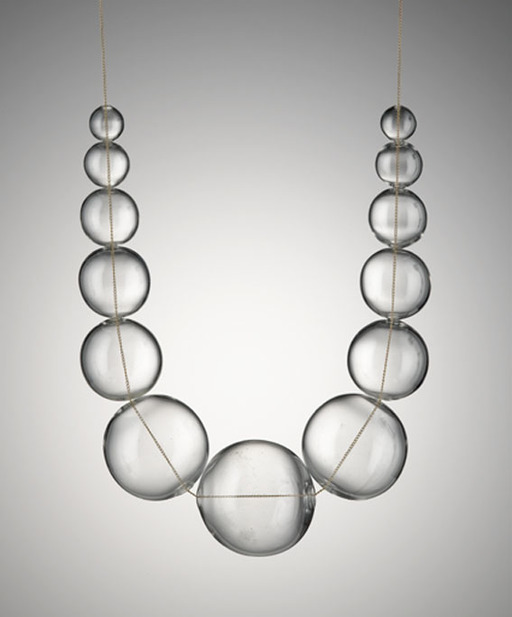 The Air a neckpiece by Wendy Ramshaw is made with 18ct yellow gold chain threaded through 15 glass spheres. The piece relates to A Journey Through Glass – an exhibition of Ramshaw's work which took place at The Scottish Gallery 3 August-5 September 2007. Ramshaw's glass work was the outcome of the designer's residency at Pilchuck School in Seattle.
SH: Why should people come to see the show?
CJ: There is something for everyone here. Some of her work is incredibly subtle – in other areas it's a theatrical experience; like this neckpiece that transforms the wearer into Mary Queen Of Scots [Sentinel, pictured below] it's a museum piece that's also a piece of magic and an amazing object. Visually I can't think of anyone else's work that is so special and distinctive. Wendy's work helps people connect to contemporary jewellery – she's such an inspiration and has such high standards. Hopefully you just come in and get lost and enjoy a very accessible show – it echoes every single museum collection she has been in. This exhibition offers a different experience from a museum – you can look at images on Instagram and that is fine but to experience it in person is wonderful.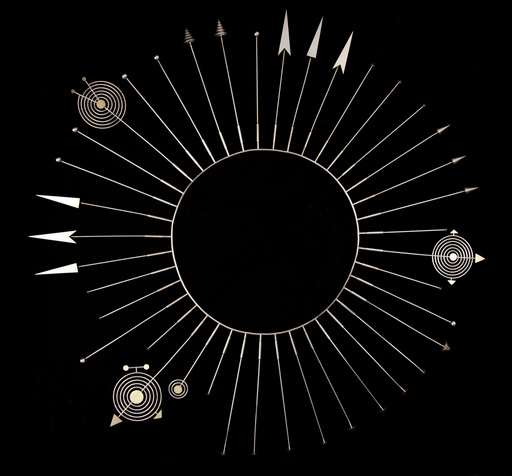 Silver Sentinel Necklace (1990) Silver with precious yellow metal tips, Photograph: William Van Esland
Wendy Ramshaw: A Celebration, The Scottish Gallery, 16 Dundas Street, Edinburgh until 23 Dec Mon-Fri 10am-6pm, Sat 10am-4pm All visitors to the show who leave their contact details and mention The Skinny will be entered into a draw to win a copy of Rooms Of Dreams a fully illustrated book with contributions from writers, curators and poets, originally published to coincide with the exhibition Rooms of Dreams in 2002 (worth £20)