The Skinny 150: Our favourite covers
This month, we celebrate our 150th issue. Hooray! To mark the occasion, we dig through the archives and ask The Skinny team to pick out their favourite covers from the last 150 issues
December 2009, Issue 51
"I have lots of favourites so I'm going to go for a personal throwback. This was a cover story for me, before I was the editor, looking at ten years of Collective's New Work Scotland. The artwork we used was made specially by Rabiya Choudhry, and she gave me the original when I got this job. It now says 'Congratulations on the new job ya bugger!' at the bottom in biro." [Rosamund West, editor-in-chief]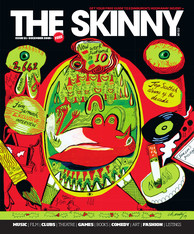 June 2008, Issue 33
"An elegant cover star is mostly hidden due to being headfirst in a bin. The caption reads: Hungry? It reminds me of the last ever episode of Fawlty Towers, where Basil calls Mr Carnegie 'the scavenger gourmet.'" [Ben Venables, comedy editor]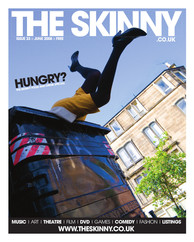 August 2014, Issue 107
"The August 2014 cover, with a headless Jessica Harrison sculpture to announce the impending Edinburgh Fringe, has everything you want from a Skinny cover. It's topical, striking, features emerging artists, and there's a cracker of a pun on there as well. Also, when you put it side-by-side with the St. Vincent-starring August 2014 issue of The Skinny North (RIP), it looks like a Marie Antoinette-style before and after. So yeah, something for everyone…" [Peter Simpson, digital editor]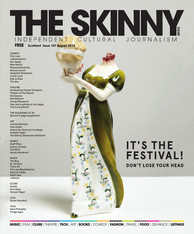 "August 2014 was the first time I really hit upon the power and excitement of the Fringe (quick on the uptake, me), after being both confused and intimidated by the whole thing in the years prior. Part of this was helped by my first supplement sale – to Pleasance – and the start of a now annual and lucrative partnership with a major Fringe venue. It was also the first time (I believe?) we increased the page count to 96, to our collective horror. All of this topped off by a beautifully understated cover design, muted and yet obscene, the perfect counterpoint to the Fringe's widespread garish noise and a damn cool sculpture to boot." [George Sully, sales executive]
June 2007, Issue 21; November 2008, Issue 38
"The Wiley cover is memorable for me because I'd had a vertical incline learning curve in the 12 months previous with negotiating paying off The Skinny's first ever, massive VAT bill which should've closed the business (it didn't), bringing shareholders on board and coming to terms with what my original idealised views of cooperative ownership actually meant to other people everywhere (not much), and wincingly accepting the traditional concept of job titles and role responsibilities after being told "a magazine really should have an Editor." Needless to say the large incense-infused hippy in me felt completely trampled upon, and I went on holiday for the first time since The Skinny had started. The scratchy blue and white cover was already printed by the time I came back; I only had to distribute them in the van, collecting paper signatures, enduring 'Anneka Rice' taunts for a week.
"I've just realised this is not reading like a celebratory tale.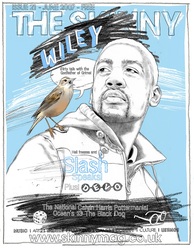 "The punk cover was also fantastic because of the timing, cocks, and it had a (Xbox?) wrap on it. $$$£££" [Sophie Kyle, publisher]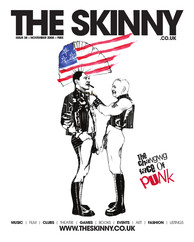 March 2015, Issue 114
"Once I got the chance to read the magazine cover to cover like a Mills and Boon paperback – all in one go. It was March 2015 and I was in the sitting/lying down period following an appendectomy. I'd brought it along to my mum's house for this very purpose, and it's got the amazing Josie Long on the front. TBH I only realised this looking back in the archive and I've only began to fully know of, and appreciate, Josie Long a couple of weeks ago; classic Skinny two-year headstart on all things comedy/music/books.
"It's always easy to get wrapped up in multiple work rotas and only get a glance here and there at the magazine as a whole, but I've still got this one wrinkled up in my childhood bedroom where two years ago I whiled away a good two weeks anxiously navel-gazing at my fresh stitches. For that fortnight, I'd been zipped up and out of my very luckily culture-soaked life in Glasgow and temporarily dropped into the familiar adolescent suburban outskirts of artless boredom.
"So Issue 114 surrounded me for a good few hours with all The Skinny's really funny, critical and supremely knowledgeable writers, most of whom I've never met/will never meet, and on that day they were my indispensable and imaginary urbane friends." [Adam Benmakhlouf, art editor]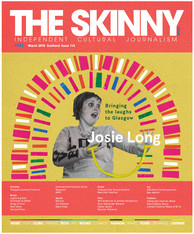 October 2016, Issue 133
"I'd have to say my favourite cover was October 2016, Ross Fraser Mclean's story and experiences of Day of the Dead in Mexico. Why? I'm not entirely sure, other than that Mexican culture and their celebration of the dead, among other things, is something I read up on quite a lot while travelling (not in Mexico unfortunately). It's intriguing, interesting and at times seems a completely different world to the one we live in. I think it highlighted The Skinny's appetite for cultures outside of our own and painted a very fascinating – and at times graphic – picture of life in Mexico. And the cover itself looks fucking great." [Sandy Park, sales manager]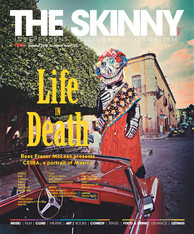 November 2017, Issue 146; February 2012, Issue 77
"One of my favourite covers as a Skinny employee has to be the Run the Jewels-inspired illustration by Adam Menzies. I had started as the Music editor 13 months prior to this issue coming out and requesting an interview with Run the Jewels for one of my writers around the release of RTJ3 is one of my earliest memories… it was nigh on impossible setting something up, but the week before I was due to go to Primavera Sound in Barcelona I got an email asking if we still wanted to talk to them.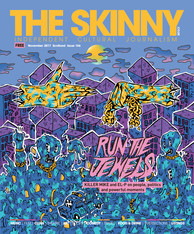 "The interview was set up, we met Killer Mike and El-P in Barcelona in June and then it took a further five months to get them in the mag at a relevant time. I still can't believe how long the process took, but the cover came out so amazing, and the interview that Peter Simpson did with RTJ was excellent so it was all worth it in the end!
"Other than Issue 146, as a reader I have a soft spot in my heart for Rachel Maclean's Errors cover for issue 77 – I've always been a massive Errors fan, but by this point my best friend was going out with the drummer James Hamilton (and still is), so I just found it hilarious, not to mention it was cool as fuck because Rachel Maclean. D'uh." [Tallah Brash, music editor]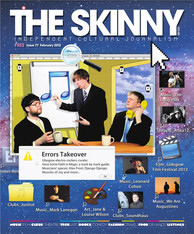 May 2012, Issue 80
"So hard to choose a cover given my rather niche relationship with many of them having designed them. So I thought which was my favourite to create? Would have to be the Death Grips cover with its homage to jazz record covers. In particular to Reid Miles, the Blue Note records sleeve designer around the 40s–60s. He has a strong following in the graphic design community and for good reason. He created endless iconic covers and really developed the visual language of Jazz, which by extension influenced the visual culture of music and beyond. And with no budget, no time and limited resources! Much like The Skinny really! And I got lovely feedback on it, so my vote is that one.
"Also, I designed the back cover for this month! Whoop! So I change my vote to the back cover of the 150th issue…" [Lewis Macdonald, former designer]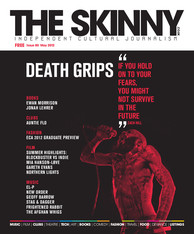 November 2016, Issue 134
"The Shogun cover has always really stood out to me. Aside from being really striking, I think it signified an exciting point in Scottish music, where the urban music scene up here was actually starting to be taken seriously and it was interesting to see it being covered not just in Scotland but all over the UK – no one had artwork as amazing as ours though, obviously. It also came out just after I had written my first proper feature for the magazine and I knew I wanted to make it my mission to write/work for the magazine then. It may have taken a year to get there, but here I am!" [Nadia Younes, events editor]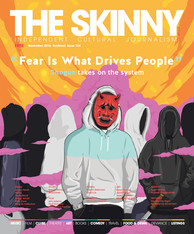 March 2016, Issue 126
"My favourite cover was the Irvine Welsh issue as it was the first cover I'd ever commissioned at the magazine and also happened to be a super challenging brief. I remember my feedback to the illustrator being something along the lines of 'Can you reduce the overall amount of skag in the illustration and can you make the dagger that's embedded in Begbie's shoulder look less horrifying." [Sarah Donley, production manager]
June 2011, Issue 69
"My favourite cover would be the Battles cover. This reminds me of working in Focus, my local skate shop, when I was a student in Glasgow. We'd get copies of The Skinny delivered to the shop and I'd kill time by reading the mag in between serving customers. I was a big fan of Battles at the time as Atlas featured in a skate video called Mind Field." [Keith Allan, sales executive]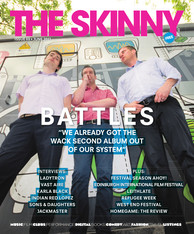 November 2010, Issue 62
"It's one of The Skinny's most stripped back efforts, a scratchy pen and ink self-portrait, grid lines still visible, of the issue's cover star – Glaswegian literary giant Alistair Gray. Coincidentally, this also happened to be my first issue as The Skinny's film editor. No offence to all the brilliantly talented designers, artists and photographers who have contributed covers over the years, but it was quite a thrill to have my first ever issue illustrated by a bona fide icon." [Jamie Dunn, film editor]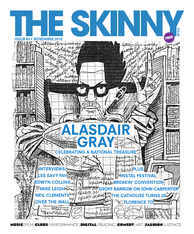 January 2018, Issue 148
"As I'm a Skinny baby, I would have to say the Food & Drink survey special issue as it was my first magazine with a sales target and I really enjoyed meeting wagamama and organising their advertorial." [David Hammond, sales executive]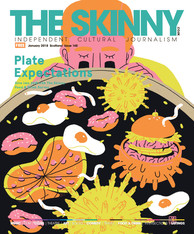 November 2014, Issue 110; September 2016, Issue 132
"This had my first feature ever to be in print – or paid for. I treasure it because I am soppy af.
"Also the Charlotte Church one because trolls and fingering." [Katie Hawthorne, contributor and author of our Issue 150 cover story with Young Fathers]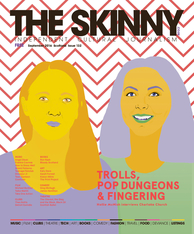 ---
Which is your favourite cover from the 150 we've launched out into the world over the years? What made it stick with you, and why is its image indelibly burned on your retinas? Let us know on Twitter or Instagram using the hashtag #theskinny150, or just fire us a good old-fashioned email to news@theskinny.co.uk with the subject line 'The Skinny 150' – one of you will receive a copy of Matt Haig's new novel How To Stop Time, courtesy of our fellow cover-lovers over at Canongate.