Hold Water: Senga Nengudi's Solo Show in Edinburgh
Senga Nengudi is one of the foremost of the avant garde black art scene extending from the 1970s in the USA. This month her first solo show outside the US opens in The Fruitmarket Gallery
This spring, The Fruitmarket Gallery will present the first solo exhibition of American artist Senga Nengudi in Scotland, following a retrospective of the artist's work at The Henry Moore Foundation in Leeds. Featuring works from her extensive 40 year career, the exhibition attempts to bring together her diverse practice, with focus on sculpture and installation work.
Born Sue Lyons, Nengudi changed her name to N'Senga (later shortened to Senga) Nengudi in 1974, referring to a Bantu ethnic tribe from Zambia, and continues to utilise different monikers depending on the medium in which she is working – a way to subvert expectations of what her work should be because of her name. She was born in Chicago in 1943 and went on to study art and dance. Indeed, her dance background is evident in her sculptural works in which figurative bodies are invoked and in her performance work, where she blends ritual and spiritualism to create movement that is inspired by both African and Japanese rituals.  
Emerging from a wave of avant garde black artists in 1970s New York and Los Angeles, who are not as well known in the UK, Nengudi counts artists like documentary filmmaker Barbara McCullough and assemblage artist and printmaker Betye Saar among her peers. David Hammons and Maren Hassinger are among her collaborators. Working out of Studio Z in Los Angeles in the 1970s, Nengudi and Hammons shared a studio and their influence on each other's work is evident.
Speaking about the upcoming exhibition in Edinburgh, Laurence Sillars, Head of Programme at The Henry Moore Institute and curator of the show at Fruitmarket describes his excitement at coming to Nengudi's practice, "to have such a diversity of work to choose from. Nengudi has made a vast body of work incorporating a great diversity of material, from her water sculptures, to installations made of sand and poured paint pigment to her famous R.S.V.P. sculptures made from stretched, knotted and stuffed nylon tights."
While there have been shows including Nengudi's work before in the UK, these have primarily selected a specific time period or material to focus on. Sillars highlights that it felt "especially important to show the full range of her work and the enormous scope of her contribution to art history. Part of that meant recreating works that hadn't been shown for 50 years, however – something that was a lot easier said than done."
---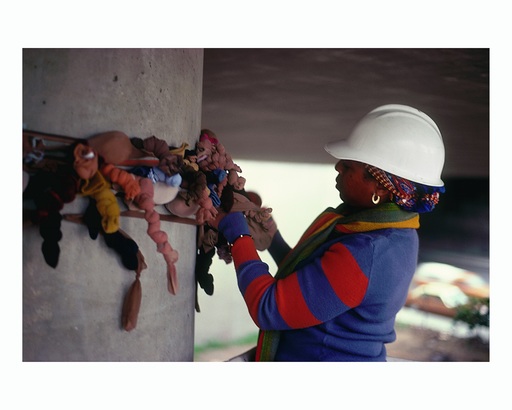 Senga Nengudi, Ceremony for Freeway Fets, 1978. Documentation of performance and installation piece, Pico Boulevard, Los Angeles. Courtesy the artist; Lévy Gorvy, New York, London; and Thomas Erben Gallery, New York. Photo: Quaku/Roderick Young
---
One of Nengudi's best known works might illustrate some of the difficulties to which Sillars nods. Drawing together her collaborative practice with David Hammons and Maren Hassinger, as well as her interest in ritual and spiritualism there is her 1978 work, Ceremony for Freeway Fets, an environmental sculpture situated under a Los Angeles freeway. She performed with frequent collaborators Hammons and Hassinger, who were outfitted to represent male and female energies, as Nengudi performed between them, bringing together the oppositional energies while herself wearing a headdress. No remains of the installation exist, which perhaps speaks to Nengudi's belief in impermanence – not a rejection of the concept but an acceptance. Able to evolve and mutate, to disappear and re-appear at her behest. Nengudi credits this to the Japanese notion of 'wabi-sabi' – in accepting impermanence and finding beauty in imperfection.
Complementing Nengudi's attraction to ephemeral works, there is also a repeated interest throughout her oeuvre in the ready-made, taking what is everyday or readily available and imbuing a sense of life into it. After the birth of her first child, she was (as she has put it) "fascinated with the way the body stretches to near breaking point then returns to its original shape – almost." This concept served as the inspiration of perhaps her best known series of works RSVP (Respondez S'il Vous Plait), in which Nengudi utilises nylon tights to create sculptures, the stretching fabric representative of the change a woman's body can endure. Nengudi describes the aim of her art as "to share common experiences in abstractions that hit the senses and centre, often welcoming the viewer to become a participant." She almost invites the viewer to experience her subjectivity, embodying it through sculpture.
On the importance of this exhibition happening Sillars reflects, "This show would have been important at any time over the last 40 years or more, so it feels especially important to make it finally happen now. Nengudi is a trailblazer: not only has so much of what she has made since the 1970s trickled into art that we may be more familiar with now, but she's still reinventing the wheel with her new work. At its heart, her art is deeply human. It's about connections between things on a far greater scale than we even now, in our globalised world, tend to think about – what unites us across cultures, continents, belief systems. Right now that seems more urgent than ever."
---

Senga Nengudi - R.S.V.P. Reverie 'D', 2014. Courtesy the artist; Sprüth Magers, Berlin; Lévy Gorvy, New York, London; and Thomas Erben Gallery, New York
---
With such a diverse artistic career, what can audiences expect to see in the gallery? "The exhibition in Edinburgh will include works from throughout Nengudi's career including her incredible water sculptures – abstract forms filled with coloured water (the 'popsicles' as they have become affectionately known), the R.S.V.P. nylon sculptures for which the artist is perhaps best known, and one of her room-filling 'sandmining' installations that will be made on-site. It's a rare opportunity to see so much of her work in one place," says Sillars.
Alongside the exhibition, The Fruitmarket Gallery will be hosting a series of complementary events including a talk with activist, filmmaker and founder of Just Above Midtown gallery Linda Goode Bryant and a participatory workshop with fashion scholar Sequoia Barnes and artist, poet and dancer Christopher Kirubi.
This will be the last major exhibition at The Fruitmarket Gallery before it closes for renovation, re-opening in mid-2020. They will, however, be continuing their programme in the form of off-site exhibitions and events, with full details to be announced soon.
---
Senga Nengudi at The Fruitmarket Gallery, Edinburgh, 16 Mar - 26 May