Artisanal Excellence: Scottish textiles at Collect
Meet the four textile designers selected to show with Craft Scotland at the Collect contemporary craft and design fair
Four of Scotland's most distinctive and innovative craft-led textile designers have been selected to join the Craft Scotland exhibition at this year's Collect showcase in London. Collect is the leading international fair for contemporary craft and design. The panel – which included renowned design critic, journalist and curator, Corinne Julius and Senior Curator of Modern & Contemporary Design at the National Museum of Scotland, Sarah Rothwell – have chosen craftspeople who are pushing the boundaries of their discipline and bringing fresh ideas to contemporary craft.
Glasgow's Mariam Syed is passionate about exploring new weave techniques. She designs and weaves distinctive rugs and fabrics for interiors which capture colour and pattern in complementary and contrasting ways. Syed discovered weaving through her love for mathematics and she was taught how to weave by artisans in rural Pakistan around 15 years ago.
"I find weaving a fascinating combination of mathematical skills and creativity. I'm interested in exploring how colours behave in relation to other colours and shapes," she explains. "My expertise lies in the traditional art form of weaving; the binding of different types of yarns to construct different textures and patterns. I enjoy challenging my creativity by experimenting with scale and different weights of yarn to explore the diversity and handle of the final piece.
"My favourite materials to work with are silk and wool. The vibrancy of silk reminds me of the beautiful colours of my childhood home Pakistan and wool is quite synonymous with Britain; my home now."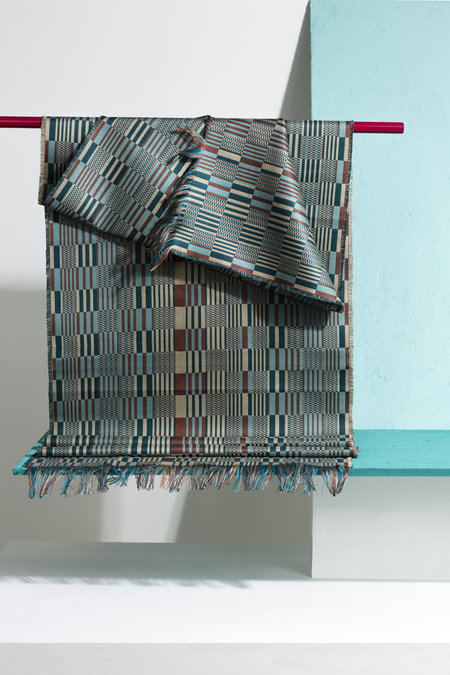 Mariam Syed
Iseabal Hendry makes luxury leather accessories that are designed to minimise waste. Based in Strathcarron, Hendry is inspired by the traditional craft skills that she grew up with – from basket-weaving and roof-thatching to clinker boatbuilding, she blends together a variety of techniques and methods of making to create bags and purses that are stocked by luxury brands like The Fife Arms. Hendry takes individual segments of a material and combines them by hand to create work that is both beautiful and functional. 
"My work is inspired by time-honoured traditions, which feel like an intrinsic part of my history. However I am passionate about pushing beyond these references to create work that feels right for this moment in time; a modern Scottish aesthetic. My practice originated from a desire for zero-waste. By weaving very thin strips of leather with cotton, I can make use of the entire hide with almost no wastage. My work allows me to make use of the smallest slivers of leather, from 0.7cm wide and 4cm long."
Eve Campbell is based in the village of Tighnabruaich, on the western arm of the Kyles of Bute. Inspired by Scotland's nature and architecture, the designer works in a variety of mediums. For Collect, Campbell is creating work driven by intuitive and bold designs to enhance living spaces. 
"The work that has had greatest significance to my practice are my large paper stencilled, screen-printed, one-off linen wall hangings. My prints are created as if they were an extension of my sketchbook and drawings. Through paper stencilling, masking and colour mixing I am able to approach printing in a very spontaneous manner creating one-off designs that capture the colours, shapes and patterns of nature on Scotland's West Coast where unique habitats are formed such as Atlantic hazel and oak."
Campbell has been working on commissions for The Conran Shop, and collaborative table settings with Drey Workshop for a project commissioned by Argyll and the Isles Tourism Co-operative to celebrate locally produced food.
Kate Owens is a Glasgow-based artist who makes lively printed textiles with motifs that "stagger, bump and overlap". Using an adapted block printing method, where the block is replaced by a wooden sandal, Owens combines print with choreography. 
"I think about movement in opposition to being fixed. My back has been partially fixed with titanium rods since I was 19 and I exercise around this static structure with my practice and my body. These large-scale prints progress rhythmically across lengths of fabric which are then sewn to become hangings for walls or windows. I create hangings for a range of situations including private commissions and public exhibitions. Each hanging is an intimate record of the physical making experience.
"I'm interested in how makers can be more responsive and sensitive to people and nature through their practice. In tandem with my studio-based work I create participatory projects and workshops for community groups and gallery programmes. Through my practice and my education work I encourage the use of low-impact techniques and more sustainable materials such as re-purposed fabrics, linen, natural dye and solvent free inks."
---
Featured in the Craft Scotland Collect exhibit are:
Kate Owens, Iseabal Hendry, SUH MOONJU, Elizabeth Jane Campbell, Charlott Rodgers, Borja Moronta, Ruth Elizabeth Jones, Eve Campbell, Mariam Syed, SHY Design Studio
Collect, Somerset House, London, 3-5 Mar (previews 1 & 2 Mar), followed by a virtual showcase on Artsy.net.