RSA New Contemporaries 2017: An introduction
As RSA New Contemporaries returns for its ninth year, we speak to some of the artists about their plans and what the opportunity means during the first year out of art school
For each RSA New Contemporaries participating artist, the opportunity has meant something different. Luke Vinnicombe for one has had "a dream to be a part of it" since before art school, whereas it came as a surprise to a few of the recent graduates. "I'd never expected the interest in my work," says Grace Woodcock, who was also selected for exhibitions in Leeds and Dundee on the strength of her ambiguously domestic/digital seeming paintings.
After eight months or so out of education, the decision whether or not to submit new work is not clearcut. For Woodcock, part of the last eight months has been working in art communications internationally, before coming to the conviction to wholeheartedly pursue her art practice. Whereas Harmony Bury will show some of her degree show alongside new works from the same series, which see her painstakingly glue thorns and bee wings to human skin "individually, avoiding Photoshop" as she wants "the final image to be exactly how it appeared in real life."
Some of the crop are more tempered in their take on the exhibition, regretful that the RSA don't provide any fees or financial support for making or transporting work. For Kieran Milne, this balances with the "boost" of having them show some confidence in his work, and he'll continue conceptually from his degree show, a playful deconstruction of elements of language and colour alongside fictional spaces of textual works and as an exploration of "intimacy within public space."
---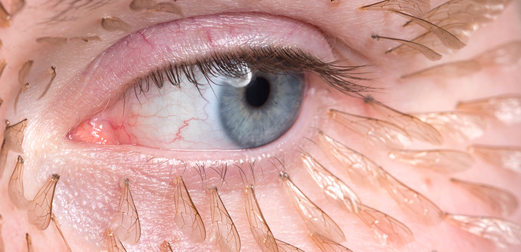 Eye by Harmony Bury
---
Another Dundee graduate, Kristian Jack Thomassen, was not expecting to be selected. "I don't make very "arty" art, I just make posters!" Speaking of New Contemporaries, he is "very grateful" for the show "which has forced me to keep making." This hasn't been straightforward, as he's been unable to find affordable studio space in his native Norway and has missed the "great community" of DCA. He also mentions appreciatively the difference between putting on his own show and having the support of RSA: "There's a lot less set up work on the artist's end working with a big gallery."
Painter Daniel Leyland has been luckier with studio spaces, and has been working solidly since graduating, developing from the large paintings in his degree show "suggestive of landscapes alongside sculptures referencing the body and Neolithic material culture." In his new series, he responds to research into Fisherrow's famed Musselburgh Fishwives, who would carry fish from the coast to Edinburgh for sale, presenting "two loosely-worked paintings, with small representational details, alongside some ceramic work and 'soft sculpture.'"
One double RSA-winner, Lily Hassioti was also provided with the RSA John Kinross Scholarship to travel to Florence for two months. For the show, she will display "an interactive work that fully reveals itself with the viewer's involvement. The audience is called to scan the QR codes that are part of the installation in order to listen to a series of sound pieces." Proud of this work, she says she's "thrilled to present it in a different context along with other great artists, and share it with a fresh audience."
Performance will be represented at RSA by Elaine Ang, who has collected her friends making bird noises. In the space, there will be a plant box sculpture, from which will spring up a stalky microphone stand on the opening night. Emblazoned on the side, the metal will read with a conscious reference (to Douglas Gordon, and Inverleith House), 'I Still Believe in Miracles.' Thinking about potential narratives, Ang says, "I want the story to develop with the audience."
Also feeling heartened by the chance to show at RSA, Joseph Glover has spent the last eight months building "a trusted peer network," immediately realising the lack of this following art school. Evidencing the importance of his artist community, he's working collaboratively for New Contemporaries. "Photographs and Poems is the start of a new collaboration with my friend and poet, Fred Spoliar. The collaboration aims to explore two different ways of seeing – seeing images in words when read, and signs, albeit not specifically text, in images when viewed." They've worked together to make a book of Glover's photographic responses to Spoilar's poetry, as well as a selection of imagery for hanging, and a long parchment print with images arranged around Spoilar's text.
---


Mass Production by Ewan Mitchell
---
Also working in photography, Ewan Mitchell develops his series of works, Hierarchies. As a continuous project, Mitchell tracks the relationship between technology and social, political and economic stratifications and inequalities. The only element that carries over from last June is a film, Mass Production, that Mitchell made at the New Corporation factory outside of Glasgow, where right-wing newspapers are printed. New work will come in the way of prints and collages from his series Market Data, which combines the stocks and shares information with news items and citizen journalism from the same moment. Some new work will look also to advertising, to "embrace but also challenge the aesthetic". All the work will come away from the wall somehow, looking as though it's floating.
As a large-scale painter, Megan Rea looks forward to the scale of the RSA's gallery. "Being chosen for the New Contemporaries exhibition has given me a lot of motivation and ambition to push my work further. It's exciting to have the opportunity to show my paintings in such a majestic space. I have increased the scale of the boards that I frequently paint on as it's not often that an exhibition space has such high ceilings. I'm going to present two architectural models sitting on coordinating plinths alongside oil paintings."
For RSA, Simona Stojanovska continues her richly textural, patterned, evocative and ambiguously figurative paintings. Speaking more generally she says, "I think organisations which promote young, emerging artists are vital to cultivate a rich and diverse art scene within Scotland, which allows for new and exciting talents to make their mark in the visual arts sector. Overall, New Contemporaries is very exciting for me and will be an important milestone in what I hope will be a long creative career within the arts."