Local Heroes: Scottish Craft and Design
The term 'craft' is loaded with political, artistic and social signifiers – we discuss it with some of Scotland's designers and makers
The discourse on craft is one of the most researched and contested in contemporary design. It's also one of the reasons Local Heroes began in the first place. Yet 100 years after the Arts & Crafts movement saved or destroyed craft (depending on who you ask) we still collectively can't reconcile or accurately define what or who is 'doing' craft. It's a politically and ideologically loaded term. We got in touch with some of the people we've been obsessing about on Instagram IRL to ask them to talk about how they define their own design and making practice in the first in a series on modern craft.
Lydia Morrow is Glasgow-based and uses crochet, fabric printing, sewing and quilting alongside photography and sculpture to create her varied art practice. With What Lydia Made underwear, she designs a product that caters to all sizes and genders, promotes comfort and has designs that "look beautiful on everybody." Her made-to-order undergarments give alternative options to women who are interested in beautiful, simple, design-led bras. "I grew up never fitting into the designs from most companies," Morrow says, "and the ones that did fit were not very aesthetically pleasing. This affects self-esteem and comfort – ugly, ill-fitting underwear can really wear away at confidence!"
Morrow likes to use the word 'craft' to explain her practice but describes it as a term that comes with huge privilege: "What people often seem to forget is that there is no such thing as a machine that makes bras or jeans, or that crochets. Nearly all garments are actually handmade. The denotation 'craft' just gets given when the people who make them are treated with respect. So really I love to think of myself as a craftsman, but I am one of many seamstresses the world over making bras and crocheting jumpers. The difference is that I'm compensated fairly and my work is valued. So to me, the term 'craft' is heavily loaded and political. It's been used for decades to devalue the work of women in the arts and yet also works as a class divider between relatively wealthy western makers, and the criminally underpaid workers abroad who make our clothes."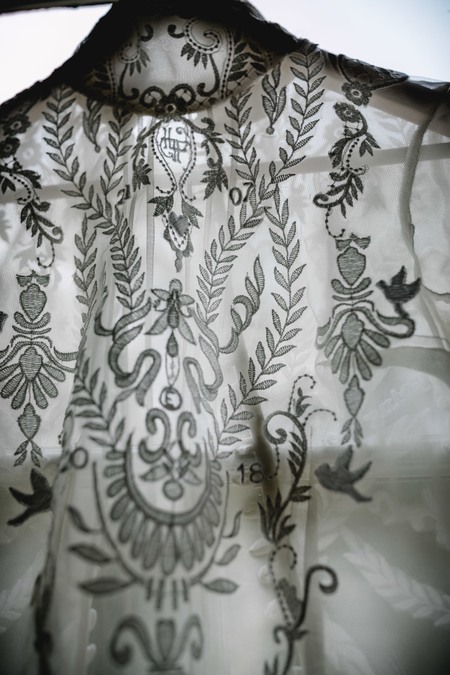 Edinburgh's Rowan McIntosh and Rosie Noon recently collaborated to create a special bridal project for illustrator Laura Tippenhauer. McIntosh worked with the bride-to-be to design a top which she then made by hand using specially-sourced lace, with Noon invited to embroider text and illustrations including delicate monogrammed initials. The result is personal, romantic and irreplaceable, principles both designers strive for in their own practice.
McIntosh's RowanJoy studio specialises in bespoke bridal and also makes ready-to-wear collections year round. McIntosh says: "Ultimately, I want what I make to be something unique and for the person who is wearing it to love and cherish it for years to come. I have never used the word 'craft' when I describe my work, despite the majority of it being handmade. I think this is because, for me, it has always felt what I do in fashion design has been excluded by what people think of as a craft and the bodies representing craft or designer-makers. I see myself solely as a fashion designer/maker because of this."
Noon – an embroiderer within womenswear – described the project as "so special. It defines why I love collaborations: the perfect combination of creative energies, imagination and skill." Normally working by hand, Noon found digital embroidery was perfect in this instance for capturing the detail required on such a delicate fabric: "I struggle with a solid definition of what my 'craft' is as I want to be able to manipulate my design and making skills for each new project I'm working on. I would, however, call myself a crafts-person as I always have a strong desire to be completely hands-on with each piece I make, and the whole process of making is hugely important in my creative practice."
Fun Makes Good is led by designer Eleanor Young. Specialising in contemporary patchwork, the Perthshire studio produces bold, bright, design-led interior products and upholstery – as well as large-scale bespoke pieces for commercial spaces and the public realm. The studio have recently taken on much larger commissions including an over 12 metre-wide bespoke appliqué curtain for the Mexican restaurant Wahaca in Bristol. The 'Collage' curtains take their inspiration from cut and paste collage and feature an energetic design of positive and negative shapes, stripes and floating forms. The curtains when closed help to form a dynamic backdrop to the eating space and when parted help to reveal a larger dining area, allowing the restaurant to expand and contract.
"I design and produce all of my textile pieces by hand," Young says. "Although I don't often use the word 'craft' when describing my work, I do like to emphasise everything is handmade or handcrafted. This is important as the majority of my work is custom made. 'Handcrafted' for me is a way of describing the process between eye and hand – that allows for experimentation while making. You can make design decisions along the way, which allow you to improve upon your initial ideas and fine tune and tweak aspects which you can't predict in your sketches. This is especially the case when working large scale."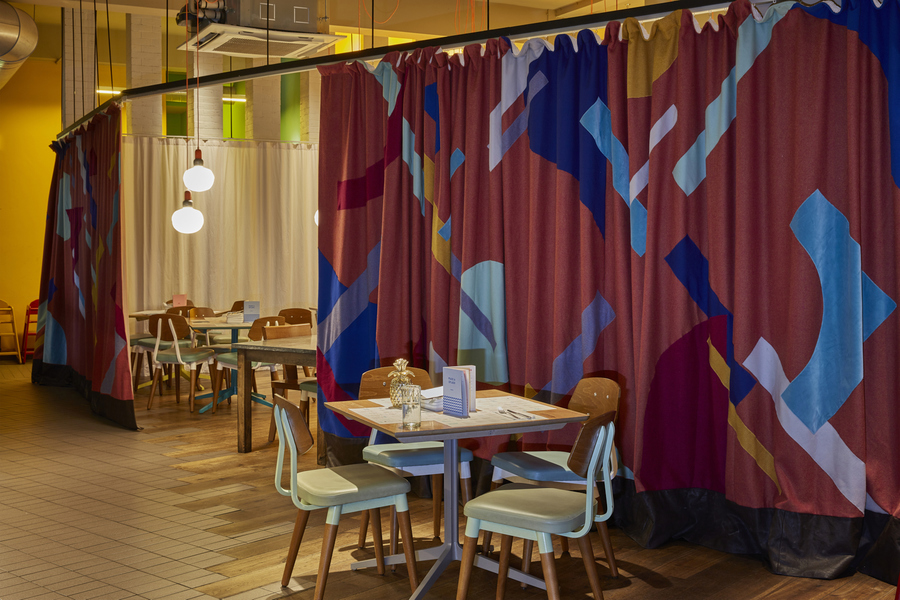 Fun Makes Good, Collage Curtain, Wahaca Bristol
Lucy Engels makes quilts that are intended to be statement pieces and heirlooms as well as fully-functioning homeware. The idea behind her Test Card Quilt was a nostalgic exploration of the colour gradient found on old test cards used on television channels. "I wanted to play with the relationship between colour and shade in a visually appealing way, staggering the horizontal pieces to give the nod to the screen rolling before your programme came on. It's hand-quilted, which creates a beautiful texture, and I used this technique to enhance the darker tones with densely quilted areas graduating up to lighter quilting in the pale sections.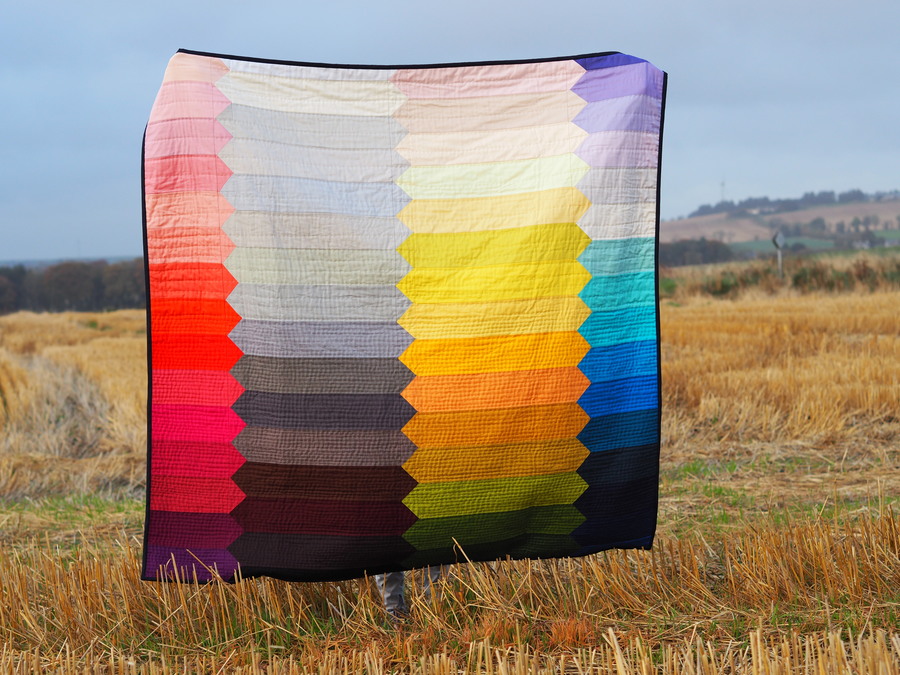 Test Card Quilt by Lucy Engels
"I don't think I have ever used the word 'craft' when I describe my work. Possibly because I came from a fine art background. I'd describe myself as an artist or maker who uses fabric and thread as a medium and happens to make quilts. Making by hand matters in my practice because it allows me to provide my customers with exactly what they want. I am able to adjust sizes, colour choices and design specifically for them in a way mass production doesn't allow. There is also something reassuring about handmade items. That someone has spent time considering each stitch, fold and mark to provide the highest quality piece. I become quite attached to them during the making process."
We'll be returning to this subject so get in touch with Local Heroes if you have something to say...