Local Heroes: 5 Scottish Ceramics Makers
We continue our exploration of Scotland's vibrant ceramics community by examining the work of five more makers
All of the people featured this month work with clay and are boundary pushers, whether with technique, design or their aesthetic approach. Each works at the intersection of art and design, producing ceramic objects for different audiences in exciting and often elaborate ways.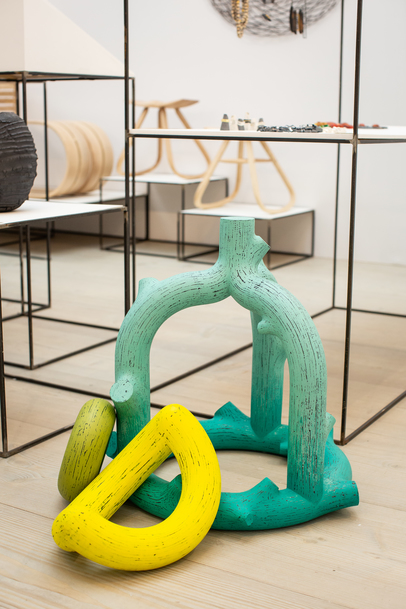 James Rigler, originally from New Zealand, first studied 3D Craft before graduating from the Royal College of Art with an MA in Ceramics and Glass. His bold, vibrant ceramic sculptures are inspired by the language of architectural ornament "including its most monumental and grandiose schemes. I aim to create objects that have an emphatic, epic presence, cut adrift from their original contexts to take on new meanings."
Rigler uses press-moulding and slip-casting techniques alongside traditional hand-building and describes his work as often site-responsive and led by thoughts of ruined and abandoned ancient places, romantic landscapes and stage sets.
More recently, his work has also been informed by the languages of ornament found in emojis, logos and signage.
An interest in the connotations of different materials, "particularly faux-finishes and a joyful but gaudy colour palette", has introduced metal leaf as a new surface to his ceramic sculptures, with Rigler training alongside a master gilder to learn more about metal leaf, patination and the range of surface qualities he could achieve.
"I recently began exploring new ways of working and new surface treatments as a means to introduce more spontaneity into my practice. Working with a small number of press-moulds, I've been creating hand-built ceramic pieces that use these shared starting points to create contrasting but related forms. I liken this to creating different words, with radically different meanings, from a common alphabet of letters. This approach was inspired by a recent residency in Jingdezhen, China, where I was struck by the close relationship between architectural ornament and the prolific (and, to me, illegible) advertising logos and texts seen across the city. It has enabled me to work faster and more exuberantly than usual, which has felt thrilling and unnerving."
His work was exhibited with Craft Scotland at the Saatchi Gallery show Collect in London last month and new, large-scale works will be exhibited this year including Primitive Forms at Aberdeen Art Gallery.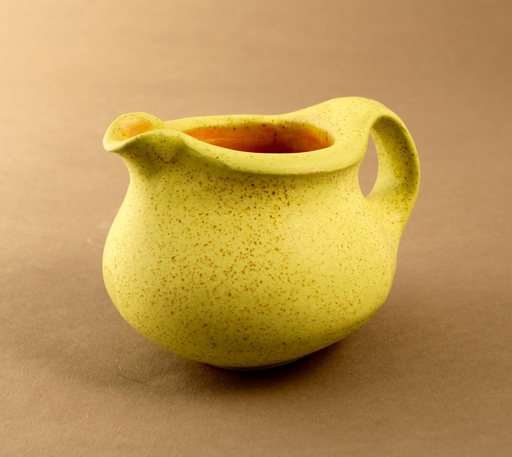 Garnet McCulloch
Garnet McCulloch – originally from Canada – lives in Glasgow where he has been running his Fireworks Studio for the past decade. He designs and makes fresh and colourful functional cone 6 pottery – a technique where glazes are layered and combined by pouring, dipping and spraying; and a controlled cooling cycle enhances both colour and texture adding depth and interest.
"I've been making pots since 1994 in Alberta, Manitoba, Alaska, Montana and the Isle of Skye. All the work is made on the potter's wheel using glazes I've developed over the past 20 years. It's a constant process of testing and reinventing. Fireworks also has a shop area where people are welcome to come in and shop or even just have a little nosey about."
His aesthetic is unusual in contemporary ceramics with colour palettes and textures that are more typical of late 1960s and 1970s pottery and feature squat, rounded forms. His satirical ceramic fruit and vegetables produced in collaboration with fellow Canadian Erica Eyres for The Vegetable Store (2016), a 'dysfunctional shop', was one of the most vivid and popular exhibitions of that year's Glasgow International. McCulloch produces new work at least once a week, runs evening classes and supports more experienced potters by providing wheel time and the space to further their own glaze research at the studio in Glasgow's Garnethill area.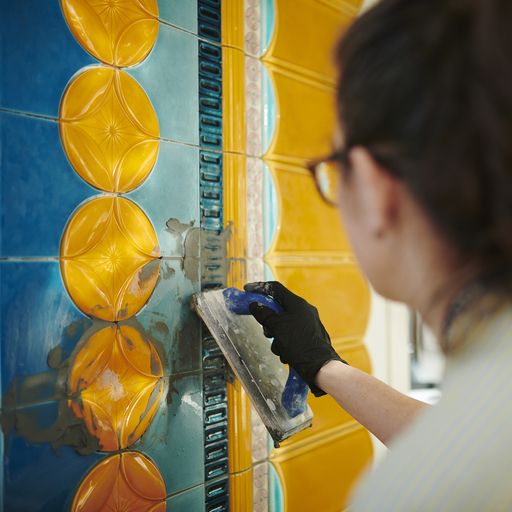 Frances Priest
Frances Priest is an artist, designer and maker whose work explores and interprets languages of ornament from different cultures, places and periods in history. From her Edinburgh studio she creates intricate and colourful ceramic objects that celebrate ornament and pattern, using clay as a canvas on which to build richly drawn and layered surfaces of inlaid line, glaze colour and enamel decals.
"Beyond the studio I develop projects and commissions that respond to people and places, using my interests as a platform from which to engage with new environments. This approach has led to work in varied and sometimes unexpected settings, from an English Tudor banqueting room in Sheffield, to a country home on the Scottish island of Raasay."
Priest was recently commissioned by the Edinburgh Lothian Health Foundation to design and produce a major ceramic project titled The Tiled Corridor for The Royal Edinburgh Hospital, an NHS hospital specialising in mental health. The overall scheme contains approximately 2500 tiles manufactured by her collaborators Craven Dunnill Jackfield, plus 300 tiles made in her own studio, covering an area approximately 14m x 2.5 meters. The concept recalls a golden era in decorative tile use, responding to historical research into two Victorian tiled stairwells in Craig House, former site of the Royal Edinburgh Hospital.
Priest's work can be seen alongside the historic ceramic collections at The Bowes Museum in an exhibition called Influences of the East from 22 June to 15 September 2019 – and a presentation of her collaborative work with Craven Dunnill Jackfield will be presented as part of Design Exhibition Scotland at Edinburgh's Lyon & Turnbull from 8 June until 2 July.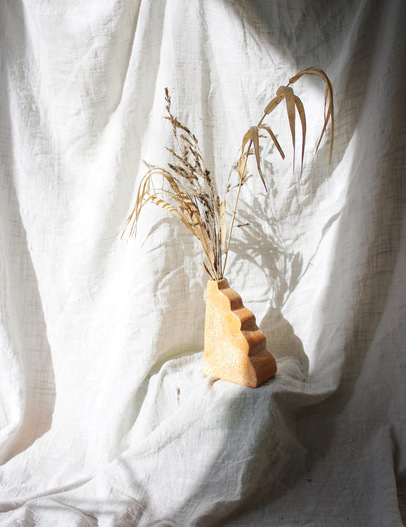 M A N I F E S T O
M A N I F E S T O is a Glasgow based ceramics studio founded by Katie Rose Johnston specialising in creating functional artworks for the home that are contemporary, high-quality and affordable. Play and experimentation through form, colour and abstraction are the driving forces behind Johnston's sculptural ceramics as well as "walking, foraging and researching the historicity and science of clay. I am compelled to try my hand at every process I can and this often leads to new discoveries that challenge how I create. M A N I F E S T O is constantly evolving through critical evaluation, research and play."
Like many contemporary makers in Scotland, Johnston is interested in challenging the friction between the art world and craft from the perspective of a potter.
"Having been immersed in institutionalised art, I wanted to develop a more accessible connection with my audience, which I found through working as a craftsperson designing playful functional ware and teaching ceramics.
"I love the individuality of hand building as each piece has its own distinct personality that shines through," she says.
Each product is crafted by hand from earthenware clay and over a period of three weeks they are carefully honed, sculpted and polished repeatedly as they dry. Johnston has recently been experimenting with slip casting a series of vessels inspired by the concept of the Multiple. After demoulding, each slip cast vessel is additionally sculpted by hand in the same fashion as her hand-built pieces, giving her vases their own distinct identity.
"The most exciting thing about ceramics is there is never an end to learning. I'm currently taking an exciting step forward through researching and developing my own glazes. It's a precise science with infinite possibilities so the future of M A N I F E S T O is a very exciting prospect to imagine."
You can see M A N I F E S T O pieces up close at Glasgow's Southside Makers Market on 6 April and at Super Market Lates at The Art School on 20 April.

Mariella Verkerk
Dutch-born Mariella Verkerk studied Fine Art at Dundee's Duncan of Jordanstone where she developed a highly collaborative practice alongside fellow students in her cohort.
"It's exciting to work with people whose work I love and also have contrasting skills to me like Sian Patterson [ceramics] and Catherine Johnston at Object Company [wood carved objects] who both have a very slick and smooth finish. It allows me to keep learning and to celebrate other people's skills – instead of being competitive. Our year was very collaborative and cross-disciplinary, it was such a fun and fostering atmosphere and we pushed each other on."
Verkerk finds making small batches of one-off pieces allows her to experiment according to ever-changing functions, interests and moods. The designer has taken a break from ceramics in the past year due to health reasons and is now delving into textiles. She is currently experimenting with dying fabrics, making patterns and will be collaborating with fellow makers and designers in the near future to create wearable pieces and bags.
"I like to collaborate as much as possible because it is fun for me but also you can constantly re-invent ideas and spice things up. I like to make in all mediums, but it makes sense to work with talented individuals who have their unique skills to bring to a project."
See Verkerk's quilts and textiles on her Instagram feed at @handsfreeprojects and her ceramics at @mariellaceramics.