Local Heroes: Designs on Parliament
This month we unveil an evolving curation of Scottish design housed in the personal office of the First Minister
We're delighted to see an exciting project announced this month that has been unavoidably delayed by the B word. There is admittedly more than one B word now, so to be clear, the Brexit one. As we approach two years of this regular design column, it is hugely encouraging to see our endeavours recognised with an invitation to curate a collection of contemporary design and craft at not only the Scottish Parliament, but First Minister Nicola Sturgeon's personal office. The opportunity to see a selection of Scotland's most interesting, innovative and well-crafted design sharing display space with some of the most important artefacts of our modern political times is a powerful reflection of the strength of Scotland's vibrant design industry. 
The room is smaller than you might expect, but with pale concrete walls, understated furniture upholstered in Bute fabric, and floor-to-ceiling windows, it is a subtle yet elegant setting for receiving important guests and displaying our first collection. The ten pieces of work we have selected represent the best of contemporary Scottish creativity. To be rotated on a rolling six month basis, the pieces will act as talking points for visitors and guests of the First Minister. 
First Minister Nicola Sturgeon said: "Scotland is home to world class artists and designers and I'm proud to be able to support the sector through the Local Heroes project. I welcome visitors from both home and abroad and across the public and private sectors to my office at Parliament and it's a privilege to help raise the profile of Scotland's exceptional design expertise. The initial collection has already been positively received, with well-deserved praise from visitors. I look forward to welcoming further collections in the future."
---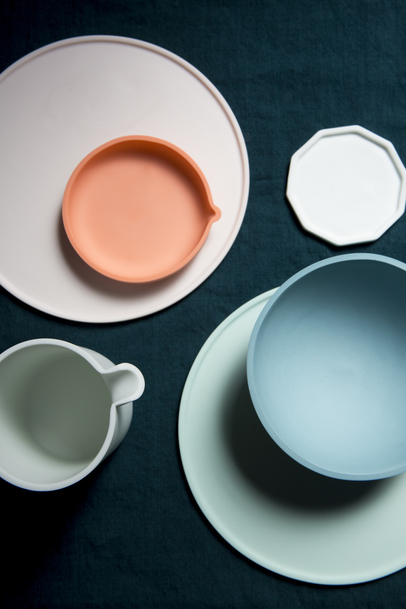 Ceramics by Natalie J Wood
---
From fine ceramics, glass and furniture to high tech jewellery and product design engineering, this initial collection demonstrates that Scotland is at the forefront of innovation and a producer of the highest quality design and craft. Pieces include: the minimal, sleek design of Glasgow based Instrmnt's A-12 clock, Skye-based Patricia Shone's raku fired pot, inspired by the landscape around her, and Jonathan Pang's precision engineered lightweight standing Phloem Lamp in maple and richlite. Colour and painstaking technique come to the fore with handmade pieces by Edinburgh's Juli Bolaños-Durman's and Frances Priest. Bolaños-Durman's trio of delicate glass vessels and Priest's Gathering Places mosaic-like bowl are jewel-like in their intricacy and craftsmanship.
Andreu Carulla Studio and Jennifer Gray have both designed and made conceptual pieces that employ the use of tactile materials like aluminium and jesmonite. Lynne MacLachlan's 3D printed nylon neckpiece demonstrates that high-tech design can embody timeless elegance. Gabriella Marcella's Balancing Act illustrates design's playful side while Natalie J Wood's minimalist yet functional Detsu water carafe can be enjoyed by the First Minister's visitors and guests in a practical way.
The collection provides an opportunity to promote the industry, process, place and people behind Scottish design. As a changing collection it is intended to be an evolving environment that demonstrates Scotland's diverse, modern and world class design community.
---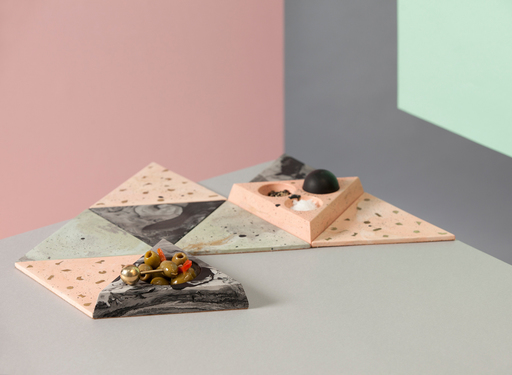 Jennifer Gray
---
Clive Gillman, Director of Creative Industries, Creative Scotland, said: "This collection not only celebrates the richness of design practice in Scotland today, it also demonstrates the range of ideas and origins that form Scotland's design community. From technical sophistication to spectacular aesthetics, this work reflects the wealth of ideas and the breadth of influences that exist in Scotland today. Emblematic of Scotland's desire to be understood as an open, contemporary, creative place."
Designer Juli Bolaños-Durman said: "This is a great opportunity to not only showcase the level of contemporary craftsmanship and design in Scotland, but more importantly, using this direct platform with decision-makers to highlight the importance of creativity on wellbeing, fostering joyfulness and the future of education; moving forward from the knowledge-based to a more dynamic non-traditional learning, fostering collaboration, empathy, values and problem solving. I believe creating a space for play, thinking with our hands and fostering joy is vital."
---
The First Minister's Local Heroes collection is made possible with the support of the National Lottery through Creative Scotland and will be exhibited within the First Minister's personal office at The Scottish Parliament.
The collection can be viewed online at localheroes.design