Beyond the Megapolis: Japanese Design & Local Heroes
Since 2015, Local Heroes has been resisting the idea that exceptional design can only be found in the big European cities. This month we explore Japan, discovering multiple creative communities beyond the bright lights of Tokyo
Regular readers of this column about Scottish design might have noticed we took a little break at the start of 2019. 2018 was a busy year where Local Heroes commissioned souvenirs, articles and even a raincoat – all with the aim of celebrating our design community and developing an appreciation in Scotland for the contribution design culture makes to our everyday lives. We are a curatorial agency with no gallery and no collection – instead we work with pop-up mediums, in temporary spaces and with limited funds to promote and explore design and craft culture. This year, a new joint programme created by Scotland's Cove Park, Arts Initiative Tokyo (AIT) and Creative Residency Arita offers the unique chance to participate in a two month design residency in Japan, with half the time spent in Tokyo  (population 13.5 million) in January and half in Arita (population 20,000) in February. Time for an international exchange with a difference.
Japan's vivid design culture is a natural magnet for a design curator – and Tokyo offers an intense, often surreal rush of rich visual language. AIT's Shintaro Tokairin introduces the endlessly fascinating mingei, which roughly translates as 'anonymous objects of truth and beauty' and skilfully steers us around Tokyo to meet product designer Daisuke Kitagawa for memorable conversation about national identity and design culture. A mix of artfully curated open-air antique markets and imposing high rise, high end department stores, Tokyo is extreme, fast-paced and unleashes a heightened sense of consumerist desire – even in a frugal Scot.
Arita and the 2016/ design project
But despite Tokyo's dynamism, I was curious to travel to a place in the rural south west that many Japanese urbanites I met had never heard of. Arita is located on the island of Kyushu in Saga prefecture. Three years ago it launched 2016/, an extraordinary and ambitious design project which has put the town firmly on the international design map.
Since the discovery of a porcelain stone quarry in 1616 the region has been known for producing Arita-ware, a high quality white porcelain with a distinctive blue pattern, originally carried to all parts of Europe by the Dutch East India Company. Four hundred years later, it is common to find third-generation potters carrying on the traditions of their family business in this quiet, idyllic town, cradled by densely forested mountains. A lullaby is played over the town loudspeakers at 5pm each day, and in many ways it feels like a place that's lost in time. Picturesque shops line the streets but spend any time here and you notice that they rarely have any customers. Part of the problem is that the average age of buyers of traditional Arita-ware is always going up, meaning sales can't follow the same trajectory.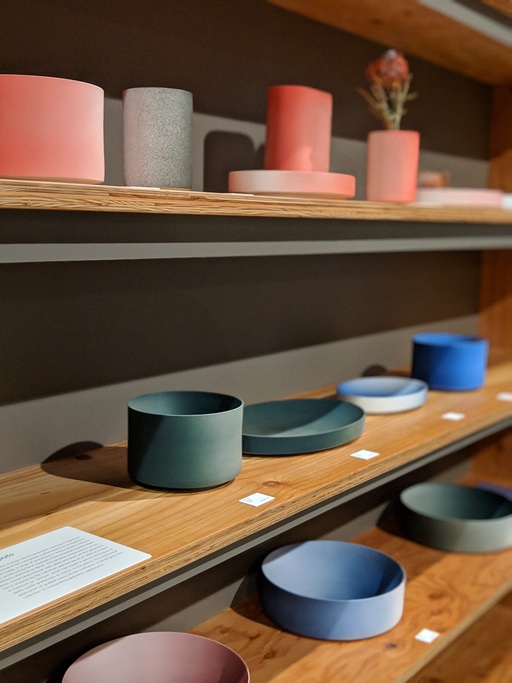 Photo: Takumi Ota
To reach new markets, and particularly a European audience, products need to take into consideration cultural differences. While Japanese people have happily enjoyed drinking green tea (which is never served boiling) from cups without handles for hundreds of years, to pull itself out of economic decline Arita-ware needed to literally change shape.
A group of traders and potters made the radical decision to combine centuries of traditional techniques with experimental contemporary design to create a world class collection of tableware that wowed audiences at the Milan Salone and that Wallpaper* declared 'ceramic wizardry.' The 2016/ project led by Teruhiro Yanagihara, Carole Baijings and Stefan Scholten brought together 16 contemporary designers and paired them with some of the world's experts in mould making, glazing and painting.
The designers selected are intriguing and their approaches are highly differentiated. With various ages, nationalities and backgrounds in the mix, some were already ceramic experts, while others were more unconventional choices as porcelain was new to them. Swiss duo Sarah Kueng and Lovis Caputo pushed craftsmanship to its limits with geometric forms sculpted by hand and airbrushed using fukitsuki, a method for applying subtle gradations of colour. With 27 dishes husband and wife Scholten & Baijings celebrated technique with carefully hand-painted abstractions of traditional motifs. All of their dishes have origins in historical forms but are superimposed on one another; by combining two, or even three outlines, complex new shapes have emerged.
Exploring Japanese design culture
In four weeks my own experience of Arita, thoughtfully crafted by Creative Residency Arita's Yoriko Ishizawa, has been an extraordinary behind the scenes exploration of Japanese design culture and an industry that was until recently a closely guarded secret. I've seen porcelain come straight from the quarry to be processed into clay; had hands-on experience of pressing, moulding, carving and shaping porcelain into products; I have cleaned, smoothed and prepared greenware on a factory assembly line; painted delicate patterns with an improbably large underglaze paintbrush and finally hand dipped my own dishes in glaze to be fired at the famous Kyuemon Factory or 'Factory of Ten Kilns'.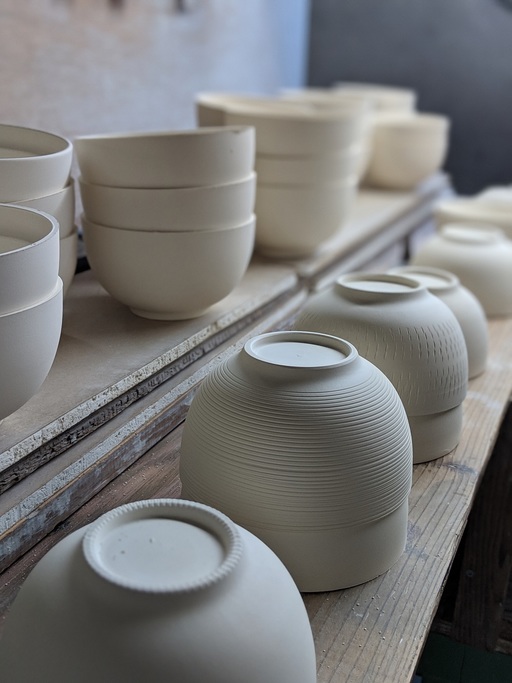 Photo: Stacey Hunter
I meet with Yoriko and 2016/ brand manager Hiroko Jinnouchi to talk about how being on the edge of things geographically can work in your favour. We speak in the 2016/ showroom which looks more like a contemporary art gallery than a shop. It houses a minimalist cafe, neat rows of modern display shelves, and a film projected on to the concrete walls depicting Dutch, German, Japanese and American designers collaborating with local makers. Arita's remote location encourages visiting designers to slow down, get to know the local community and to spend as much time as they need to test and perfect their ideas. We discuss how Arita and the 2016/ project demonstrate that modern design can encompass traditional crafts in a respectful, equal partnership that makes space for experimentation and invention.
The key elements to the 2016/ success story are the combination of unique and traditional craft skills, a beautiful though remote location – and the sheer heft of the European network of design expositions, media and market place. Scotland is experiencing a design renaissance and still has access to many valuable traditions and techniques in areas like knitted and woven textiles, jewellery, glassware and ceramics. I am struck by how contemporary designers like Jennifer Kent and Hilary Grant have built close relationships with their manufacturers and care deeply about preserving the quality of knitwear that Scotland is famous for.
We know how diverse and distinctive contemporary design in Scotland and projects like Local Heroes have helped to map out the people and studios producing exceptional work. But that story is not disseminated widely enough. If Scottish designers are at a commercial disadvantage due to their geographic distance from major design centres, we need to consider how to position their work in the right places, at the right time and in a modern, high quality format. We're currently completing research for Creative Scotland on this very subject and the ideas are expansive, ambitious and fun! So, watch this space...