Local Heroes: Daytrippers – contemporary design in Dundee
The latest Local Heroes project and a collaboration with V&A Dundee, Daytrippers! continues to bring contemporary design to the museum's outdoor space during a very sunny Scottish summer
Daytrippers! is an ongoing project that has been developed to support designers by commissioning high quality, collectable, limited editions. The first product range includes three distinctive beach towels and three bespoke wildflower seed mixes illustrated by emerging designers based in Dundee, Edinburgh, Fife, and Glasgow. This range of vibrant beach towels and wildflower seed mixes are available to buy from two carefully crafted cargo bikes situated near the V&A Dundee, with the bikes acting as mobile design displays, cruising through the museum's plaza.
Visitors to Dundee's waterfront have wholeheartedly demonstrated their enthusiasm for the project by snapping up these specially commissioned Daytrippers! souvenirs. 
Fiona Moon – a designer based in Edinburgh who blends simplicity with bold colour palettes across stationery, prints and homeware at Fiuts Printed Goods – illustrated the Moonlight Garden selection of Scottish seaside wildflowers including night-scented flowers that attract moths and other pollinators that visit after dark.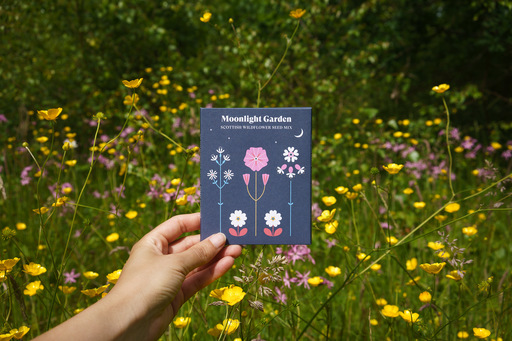 Klara Sormark's illustration for Big Bee Seaside mix includes tall Scottish seaside wildflowers that attract bumblebees and other pollinators  – something that resonated with her fond memories of gardening with her late grandmother. "I've really enjoyed sketching, researching and drawing the seed packaging. The selection of four seeds are all wildflowers that my late grandmother used to grow and care for in her seaside garden, in the south of Sweden. I've spent every summer there since the day I was born so that made me feel even more connected to this project. It's also been really lovely working with Local Heroes and V&A Dundee and I can't wait to see the museum in person again this summer."
Shweta Mistry employed her expertise in rare heritage art techniques and pigments to depict the flowers in the Little Butterflies mix which includes low growing Scottish seaside wildflowers loved by two of Scotland's tiniest butterfly species, bees, and other wildlife. These bespoke seed mixes have been specially created for Daytrippers! by Scotia Seeds who grow native wildflowers at their farm in nearby Angus. So as well as supporting designers, purchases also support local wildlife.
Each of the colourful beach towel designs has been a hit with the creative community – Kate Scarlet Harvey, Lauren Morsley and Katie Smith have all been tagged in photos of their towels at picnics, wild swimming locations and beaches all over Scotland. Whizzing About, Daydreamers and The Swimmers are all extra-large, soft cotton terry towels and each design has been produced as a limited edition of 500, making them a special souvenir from a great day out.
Together with the two bikes co-designed by furniture designer Aymeric Renoud of Draff Studio and Martin Baillie the project has benefited from the combination of a summer heatwave and the complementary presence of Heather Street Food. We know how much audiences in Scotland love to support contemporary design and the response to this special series has demonstrated that. To see Daytrippers! for yourself, visit V&A Dundee's plaza Thursday to Sunday between 12pm and 5pm (weather permitting). You can find out more about the designers and purchase your own collectable souvenir online at vam.ac.uk/dundee