Liverpool LightNight 2016
Liverpool's annual late-night festival LightNight features a bumper number of new commissions this year. Our Art editor explores the 13 interactive art works created especially for 2016, and takes in the highlights of a bigger programme than ever.
Liverpool LightNight returns for its annual nocturnal one-night jaunt this year on 13 May, with more than 100 free events across the city centre from 5pm 'til late.
With most museums and galleries keeping their doors open for the evening, LightNight is always a great opportunity to catch exhibitions – but more recently, Liverpool's late-night offering is becoming known for the quality of its one-off events, from workshops and performances to projections and live music.
This year, under the theme of 'Experiment' (wouldn't it be super if festivals got more specific with their thematics – like 'Snails' or 'Bumper Cars'?), the festival will also play host to 13 new commissions from local and regional artists. So, instead of producing a more general guide, we thought we would use these as beacons to light your way through the evening's festivities across the city. Makes sense to us…
Illumaphonium by Michael Davis, and OP POP Matrix by Andy McKeown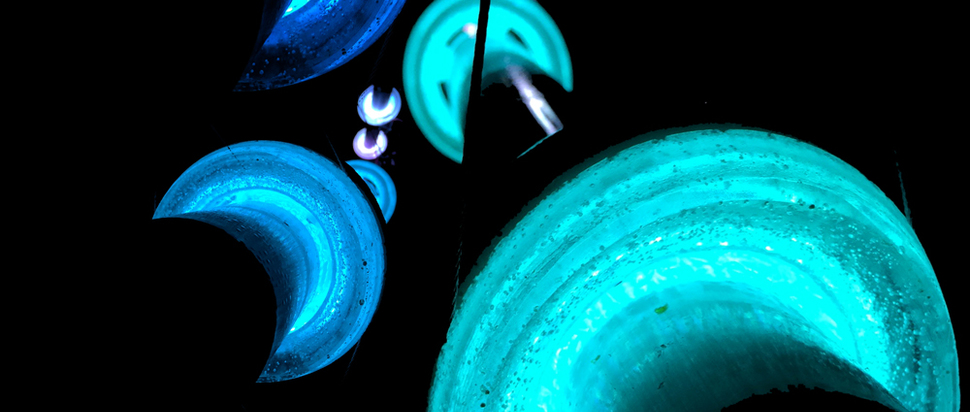 image: Michael Davis - Illumaphonium
Head to LJMU's John Lennon Art & Design Building for some large-scale multi-sensory installations from musician and inventor Michael Davis and artist Andy McKeown (whose projections on the ceiling of Liverpool Anglican Cathedral were a particular highlight of last year's LightNight). Davis's work, which you may have already seen as part of previous illuminated carnivals for Nottingham Light Night, is entitled Illumaphonium and consists of 250 illuminated chrome bars that respond to touch and create evolving light patterns and rippling sound. McKeown is also going interactive, with a multi-user projection light installation 'environment' called OP POP Matrix. Apparently the audience will be able to control layers of 'the Matrix', which is made up of meshes, grids, discs, spots and shapes in the projections. All sounds quite fun unless it rains (Illumaphonium is outside), and then it sounds less fun, but that is possibly true of everything all of the time. Both installations run 5-10pm. 
Neu Collective Consciousness by Logan & Wilcox
Nearby at the Everyman Theatre, artists Logan & Wilcox (you may know them for the digital/audio experiences they design for club night The Warehouse Project in Manchester) are inviting audiences to create a bio-cybernetic system using sensory tech which monitors brain waves and heart rate. They are trying to explore how these technologies create possibilities to co-author new AV environments based on the reactions from human bodies. Runs 5-10pm. 
Afterglow by Carlos Bernal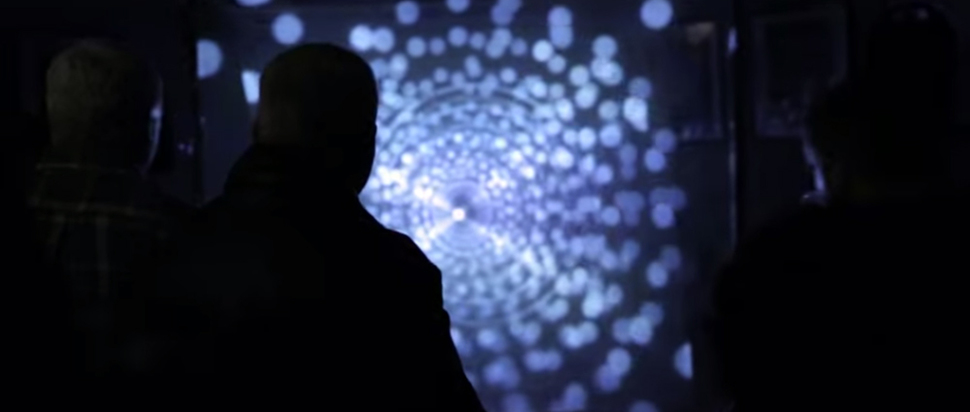 image: Carlos Bernal - Afterglow
Down the hill, and more immersive soundy lighty installation projects can be found at The Black-E, which celebrates LightNight with Afterglow, a new commission from artist Carlos Bernal. Bernal will be presenting a work of mapped light projections over six screens which is intended to create a new dimension, or space-time tunnel, where the energy of light is transferred and transformed. Runs 5-11pm.
The Cage of Experiments by Katy-Anne Bellis
Over at the Bluecoat, from 5-10pm catch The Cage of Experiments, a mix of music, theatre and performance curated by Katy-Anne Bellis of Caustic Widows, who have been organising eclectic and anarchic performance-type events since 2006. A similar birdcage was actually featured as a new commission for Kendal Calling in 2015; constructed from steel and willow, it contained performances and interventions that changed over the course of the festival. The Bluecoat's cage will encourage the audience to take part in a mass group waltz, and features acrobatic parrots (who doesn't like an acrobatic parrot?). While you're at the Bluecoat, you can also check out...
disSociation by Deep Hedonia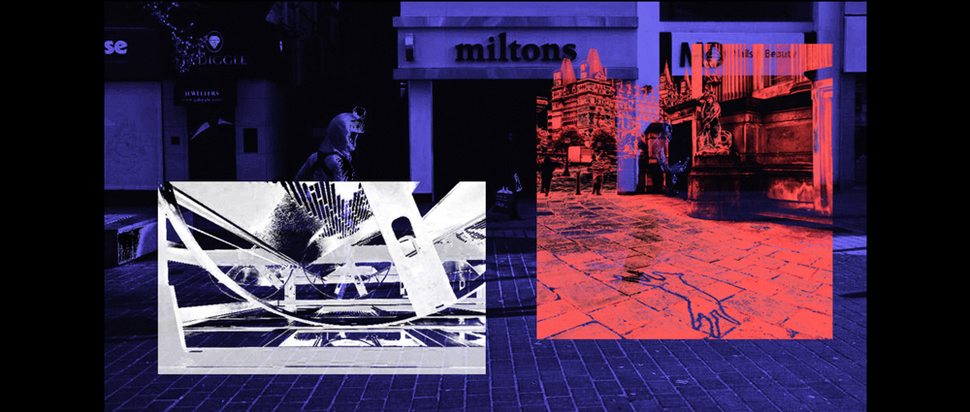 image: Thom Isom - disSociation
Conceived by production group Deep Hedonia, disSociation is a video installation and discussion space that invites the audience to reflect on the nature of accelerated communication during events like LightNight. Runs 5.30-9.30pm.
City Sites by The Mindset Ensemble
There are some great, more unusual venues opening up as part of LightNight. Head over to the Nordic Church for a performance by The Mindset Ensemble, founded by composer Mark Jones. The ensemble have created a new piece of music, City Sites, inspired by the recent loss of some of Liverpool's music venues such as the Kazimier. The performance will be accompanied by a new video from artist Laura Spark and there will also be a performance by Sweet Jam Band at the church following City Sites. Runs 8.30-9.30pm. 
Afloat, in Land by Friend or Foe
At the Leggate Theatre (part of Victoria Gallery & Museum on Ashton Street), Friend or Foe collective – made up of artists and musicians – have created a new AV performance, Afloat, in Land, which transforms the theatre into a multi-channel video and sound environment with new musical works made during the group's recent residency in remote Iceland. The installation will be open from 6.30pm with performances scheduled for 7, 8 and 9pm (25 minutes in duration).
Love without Sound: Pixophtyoflora by David Badger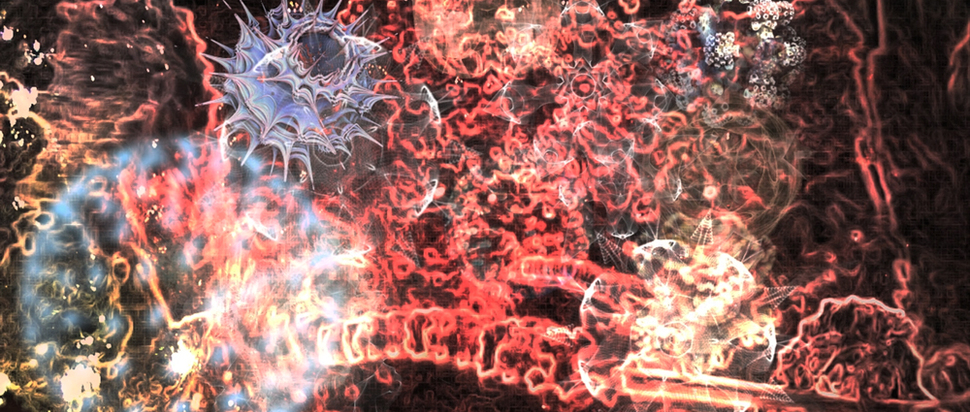 image: David Badger - Love without Sound: Pixophytoflora
Over at the Liverpool Medical Institution (Mount Pleasant), catch artist David Badger's new work, Love without Sound: Pixophtyoflora, which marries experimental video, bioluminescence-inspired visuals and a live ambient electronic soundtrack by Badger and Abi Bliss. Although the exact details are still to be set, the installation will be open from 5-9pm, with live performances at certain times over the evening. Nice, mellow trippiness in an interesting location.
Gizzago's Pop-Up Playground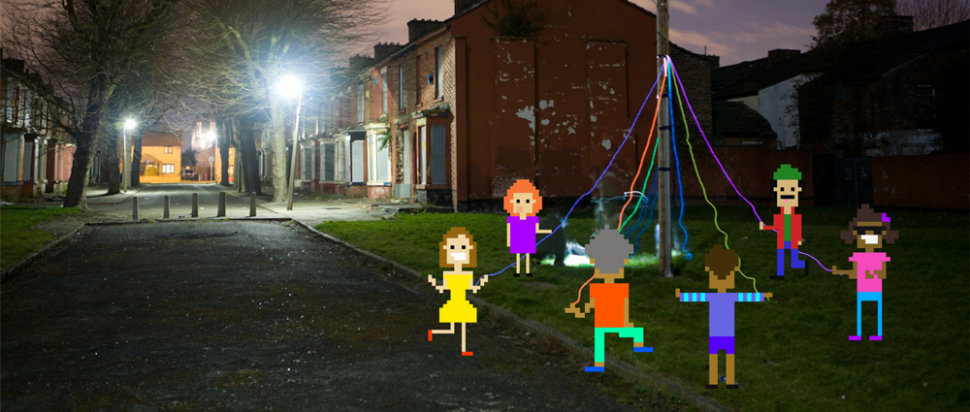 Gizzago Pop-Up Playground - Maypole Mayhem
Encouraging visitors to play out will be community enterprise Gizzago, who want audiences to rediscover what it feels like to play outside in the city – and how to play with their city – by way of three pop-up playgrounds. From 5-6.30pm catch their 'Turtle Wushu' (had to look this up but apparently it's a simple type of ninja joust dance fighting game?!?) at the Steble Fountain outside the Walker Art Gallery, then from 8.30-9.30pm take part in a – the? – Johann Sebastian Joust (no, me neither) at the Anglican Cathedral Plateau... and finally, Gizzago will invite audiences to participate in Maypole Mayhem (10-11pm, also at the Anglican Cathedral Plateau).
No Worst, There Is None by Bill Ryder-Jones
While you're up at the Anglican Cathedral you can also catch No Worst, There Is None, a special one-off performance composed by Bill Ryder-Jones and featuring a sweeping orchestral response to the Gerard Manley Hopkins poem from which the commission takes its name. It will feature the Anglican Cathedral choir led by Immix Ensemble founder Daniel Thorne and an immersive light and AV environment created by Sam and Damien Wiehl. Runs at 9pm and 10pm. 
Flock by Foolsize Theatre 
Another commission that's peppered around the city is the tribe of birdlike bikers 'Flock', who can be found on Church Street (5pm), at the LJMU Aldham Robarts Library (garden to rear, 6.30pm) and William Brown Street (outside the Walker Art Gallery, 8pm). This is created and performed by Foolsize Theatre and Physical Fest, and the audience will be invited to take part in the bizarre birdy rituals of the flock as they perform in the streets. There is definitely a bit of a bird theme going on as over at the Maritime Museum you can have a go at making your own hybrid Liver bird (5-9pm).
Météo-Dock by TiLT
Finally, commissions-wise, just across the way at Tate Liverpool you might encounter Météo-Dock, a promenade performance with eight dancers creating a dance and music work that responds to the meteoreological conditions at the Albert Dock. Performances are at 7pm (launching from the Kathleen and May schooner, Canning Dock) and 7.40pm (Mermaid Courtyard, Tate Liverpool). While you're there, visit the Tate Fête, which will feature food and music, and, of course, you can explore the galleries all evening (5-10pm).
Further programme highlights
Not commissions, but just to take a speedy zoom around some of the other potential highlights of the LightNight evening:
Head to the Picton Reading Room at Central Library for Shush! Silent Disco (8-11.30pm) with underground house/techno party STATK. Dancing and books, what could be better? If you want to brush up on some moves prior to this, head to St George's Hall for a Bollywood dancing workshop (7.15-9pm) taught by the profeshs at Movema. You will be taught a whole routine and the evening will end with a live ceilidh band.
For the non-dancers, head to The Box at FACT to take part in a 'smartphone orchestra' with artists Tim Shaw and Sébastien Piquemal (Murmurate: Performance, 7.30-8pm). Apparently the tiny speakers of the phones will emit waves of overlapping sound. Cool. It sounds like you should get there early for this one, as The Box is quite small.
Back up at the Aldham Robarts Library you can play with some of the technologies used in archaeological and forensic research as part of Face Lab (5-10pm). Laser scan your face using their Artec scanner, learn how to morph faces with Fantamorph and use their 3D printer to take a miniature version of your own head away with you for… whatever creepy reason.
Constellations also have a lot of hands-on activities with their Experimental Art of Printing event from 5-8pm, where participants can experiment with printing posters, try mono-printing or take part in drawing and painting workshops that allow you to paint with everything except a paint brush. You can also buy prints from a range of local artists on the night.
---
So, we've established there is a lot on. If you need help figuring out a schedule or route, then head to the Liverpool LightNight website where you can add events or activities to an itinerary and plan your evening. That's what I'll be doing.
You can also buy LightNight guides for £1 at certain venues and, if you need to be in two places at once, there is a free LightNight bus which will do a loop of the city every ten minutes from 6-11pm stopping at Pier Head, Jamaica Street, the cathedrals and William Brown Street. Sweet.
---
LightNight, various venues, Liverpool, 13 May, 5pm-late