Class Politics: Introducing The Ignorant Art School
Transformative politics and social justice ambitions tie together Cooper Gallery's new programme, The Ignorant Art School
The Ignorant Art School is the banner title of the new three-year programme of free-to-attend exhibitions, meetings and events from Dundee's Copper Gallery. It launches with a diverse series of events this month and next – only a selection of which are covered here.
Speaking to Director Sophia Hao, she expands on the reference to a 1987 book by the political thinker Jacques Rancière, The Ignorant Schoolmaster: Five Lessons in Intellectual Emancipation. "The whole idea [of the book] was to dissolve [educational] hierarchy, [instead] teaching through learning. It was controversial across Europe." While Hao admits the true story of an exile teaching Flemish students French from scratch, without knowing any Flemish, is interesting, she describes the project's further expansion into deeper considerations of power structures, and the implications of a commitment to decolonising practices. More specifically, The Ignorant Art School promises to expand across five 'Sit-Ins' (borrowing from protest vocabulary) through the next three years.
Through the first iteration, the events are exclusively online. For researcher, writer and artist Hussein Mitha, this offers some new possibilities for people who might otherwise find taking part in group conversations difficult. Mitha will invite attendees to send voice notes and typed messages to their virtual event, titled A Reading Class (11 Mar). Speaking about the reading they've set on collective working-class art and culture, Mitha say, "We live under a society where everything is under the control of the bourgeoisie [middle classes]… the alternative is a society run by a different class – what did that look like for people in the 1920s after the Russian revolution? What happened to that and what does that look like today?" In the group, there's no presumed knowledge, and the focus will be a collective endeavour of reading a selection of texts together.
And where do the art school and the arts generally come into radical redistribution of power? Writer, feminist theorist and lecturer Minna Salami will host the Beauty Class (1 Apr) as part of The Ignorant Art School, and deftly deconstructs this question when it's posed to her. "When you look at feminist traditions, in particular Black and women of colour feminist traditions, those borders have always been disrupted." She continues, "Women of colour have been prevented from entering spaces of power, including education. This applies to all women and people of colour, but Black women in particular… So, throughout history, women of colour have had to use the arts in order to transmit radical ideas to each other in spaces where they weren't allowed to enter domains of power. "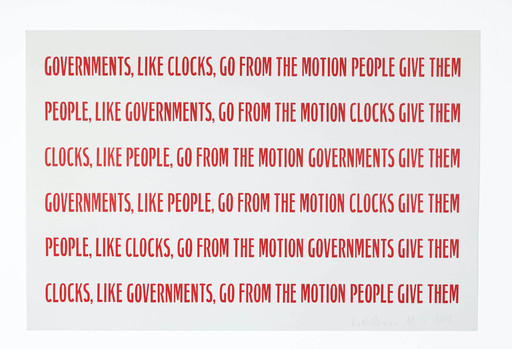 On the meeting point of art and politics, Ruth Ewan mentions her artwork, A Jukebox of People Trying to Change the World, ongoing since 2003. This is a CD jukebox of 2000 political and utopian songs. Speaking about the way her practice doesn't fit neatly into an individual-centred style of production, Ewan admits, "None of it's my music, it's something that's gathered then shared across this physical platform, and people are constantly adding to it." This work is the inspiration for an event on 8 Apr where Ruth is inviting musicians, singers and groups to perform songs from the Jukebox or contribute new songs to its ever-expanding repertoire for an evening of song raising funds for Dundee-based charity Optimistic Sound.
In September, the first exhibition of The Ignorant Art School will feature Ewan's metric clock, based on the time system that came around during the French Revolution, of dividing the day into ten decimal hours, divided into 100 minutes, each 100 seconds long. Also pivoting around time and socialism, on 25 March artist Stella Rooney will present her film work which gathers oral histories surrounding the closed-down Timex factory in Dundee, and the attempts to organise to prevent its closure. "Many people may look back on the dispute and say they didn't win, but… I do think we can learn from how the whole community around the Dundee plant coalesced, there was real solidarity – and it's a part of history that people outside of Dundee don't know a lot about, particularly young people.
"Today, we face a lot of precarious work, a lot of unequal working relationships, but that's a real example of working-class people fighting back in Scotland."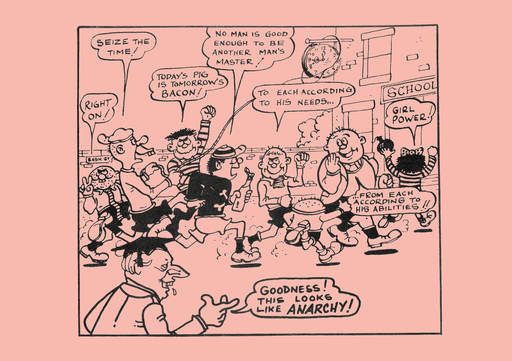 And providing some practical tools for the fight against unfair power dynamics, A Slogan Class (15 Apr) is the most practical session in the first series of events, hosted by designer and educator Neil McGuire. Compared to the breadth of ambition around the overarching themes, McGuire thinks of his short poster and slogan workshop as a "small gesture." He goes on: "But I'm interested in how these small gestures can accumulate over time. These can be small to [the organisers or facilitators] but might be big to someone else. I'm interested in problems in mainstream art education, the tensions and trying to find ways through them, but you can't always do that in one go. It's an ongoing process."
---
For full details of all the events coming through this month and next, and the coming three years, see dundee.ac.uk/cooper-gallery/events
Image credits: Ruth Ewan, 'Clocks, Governments, People', Letterpress print, 2012. Photo by Matthew Arthur Williams; The Great Brain Robbery, 1971. Keith Paton, Moss Side Press Ltd