Glasgow International 2021: One for Glasgow
Glasgow International is back after a year's hiatus. With an exciting programme of new exhibitions, some of the organisers and artists give a sense of what the festival will bring to audiences through this month
As always, the biennial art festival Glasgow International is defined entirely by its projects. So to get a flavour of what's on offer, here's a selection of just a few of the organisers and artists involved, speaking about their work and aspirations for what will be on show this month.
While there's a craze in current discourses to speak of epoch changes and the exceptional present time, in considering the work of Donald Rodney (1961 – 1998), which will feature in an exhibit in Celine Gallery, curator Ian Sergeant takes care to set the current moment within a far longer history of the Black British immigrant experience. In particular, Sergeant speaks of Rodney's work – which spans from the 70s to the late 90s – as being informed by and responding to the first-generation experience.
"[Rodney's] parents came to Britain as British subjects on their passports," Sergeant explains. "But he was the first generation to be born Black in Britain. In his practice, there was that struggle to confirm an identity that was still in question." Sergeant nevertheless situates Rodney's experience as consistent with continuing oppression of Black British people, referring to "the so-called Windrush generation. Their identity and sense of belonging were called into question and" with that so were "the generations that have been born here".
Introducing Rodney, Sergeant refers to the artist's "pragmatic" use of materials he encountered during the medical procedures related to his sickle cell anaemia. One famous work saw Rodney using his own skin graft to form My Mother. My Father. My Sister. My Brother., a small, pinned together house sculpture that fit in the palm of his hand – a close-up photographic image of the same work sitting in Rodney's palm is titled In The House of My Father. Through this work, Sergeant suggests, Rodney describes "the fragility of what home or what belonging might mean."
"The symbol of the house comes up repeatedly in his practice drawn onto x-ray sheets, a material he also used in his drawings in the Britannia Hospital series," Sergeant continues. "He used these one metre by one-metre x-ray sheets, interested in what they could imply in terms of seeing beneath the surface of what was really happening, considering what lies beneath British society."
For the presentation at Celine, Sergeant was drawn to works in which Rodney himself talks aloud. "It was one part of the work 3 Songs on Pain Light & Time that surprised me the most, to hear his voice after he's been gone for such a long time."  Along with two other pieces, Autoicon and Genome Chronicles, Sergeant describes the work in this exhibition as Rodney seeking to self-archive, as he realised "the limited time he had because of his illness, and that he needed to memorialise some of his works." In this regard, Sergeant also credits the exceptional efforts of the Donald Rodney Estate in ensuring the survival of Rodney's work.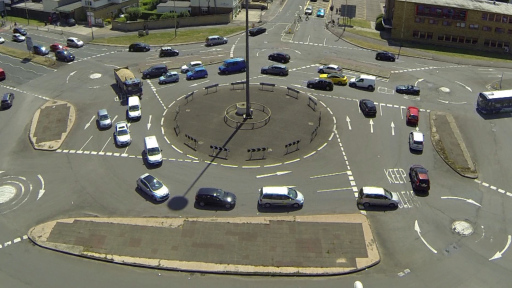 As another challenge to generalising narratives of immigrant experiences, Aman Sandhu's The Magic Roundabout revolves around a group of Punjabi males in Swindon, whom Sandhu describes as engaging in "nefarious activities, bootleggers [that] have been in and out of prison." He sees in these figures a disruption of the "linear colonial framing of the South Asian migrant, who works on the grid to raise their children." For his digital presentation, Sandhu shows a video of the hectic roundabout system in Swindon, which has one central roundabout with five smaller ones around it. "It's a frightening road system and I remember my fear as a kid going into it," he says. The video is accompanied by new writing that in its form is similarly as looping and nauseating as the footage itself. He'll be showing this alongside a new work by artist Andrew Black in their two-person show, The Magic Roundabout and The Naked Man. Without his co-exhibitor, Sandhu says his new work would not exist, emerging from their years of thinking together as friends.
Just as Sandu and Black's show has changed in its form during the intervening time between the original and revised dates of GI, over the last few months, Mathew Wayne Parkin also set about reconfiguring their contribution to the festival. From thinking about an art historical reference of the film Swamp by artists Nancy Holt and Robert Smithson, which sees them working together to navigate a New Jersey swamp while Holt's vision is obscured by a Bolex 16mm camera, Parkin's thinking turned towards access to cruising sites, for disabled people and their ability to navigate them as well as for trans and nonbinary people and the risks to their safety or the liberatoriness of that access. Bats also came up as a metaphorical and research thread, in terms of their sight limitations, their same-sex relationships, their vector of disease, and how they navigate with sonar.
"How does someone who is sight-impaired access cruising?" asks Parkin. "What are the different codes of looking compared to tapping in a toilet?" Parkin gives an indication of some of the books that might be suggested reading, including T Fleischmann's Time Is the Thing a Body Moves Through, about the work of Felix Gonzáles-Torres. By bringing together texts that are "heavily anecdotal, as a deviation from talking about theory", Parkin is allowing for something "meandering" to happen in the group.
Speaking of the Holt and Smithson work with Parkin, there's a resonance with filmmaker Arjuna Neuman's recounting of their collaborative filming with the philosopher, academic and practising artist Denise Ferreira da Silva. This month in CCA, the pair show their latest film Soot Breath / Corpus Infinitum from a sequence of works that take the four elements as their organising structure. Each centre on a set of politicised sites, setting them within a constellation of social/scientific-philosophical knowledge, theory and thinking. For the GI work, they go to the Brazil mining capital Minas Gerais, where multiple devastating dam collapses have happened in quick succession – the latest at the start of 2019. They chose this site as a way into making a film about resource extraction, and Minas Gerais also happened to be Ferreira da Silva's home state. 
Soot Breath / Corpus Infinitum will be shown in a CCA exhibition space alongside resources including interviews, playlists, tarot readings, essays and images that surround the work in topical ways. In so doing, audiences are allowed to choose their pathway to the work, which spans from more concentrated discourse on dark matter to literary scholarship, history and crystology. They will also share a new publication on relationships between Glasgow and its role in colonisation as an administrative-logistical centre of empire. 
Also mining the history of Glasgow is Rosie's Disobedient Press, a new publishing body from artist-writers Lisette May Monroe ('Lis' for short) and Adrien Hester, which is dedicated predominantly to writing by working-class or queer writers and aiming to find a way to circulate that work internationally. As well as marking the launch of this newly minted press, GI sees Rosie's Disobedient Press present new audio work Tenau, which takes its name from its central figure, who is also known popularly as Saint Enoch. The relationship with the mall (St Enoch's Centre) is more than lip service, with it being the spot where the saint is buried. The sounds and performance of the work are created by singer, performer and linguist Cass Ezeji, who Lis and Hester imagined for the voice of the work even before the collaboration was secured.
In Tenau, they let the saint speak her concerns from underneath the food court, and layers of concrete, where her chapel once stood. She's characterised in the work as "motherly" and having "been through all the stages of the city". For Lis, this work offers a guiding hand around the city centre as many people make their way around town for the first time since lockdown. "This work is a companion to look and see and breath the city as you listen to it," she says. 
Glasgow's tradition of building over mythical and ancient sites comes up too in speaking to artist Andrew Sim as they describe some of the landscapes that feature in their pastel drawings. Some of these are formerly sacred or religious sites, "now just little fenced-off bits behind the Tennent's factory," notes Sim. These urban green pockets have a "bleak and abandoned quality," and Sim recounts growing up (and drinking there) in these kinds of places. 
Speaking about the werewolves and Bigfoots that feature in their work, Sim refers to The Secret Commonwealth of Elves, Fauns and Fairies, the 1691 book by Robert Kirk about magical creatures. "[Kirk] described these creatures as existing 'betwixt man and angel'," explains Sim. "And that really resonated as a description of what queer people have to live up to, balancing mundaneness with this expectation of being quasi-magic." Sim sees the hairless werewolves as symbolic of being on a night out and visibly queer – "there's a socialness and awkwardness". Working at an unprecedentedly large scale for this body of work, and in triptychs, Sim also imagines the show as the final form of some of this subject matter, which they've been working with for several years. After this, they imagine new signifiers and symbols being given space to emerge in their drawings. They hint at some of these, including "full-size horses and aliens".
When I speak with the artists and curators above, and at the time of writing, Glasgow is still in lockdown. So what's left is a festival for the city and the people who live here. A general consensus across the interviewees is that it's not the worst thing right now for the festival to take an edition off from catering, in large part, to a specific class of artworld short-stay visitors. Without so much of the international aspect, this time around GI might just be about bringing in as many of the diverse communities and classes in Glasgow to the festival and over the threshold of the city's galleries and museums. A tall order – and a long time coming.
---
Glasgow International runs 11-27 Jun at various venues across Glasgow and online; for full details, head to glasgowinternational.org