Galvanize! Local Heroes returns at SWG3
For their second project, design-curators Local Heroes present Galvanize! in SWG3's back yard
Last August a bold new project launched at Edinburgh Airport, a pop-up shop featuring specially-created products by a select range of Scottish designers hell bent on redefining what constitutes a souvenir and the international face of Scottish design in general. Sitting in a renovated shipping container between the terminal and the tram stop, the Local Heroes project presented a bold face to visitors from around the world, providing the opportunity for them to engage with the nation's confident, interesting contemporary design and maybe even buy something beautiful and useful for their pals back home.
Behind the Local Heroes project is Dr Stacey Hunter, an independent design curator with a vision for fostering a fertile, vibrant creative scene across Scotland and beyond. She says: "I think there's this opportunity at the moment because design is under-curated, and under-utilised as a cultural object. So there's an opportunity to ask what our design language is, and what that could look like if we did have one." To help generate that her new experimental project, Galvanize!, shifts the focus slightly from the creation of sellable product to social furniture.
The project is situated in SWG3's new indoor/outdoor space, a former galvanizer's yard, part of the history of Glasgow's industrial fabrications. Hunter is concerned with encouraging a more maximalist design, moving away from an orthodoxy of 'good taste', Scandinavian-influenced minimalism which she regards as somewhat restrictive on the development of new ideas. "It's a little bit like be careful what you wish for, because the Bauhaus dream in some ways has come true where most people can afford to go into IKEA or whatever and buy decent design – sort of adequate if not amazing. But the room for creativity has really diminished because the market has no patience for it at all. It's really diminished the room for radical design or what I would define as expressive design, emotional design."
To counteract this, Galvanize! opens up the door to play. Using Creative Scotland and Scottish Enterprise funding, the project removes the commercial constraints which can be uppermost in a designer's mind and allows the freedom to experiment. The duo who have undertaken this project are Glasgow's SLAPS, Sicilian-born Giulia Fiorista and Welshman Ed White. They come from a service design background and initially began working together at Glasgow School of Art, drawn together by a mutual interest in Bowie, post-modernism and tongue-in-cheek design.
Says Hunter, "They're interested in sex and design, and desire – they produced a collection of toys that talk about sex that were in an exhibition at the Lighthouse. They felt perfect for this project because with their service design background they're able to apply all of that aesthetic that I really like but also really thoroughly research the site and the people that are using it. They thought about SWG3's business, and their business plan going forward. It looks really light-hearted but it's actually got a very rigorous, intellectual integrity to it."
The products they have created for Galvanize! (working with fabricators Alien & Daughters) are the Glasgow-Rella and the Calm Tree, which Hunter calls "bold talking points that will punctuate the space so that we can get people talking about design that they've never seen before – really original, really radical, really unique." The layers of research that have gone into the finished products should not be underestimated. Says Hunter, "That tree came from a bit of research they did about anxiety. They were thinking about the anxiety that people have in social spaces, like you get there before your friends get there, you're on your own, where do you stand? Also the social issue of striking up a conversation with another person – if there's a talking point, if there's something weird there, that eases the anxiety."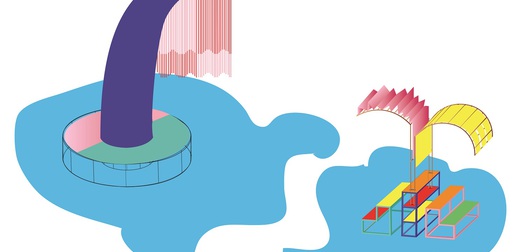 The Calm Tree provides a talking point, seating, and a calming sensory experience in the form of fringing hanging from the top that can be stroked and played with to alleviate stress. "It's quite a phallic looking object," Hunter says. "From my point of view that's good because one of the questions I was asking was 'What would objects look like if designers had the creative freedom to do something radical? Would they be rude? Would they be ephemeral? Would it be something that would go outdoors and would eventually break away and fall apart? Would it be made out of materials that are completely eco, or the complete opposite?'"
The Glasgow-Rella responds to its local environment, attempting to answer the eternal Glaswegian question – how do we shelter from the rain while still being able to drink outside? Says Hunter, "That was coming out of their research to do with the Glasgow climate which is the impossibility of an umbrella because they just get destroyed. They have a whole archive of images of destroyed umbrellas all over Glasgow."
The Glasgow-Rella is a multi-functional structure: "You can also use it as a bench, a table, a shelf. And then it's got these plastic umbrella things sticking out of it that provide a bit of shade or shelter depending on where you're standing."
SLAPS' position as a design company who have chosen to set up shop in Scotland is emblematic of broader changes in the creative communities north of the border. Ten years ago there seemed to be an inevitability to the annual design graduate migration to London or beyond in order to pursue serious careers. Now individuals and companies are actively choosing to work here, drawn by lower operating costs and a fertile, supportive community of creatives.
Hunter quotes original Local Hero Karen Mabon, a designer who relocated back to Edinburgh after a spell down south. "She felt that in London whenever you present something to a public audience it's got to be perfectly presented and perfectly realised because you get this barrage of real criticism. Whereas Scotland's more the kind of place where you can present ideas that are maybe still being formed, you can present them to an audience who're appreciative, and the critical discourse around it can be critical friends rather than a barrage of trolls ripping your stuff apart."
Galvanize! launches as part of a public events programme, with both Hypermarket design market and a series of SWG3 nights (like Optimo's 20th birthday) going on around it over the summer. Over time Hunter plans to initiate further projects, working with more designers to create work for the SWG3 yard and beyond, serving twin aims of facilitating more creative design production and helping to foster a more coherent identity around what constitutes 'Scottish Design' in the collective consciousness. She says, "If you say 'Scottish design' there isn't a snapshot the way that there is with Finnish design, Norwegian design, Italian design." Hopefully Local Heroes will continue to change that.