Design for Our Times explores sustainable design
Design for Our Times at V&A Dundee is a design exhibition featuring a variety of installations and objects from seven designers, exploring sustainable solutions to overconsumption and material waste
New work by seven innovative designers has been brought together in the exhibition Design for Our Times by Design Exhibition Scotland (DES). Open until June 2022, this free-to-attend exhibition at V&A Dundee's Michelin Design Gallery is a showcase of material innovation that offers inspiring, practical and desirable solutions to issues of re-sourcing, repurposing and reuse.
The selected design initiatives represent distinct practices working today in Scotland in the fields of product design, interior design, environmental design and construction. From established designers to recent graduates, these ingenious projects demonstrate the enormous creativity on our doorstep. Terrace, a sculptural seating installation by Andrew Miller, a Glasgow-based artist, is shown alongside pendant lights made of glass vases found in charity shops. Two stools by Fife-based Chalk Plaster explore the possibilities of gypsum, some of which is culled from waste plasterboard, as a new durable material.
Designs are explored through drawings, prototypes and interviews with the designers, highlighting how these materials present positive changes in how we consume and behave. The exhibition illuminates the design process, from incubating an initial idea, through the trial and error of prototype development, towards production and potential applications in the wider world. Susanna Beaumont, founder of Design Exhibition Scotland and curator of Design for Our Times, said: "We intend this exhibition to stimulate discussion and raise awareness of how adventurously and playfully working with materials has the potential to create a more sustainable world in which we want to live."
Featured materials range from repurposed waste, such as K-Briq, a building brick made from over 90% construction and demolition waste in Edinburgh. K-Briq was developed by Gabriela Medero, Professor in Geotechnical and Geo-environmental Engineering & Head of Geomaterials and Sustainable Building Materials Research Group at Heriot-Watt University. Mirrl present the Dixon drinking fountain (pictured), developed in their Glasgow-based studio in 2021 for the London Design Festival. Their exciting new shop has just opened at 20 St Andrew's Street, in Glasgow's Saltmarket.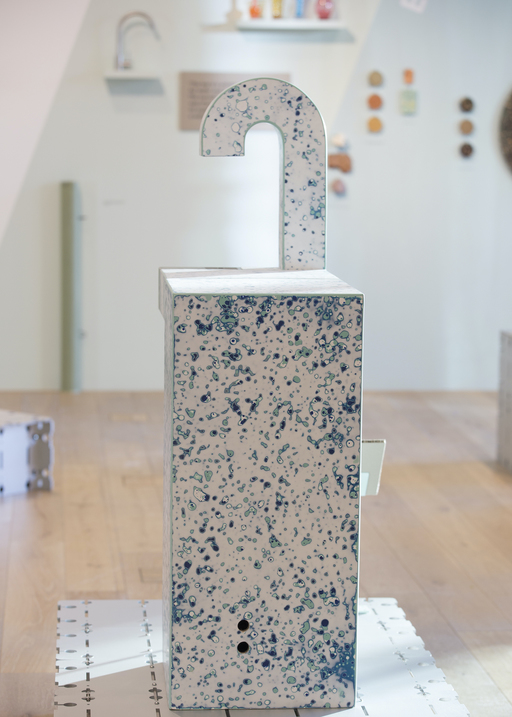 Recent GSA design graduate Catriona Brown presents Shroom, a biodegradable prototype tree shelter made of mycelium, derived from fungus. Draff is an eco-design and production company based in Dundee founded by the French-born Aymeric Renou who has developed a material made of spent grain from local distilleries and breweries. A modular aluminium exhibition design by emerging design practice Future Practical has also been developed to be environmentally sensitive in both process and material selection, as well as reusable and ultimately recyclable.
Francesca Bibby, Assistant Curator at V&A Dundee, said: "It has been great to collaborate with Design Exhibition Scotland to realise this exhibition and we're excited to showcase the huge potential of these seven design practices, all working right on our doorstep. We hope visitors are inspired by the innovative ways in which designers are rethinking waste materials and considering more environmentally sensitive processes."
---
Design for Our Times, V&A Dundee until 19 Jun, 10am-5pm, Thursday to Monday