Daytrippers! - Local Heroes and V&A Dundee
Local Heroes curator Stacey Hunter introduces their latest design project – a collaboration with V&A Dundee that celebrates 'the year of the daytripper' with limited edition souvenirs and a bespoke mobile exhibition at V&A Dundee's plaza
This summer we are back with a very special project that celebrates contemporary Scottish design. Eight designers in total have participated in Daytrippers – a collaboration between V&A Dundee and Local Heroes aimed at supporting designers by commissioning collectable, limited edition souvenirs.
Identifying 2021 as 'the year of the daytripper', I invited emerging designers who embody Scotland's dynamic design scene to create products that can help to make your window boxes into a mini-paradise for local wildlife; or are perfect for a trip to the beach and a picnic in the park.
Furniture designer Aymeric Renoud of Draff has worked with designer Martin Baillie to design two roaming exhibition bikes where you can purchase your souvenirs from friendly and well-versed V&A Dundee staff. Renoud and Baillie have adapted two iconic and award-winning Christiania cargo bikes from Copenhagen which will display billowing beach towels and bespoke boxes of wildflower seeds. These will be unveiled on 8 July when Daytrippers opens to the public and the bikes will be traversing the V&A Dundee plaza until the end of September.
Kate Scarlet Harvey, Lauren Morsley and Katie Smith have each designed a bold and beautiful beach towel that will add a distinctive edge to your beach or poolside presence. Made from 100% cotton terry they are jacquard woven, meaning you can enjoy the reverse of your towel just as much as the front. Titled Whizzing About, Daydreamers and The Swimmers, each design brings to mind hot summer days, conviviality and the heady scents of suntan lotion, the seaside and summer blooms.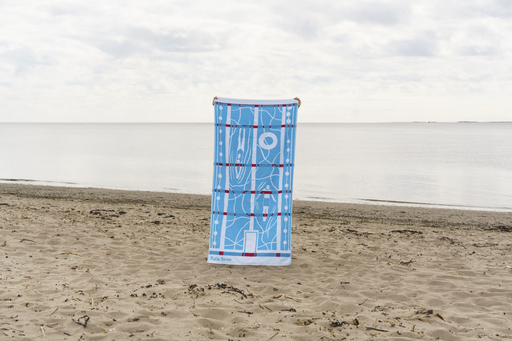 Fiona Moon, Klara Sormark and Shweta Mistry have designed wildflower seed boxes featuring native flowers that support local wildlife. These bespoke seed mixes have been specially created for Daytrippers by Scotia Seeds who grow native flowers at their farm in nearby Angus. Each is aimed at attracting either Scotland's tiniest butterflies species; bees or nocturnal pollinators like moths so as well as supporting designers you're also supporting local wildlife with every purchase.
"The plaza surrounding V&A Dundee is one of the city's newest riverside spaces and we've been working in partnership with creatives to envision interesting ways of offering design-led experiences to visitors," says Christian Moire, Director of Operations, V&A Dundee. "Local Heroes have created a fun, welcoming and beautiful way for people to encounter design in a playful manner that supports our vibrant design community and continues to establish the waterfront as a vital civic space to gather, linger and enjoy." 
During lockdown citizens brought their own new ways of using the plaza space to the attention of V&A Dundee. Reflecting our changed relationship with outdoor spaces, it quickly transformed into an activity space for skateboarders, rollerbladers and families on their daily walk – becoming a valued addition to the city centre's public space provision. Since June, Heather Street Food trucks have been serving bagels, ice creams, draft beer and Prosecco from beautifully designed vintage vehicles, turning the plaza into a chic waterfront hotspot. Meanwhile the addition of an urban beach (coming soon) and a cycling hub that offers bike hire on a central part of the National Cycle Network all combine to make Dundee's waterfront a must-see for all kinds of visitors from daytrippers to those making the city their base to explore the wider area.
---
You can find out more about the Daytrippers designers and purchase your own collectable souvenir online at shop.vandadundee.org/collections/daytrippers