Building Edinburgh better in a post-pandemic world
Creative producer Morvern Cunningham presents a manifesto on the cultural crisis facing the city of Edinburgh – 'You'll Have Had Your City?'
Like many of our colleagues and friends in Scotland's creative community, The Skinny have been hit hard by the coronavirus pandemic. We're asking for your support to help bring back the magazine after lockdown. Donate to our crowdfunder here – any support you can offer is hugely appreciated!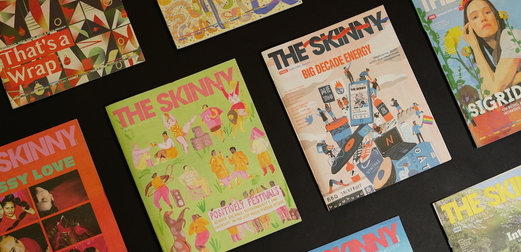 ---
The city of Edinburgh, lauded for decades as the world's premier cultural destination, is currently contemplating a catastrophic scenario that would have seemed unimaginable only a matter of months ago. Venues across the city lie empty and dark, many with no clear idea as to when they might reopen, amid ongoing threats of staff redundancies and mass unemployment due to the current Covid-19 crisis. Even more palpable, as we approach an August quite unlike almost any other in the city in living memory, the largest arts festival on the globe – the Edinburgh Fringe – along with the rest of the city's summer festivals and everything else in its wake, were all cancelled earlier in the year with immediate effect.
And along with it, the seemingly indestructible and interlinked structures of culture and economy in the city are also crumbling. No financial bump this summer for Edinburgh's city centre bars, eateries and hotels. No plethora of pop-up venues run by London-based conglomerates, no spike of Airbnb properties in the city that boasts the largest unregulated rental market in Scotland. No exodus of residents wealthy enough to escape the city or to capitalise on their vacant space, and no massive influx of tourists – no longer keen to be crammed into an already heaving medieval city centre with the unprecedented threat to public health we are all currently facing on a global scale.
Now, during this unprecedented pause in the cycle of Edinburgh's art machine, we find ourselves at a potentially crucial juncture in the capital's cultural history and development. While many desperately hope that we can return to 'normal' as soon as is possible, perhaps we should instead be taking this unique opportunity to pause and envisage a new Edinburgh, for its people, for its cultural ecology and for the possibility for radical and meaningful change in the city – change that has the potential to benefit more people than were beneficiaries in the city's previous and fundamentally precarious incarnation.
Let's talk about art… maybe
For if we examine how the Edinburgh Fringe has developed from its humble beginnings and associated good intentions, we witness the evolution of an intertwined interdependent structure of art and economics. This relationship has created the perfect conditions for exposing creative output to the economic forces of the market, by essentially pitching artists against each other in one large, overcrowded amphitheatre of value – one with a neverending demand for growth at the expense of its participants.
This fundamentally capitalist approach to creativity has inevitably resulted in a disproportionate array of unrepresentative narratives on display each year; namely those of the white, the straight and the wealthy. The oft-used defence of curatorial impartiality and subsequent inability to improve Fringe mechanisms to support artists can be no longer tenable; the system is no longer working.
Those of the August festivals that do have curatorial control over their cultural output are also not absolved of responsibility, in their continued absorption of the majority of available public funds, combined with an oftentimes palpable lack of Scottish content for Scottish audiences. Indeed, this was an early criticism of the Festival by the late great Hamish Henderson, who set up Edinburgh's People's Festival in 1951 as a more accessible and cultural alternative to its international counterpart. It was a reaction to the persistent criticism (that exists to this day) of a recognised lack of overall Scottish representation across the city's annual global stage.
It's not just been August pushing Edinburgh's conjoined cultural-economic agenda in recent years – the commercialisation of Hogmanay has ensured the monetisation of the tail end of the year too, positioning culture as Edinburgh's primary economic driver in a festival season that threatens to become never-ending in its 12-month occupation of the capital's city centre. The opening of the lucrative Hogmanay cultural contract out to tender, and current tenure of the London-based Underbelly, has caused further outcry locally, as the public asset that is Princes Street Gardens was recently decimated for the expansion of the endlessly replicable and homogenous German Market. Even the Financial Times (the irony!) were speaking out at the start of 2020, crying: "Who are cities for if not citizens?" Who indeed?
It could be argued that the stark cultural wasteland that Edinburgh residents will be presiding over this summer was in the works before Covid struck. During those halcyon days where we could all be in a room together and share the same oxygen, the city was already far down a road that firmly equated culture with commerce, that fully understood the economic reasoning behind supporting creative activity within its city centre, but didn't focus on arguably its most important contribution to the human condition – that of increased health and wellbeing.
As a consequence, Edinburgh had, imperceptibly, become fundamentally ill at its core, and dangerously close to alienating from art and culture those it was meant to specifically cater to – its people. Tired, and becoming downright angry at their city being taken over at various times throughout the year, many of Edinburgh's citizens and shareholders had seen enough, with calls from various sources to either shrink the festival, change to a biennial calendar or to simply go fallow for a year.
Now it seems like Covid-19 has done their work for them. Perhaps those enmeshed in the mechanisms of cultural production have, perversely, managed to dodge a metaphorical bullet as a result of the current crisis calling everything to a halt. The increasingly untenable situation the city was experiencing was no doubt going to come to a head, one way or another.
The kids are not alright
In a healthy cultural ecosystem, each tier of creative production plays a crucial role in the overall ecology and in turn supports one another accordingly. Everything is interconnected and interdependent. Grassroots spaces in particular often offer young and emerging creative people their very first chance to present work to an audience, with their accessible spaces allowing established artists to congregate and cross-fertilize for intergenerational exchange and creative exploration. But this kind of intrinsically important space is precisely the type that's currently dwindling in the city, particularly the city centre.
Where once there were galleries, music venues and nightclubs, creative spaces have been gradually falling silent in the wake of noise complaints from nearby new builds, economic repurposing of 'vacant' space, and endless development of cheap-to-install flat complexes and hotels springing up around the city and its environs. For my part, having been resident in Edinburgh for the last 20 years, I can bemoan my own witnessed cultural losses to the city of Edinburgh in recent years, including The Venue, Studio 24, The Bowery, The Roxy Art House, the Citrus Club, Electric Circus, the former Bongo Club & Studios on New Street and the fabled Café Graffiti – the most troubling development being nothing comparable emerging in their place.
For the last two decades Edinburgh has been experiencing an increasing dearth of grassroots arts spaces locally, masked somewhat by the massive influx each year of mainly London-based conglomerates who seize control of numerous private and public spaces for commercial gain, with a primed council system seemingly adept in supporting temporary pop-up cultural venues and bars during the months of August and December, but wholly inadequate in its inability to support homegrown creative activity the rest of the year. This has created a bizarre double standard in the city: it welcomes the whole world to its doorstep at key times annually, but doesn't cater for its own creative talent all year round, leading to an erosion of Edinburgh's cultural foundations.
Indeed, the current ecology of the cultural sector in the city has been top-heavy for far too long, resembling an ailing coral reef – bright and colourful on the outside, but grey and brittle at its core. Edinburgh's arts establishment has traditionally sucked up maximum attention, priority and funds, contributing to a closed shop that has essentially held Edinburgh's cultural development in a stranglehold. The city has been simply unable to support its young and emerging creative residents in recent decades, as the pillars of support currently in place merely uphold the status quo – with far too much emphasis placed on the cultural institutions, the festivals and their concentration in the city centre. It is these high-brow institutions that are going to learn the hardest lesson from this crisis – that in the 'new normal' it can no longer be business as usual.
Our focus has suddenly narrowed, in the way that lockdown suddenly shrunk all our worlds overnight, to something much smaller, more manageable and hyper-local. In our new post-Covid world, it is understood that none of these pedestals to cultural power will be able to simply pick up where they left off; it will therefore be up to the grassroots to be the vanguard of creative and community rebuilding as we move forward into the great unknown.
Build back better
Indeed, for any recovery of the arts post-Covid to be meaningful and an improvement on what went before, attention and investment must be made at a grassroots local level and not simply revert to the mindset of culture being a primary driver for increased profit, growth and tourism. This former economic approach to the arts was what got us to this increasingly dangerous point in the first place, and should certainly not be the 'normal' we strive to return to as we emerge out of lockdown.
Grand institutions must learn to step aside in the interim, to accept that their temples to culture are precisely the type of entity that will struggle in the new landscape we all face, and that it will be up to the more nimble, precarious and imaginative cultural initiatives – those of the grassroots and the community-based, to lead the way.
Forward-looking cities recognise the importance of the presence of artists operating at their hearts, and the necessity to make space for creative people not only available, but affordable. This fundamental concept is recognised by comparable cities to Edinburgh such as Vancouver, which has embedded this understanding into its organisational decision-making and in the cultural infrastructure of the city. (See Making Space for Arts and Culture, produced by the City of Vancouver last year.) Of course, as a working city and a tourist destination, Edinburgh has faced rising challenges year-on-year with regards increased demand for space. Yet it is not outside the realm of possibility for funders and other decision-makers to dictate revised priorities for ongoing cultural development that fundamentally target and benefit local grassroots creatives and the various non-city centre communities of Edinburgh.
My personal vision for the city is a redressing of the widening imbalance in creative power and cultural visibility that has been encroaching on Edinburgh for decades, a challenge to the hierarchy and hegemony that are traditionally so resistant to change. The following suggestions are some of what I believe may bring meaningful change to Edinburgh – the collective creative case for the sharing of wealth and space in the city, for the benefit of all who live here and by extension, its visitors.
A local arts fund 
Those who operate and are well-paid in the cultural sector in Edinburgh (often white men, despite the prevalence of women across the creative workforce) would pay a proportion of their income into a collective pot that is fed directly into financially supporting emerging artistic talent locally, with a specific emphasis on amplifying marginalised voices in the sector and in Scotland (potentially buoyed by the much-touted tourist tax).
The resulting redistribution of wealth could be spent on one-off projects, extended work with communities, supporting artists to hire space, support and mentorship programmes, all the while encouraging and incubating homegrown talent locally. This initiative will be a means for those currently benefiting most financially from the arts in the city to directly support Edinburgh's emerging and rising talent going forward, and contribute to making the cultural ecology of the city more sustainable in the future.
Obligatory provision of free space to artists and community groups across the city
All cultural hubs in Edinburgh to provide a portion of free studios to those artists and creative people that would otherwise not be able to afford them. The shortfall in income by studio providers could be paid back and forward by in-kind support from tenants in basic roles such as reception duties within the organisations involved, thereby directly integrating grassroots and emerging artists into their supportive organisational structure. Other cultural organisations renting buildings such as venues and offices also have the means to make their currently under/un-used space available to artists and community-based initiatives for free for regular periods throughout the year. We need institutions and other cultural gatekeepers to commit to sharing their space with those in most need of it.
Lastly, but certainly not least – Edinburgh is currently crying out for...
An all year-round medium-sized grassroots multi-arts venue. (Like, ten years ago.)
A cheap or free flexible space(s) that can be hired out at low/no cost risk by emerging artists and producers in order to try out their ideas, to fail, to learn, to succeed. A place where creative people from all strata of the cultural sector can mix, share knowledge and cross-fertilize. A place to get together again in a post-Covid world. All serious offers considered.
This piece is not intended as a provocation (though it might serve that purpose), but as an invitation. It is an invitation for others to join the conversation and put forward their own suggestions for ways Edinburgh and its cultural sector might seek to build back better.
In that sense, 'You'll Have Had Your City?' could be seen as a jumping off point, a means of reclaiming the Edinburgh we would like to see going forward and the basis of a new kind of meaningful bottom-up discussion about the city and its future – a conversation that puts the grassroots and the community at its heart.
In the 'new normal', where we find ourselves ever more isolated from one another through physical distancing measures and the inequalities that separate us seem to become more apparent than ever, it feels like the only response is to redress current imbalances through increased solidarity and focusing on what unites us as a city and a sector, rather than what divides us.
The possibility for real, structural change in Edinburgh has been discussed variously at points in its ongoing development, though often from a top-down perspective that is unable to fully grasp, reflect or articulate the importance of the grassroots and local creative contribution to the city, while the gap between those at the top and those at the bottom is ever-widening. What Edinburgh needs now more than ever is a radical bottom-up reimagining and re-evaluation of the city's future, with an emphasis on community-led solutions going forward.
Instead of the 'thundering hooves' mentality of competition and commerce, the city should be concerning itself with the sensitive year-round integration of art and culture with its public spaces, in collaboration with our local creative artists and residents.
---
Morvern Cunningham is a freelance creative producer, who works alongside and within communities through her role as Founder and Trustee of multi-arts charity LeithLate, and as Partnerships Coordinator at Regional Screen Scotland. She is based in Leith, Edinburgh and has spent all of her adult life in the city.
Suggested further reading:
Is it time for Edinburgh to take a Glastonbury-style break from the festival? – Stephen Jardine, The Scotsman, 2019 
Edinburgh City Centre has more Airbnbs than anywhere else in Scotland – Conor Matchett, Edinburgh Evening News, 2019
The hijacking of Edinburgh's Hogmanay – Edwin Heathcote, Financial Times, 2020 
Revealed: Edinburgh festivals reliant on ticket sales to residents – The Scotsman, 2018 
A festival for the people, with a dash of politics too – The Scotsman, 2006 
High on the Hog – Stuart Millar, The Guardian, 1999 
 
Edinburgh International Festival: Director Fergus Linehan reveals first plans for 2021 comeback – Brian Ferguson, The Scotsman, 2020
The Edinburgh People's Festival 1951-1954 by Hamish Henderson (2012) (Available in hard copy from The National Library of Scotland)
City of Vancouver, Making space for arts and culture 
Desire Lines Call to Action (2015) 
Desire Lines initial gathering (2014) 
Thundering Hooves reports (2006 & 2015) 
Scottish Government A Cultural Strategy for Scotland (2020)