The Future of Home at London Design Festival
Local Heroes presents a preview of innovative furniture, textiles and lighting from a new generation of Scottish designers at London Design Festival
At a time when we are experiencing an increased fluidity between our home and our workspace, a new exhibition titled The Future of Home offers a fresh and sophisticated take on modern interiors from a new generation of designers. A wide variety of products, from furniture and lighting to textiles and collectable craft have been brought together aimed at creating spaces of comfort and style that also reflect the hybrid needs of flexible working. Designers who found themselves at a standstill have used that time to innovate, speculate and dream, and the results are a vision of a future where interiors are as fun, beautiful, comforting and tactile as possible.
The exhibition responds to Brompton Design District's theme 'From here on…' – set by Jane Withers Studio – and invites visitors to explore a snapshot from Scotland that reflects the reignited optimism and youthful irreverence of the contemporary design scene. 15 studios and brands present over 40 new pieces that are positioned towards buyers, collectors, and future collaborators at one of the world's most important design festivals.
The collection sheds light on innovative working processes and emerging concepts in contemporary Scottish design, presenting multiple viewpoints on form, material, and beauty. Instrmnt Applied Design's armchair – a collaboration with independent furniture makers Hame – is an exercise in minimalism using wind-felled sycamore sourced from the Weymss Estate on the East Coast of Scotland, paired with stainless steel and salvaged linen. It contrasts beautifully with a monstera plant-inspired chandelier by Urpflanze rendered in brass and laser-cut green acrylic, and a brutalist inspired mixed aggregate and pigmented cement console table by Nicholas Denney Studio. 
Myatt–McCallum blur the relationship between interior and exterior with joyful, flowing concrete furniture. Jeni Allison's blankets play with and test the boundaries of digital and manual knitting processes, blending the master craftsmanship of intarsia with cutting-edge 3D modelling in her Digital Drape series. James Rigler presents the Glasgow Triptych; a series of monumental, austere forms with a distinctive black-and-verdigris surface. They use the language of grandiose buildings, splicing this with humble object types. Walac's shelving system elevates the storage of books and treasured objects into The Art of Stacking. A new range of wallpaper from Bespoke Atelier continues the studio's radical No Rules philosophy, where patterns have been intentionally designed not to repeat.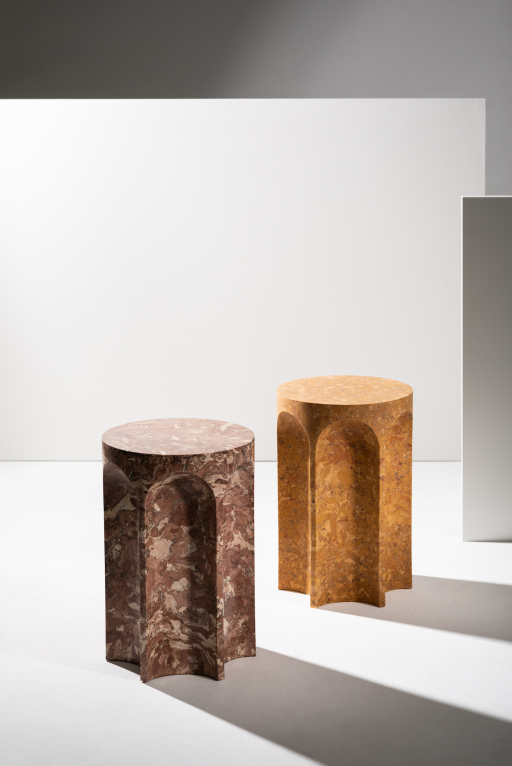 Chalk Plaster's gypsum-based Scagliola side tables (pictured above) have been created with wild pigments collected from the coastline of Fife, with each location offering its own distinctive palette of colours and tones. Simon Harlow's walnut, poplar and beech furniture demonstrates how a chair can be a dining chair, a lounge chair, an office chair – even a workstation in its own right, and a boldly graphic sculptural object. Hard linear engineering for longevity and strength goes together with handmade processes, as seen in Mirrl's latest solid surface material Fossil. It was developed as a way to use the waste material from the production of the original eponymously-named Mirrl surface. This is finely chopped and becomes the inclusions that give the new material its unique fossil-like appearance – and which carry their own histories.
A bespoke stained glass piece by Pavilion Pavilion welcomes visitors to the gallery as they pass through the threshold. Once inside, a series titled The Isles of WonderGlass – a collaboration between Walac X Juli Bolaños-Durman, transforms found glass collected, rescued and gifted over the years into a combination of fantasy and functionality in their one-of-a-kind lighting sculptures. A large rug featuring an innovative and unusual topography is the result of a collaboration between Studio Sam Buckley and Milan's cc-tapis. It has been hand-tufted in Nepal by expert Tibetan artisans. Hilary Grant returns to London with the St Ives wall hanging and blanket in a nuanced colour palette inspired by St Ives' artists' movement of the 1940s. 
These elements come together in a bold yet harmonious exhibition which we hope visitors will respond to with delight and surprise. Spending more time at home has presented an opportunity to rethink our immediate environment as a canvas for self-expression. The Future of Home offers an exciting first look at exclusive new pieces and product launches with a focus on comfort and tactility.
Hybrid uses give more meaning to key pieces – a table made to suit several functions with a hidden drawer, is a good dining table as well as an office desk. Likewise, a chair with a generous internal sitting volume can be used as a dining chair, a lounge chair or an office chair. The Future of Home establishes Scotland as a region of design excellence. Visitors will see expressive forms; innovations in production and thoughtfully articulated craft techniques combine to create a highly accessible collection that breaks new ground.
---
Local Heroes: The Future of Home, Brompton Design District, 6-7 Thurloe Place, SW7 2RX, 18-26 Sep, 10am-6pm
This exhibition is made possible with the support of the National Lottery through Creative Scotland
localheroes.design/ldf
@localheroesdesign