GSA Degree Show 2016: Fine Art
Between the reproduction of the antechambers of great art collections, a self-styled art doctor, and a series of tongue-in-cheek Artist Talks, there's a perceptible self-critical bent to the Fine Art Degree Show 2016.
We start with 'Doctor Watson', as his growing patient base have affectionately named him.  Maybe you can't draw and it's getting to you, or you're a recent graduates and the illusion of an out-of-reach art world has imploded and left you struggling on alone. If you've got some frustrations with fine art or you're having trouble keeping up with the contemporary, Environmental Art student Lewis Watson will be available for half-hour sessions of his own take on art therapy.
Watson explains that the whole project is a way for him to make work out of his own anxieties about being an artist. Without any formal qualifications (as we speak, he's still preparing for the final exhibition), he's becoming a repository for coping mechanisms and anecdotes. Looking past the degree show, book ahead as he's committed to keeping his doctor persona for at least an afternoon a week.
But it's not all art about art – considering care systems more broadly is Sculpture's Elaine Ang. Spatially referencing the British Standards Agency, Ang's intention is for all elements of her presentation to conform to building standards for the disabled. Within the space, there is a sound piece of a Tesco checkout voice recording, offering apologies from "I'm sorry; unexpected item in bagging area" to "I'm sorry; we are not accepting refugees" and "he called you a terrorist sympathiser" – even "I'm not Adele". A debossed text piece is also exhibited, which is activated only by Ang's performed reading, and is otherwise illegible. "It's all alluding to bodies that aren't there," Ang remarks while describing the feint mono print of a lost belt.
Consciousness and broken imagery
Nevertheless, Painting and Printmaking student Tracey Campbell proves a degree of disciplinary specificity can be as experimental as multimedia work. While Campbell appreciates there's an interest in consciousness across the complex spaces of her paintings of impossible rooms, vine covered walls and little fish, she has "left it quite free." As she explains, "I'm thinking about making mostly, and staying open to different materials." But for Campbell, there's not been time for dithering. "It's so intense [in your final year]; you have to keep making and can't really be indecisive."
Trying to come up with a name for her distinct compositions, that often involve what seem like separate rectangular paintings within an overall picture plane, Campbell offers "broken imagery," and describes them as being collated within the painting. Though this structure loosely groups the works, together with a discernable colour identity, there's definite and confident variety in technique between the long broad strokes of one to the impasto truncated tapestry of marks in another. Disregarding the rewards of practice and training, she mentions that adopting one style is restricting, and "even skill can be limiting."
Campbell will exhibit alongside Georgina Clapham in the Life Room, where large scale painting work will be presented (It's the Tontine Building's take on the old Mackintosh Gallery as the venerable GSA structure is renovated following the 2014 fire). Chances are one of the subjects of Clapham's paintings or etchings will be present on Friends and Family Night – explaining her choice of models, she says: "Usually they are people around me, so there's a dialogue between the people I know and the archetypal narratives of Greek mythology to folklore."
Clapham identifies a recognisable "virtuosity" in the paint handling. At the same time, acknowledging and working against Western painting traditions, references to 17th European portraitists are made more suspect by "a conscious artifice and heightened drama".
(Continues below)
---
---
Painting is alliteratively combined with performance, publication, posters and postcards in Photography student Ewan McCaffrey's final presentation. "There will be a series of performances at least every couple of days," he says. They'll take the form of "the traditional artist talk and PowerPoint presentation. In his own enclosed room, there will be a projector and laptop set up for what he has titled – with subtle double meaning – The Artist Talks. "I'm looking at the modernist myth of the artist in the studio, accessibility, and what artists do today," he explains. With an eye on accessibility, there will be plenty of free printed offerings in the space. Looking now at issue two of Studio News From the Desk of Ewan McCaffrey, with its headings of Glasgow International, Essays I Like and Degree Show Updates, there is also a nod to his job in the Vic Bar: "National Living Wage – I am now worth £7.20 per hour and £8 when supervising." There's a distinctive openness and truth to this, as well as a hint of irony. Most of all, he's looking to "find comedy in what everyone's doing here."
A similar shade of self-criticism extends to Painting and Printmaking student Ari Nielsson's installation. Reproducing an antechamber recognisable from grand art collections, he addresses the status symbols and value markers of the art object.  An intricately tiled floor's pattern refers to the Borromean knot, which as Nielsson explains is "a physically impossible formation of links used to visualise the interrelation of abstract concepts." Materially speaking, he directly quotes "a variety of exhibition interiors, from the richly ornamented to the white cubes of the contemporary gallery." Inside this space, there will be a curtain-wall of 'blind paintings.' Using long strips of window-blind aluminium, he has rendered profiles of framed painting and familiar elements of interior decoration. Staying true to the hospitable antechamber, Nielsson will also scatter plush seats to provide the potential for restful contemplation. However, they come with a suspicion of their own hypocrisy as they play "a series of monologues which question the paradoxes and complicities of artistic production, aiming towards a criticism of its own structures."
With a similar consideration of the house of art objects, Nathan Wishart Smith from Sculpture explores "the dualism between art and artefact." Competing presentation methods of the museum's conservative display and the contemporary gallery's floor-mounted object, his installation is "a monument to the museum." Especially for this setting, he has sculpted two bust forms, one made from carrara marble, and another from wood and cast aluminium, bringing a material enquiry into the museum.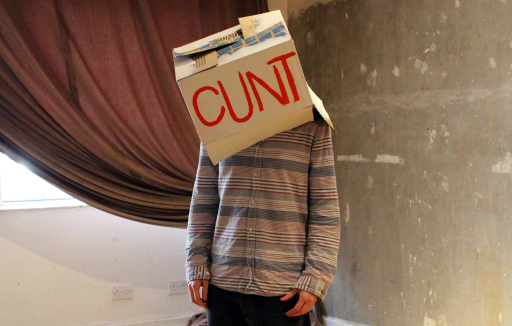 Robert Mills (Photography)
Cutting departmental ties for good and spitting in the face of the museum/gallery display, Photography student Robert Mills presents handpainted cardboard boxes to be rearranged by whoever's passing through. They'll be stacked, restacked, knocked down and played with by Mills and (he hopes) the audience. All this takes place in his red-painted space, and on the windows there will be a poem in blue and another in yellow – one goes "chip shop / hip hop / snip chop / drip mop / tip top." Bringing in parts of his day-to-day experiences, he'll be doing spoken word performances during each day's rearrangements, leaving the content until the time. Broadly, he's hoping people visiting will have a bit more to talk to each other about, even if it's just how the space stands out. "It's not a pristine show," explains Mills, eschewing the kind of exhibition that has 'don't touch' signs. Instead, he says, "it's more like what art's about – more fun and personal in places."
Between criticism, cardboard havoc, and humour with a slash of irony, 2016's newly certified BA Hons make their cool-headed debut with healthy supplies of wit, cynicism and self-awareness.
---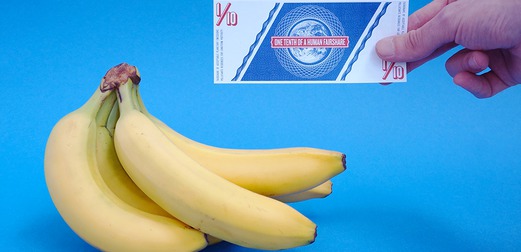 Product Design – Will Brown
Want to know more about this year's GSA degree shows? Read our guide:
---