Good Things Come: RSA New Contemporaries 2022
Unlike any other New Contemporaries cohort, this year's exhibitors arrive in the RSA two years after art school having skipped the big degree show moment
Each year, the Royal Scottish Academy picks a selection of their favourite graduates. But the pandemic means that (unlike any other New Contemporaries) even if students are presenting their degree show work, chances are the work hasn't had a proper public outing before now. This might be the closest we come to a delayed degree show presentation for the Scottish 2020 graduates, even if what we see is just a selection of the students who finished as the pandemic descended.
Artist duo Cat McClay and Éiméar McClay combine their exquisitely crafted computer generated visuals of Christian reliquaries with research into the Magdalene laundries in Ireland, where single pregnant women and their babies would be incarcerated and subjected to torturous conditions. Éiméar describes their parsimonious use of the copious horrific details in reports they read. They carefully avoided being needlessly "shocking", acknowledging the risk of work that "desensitises people, or creates some kind of distance."
Graduating in Sculpture and Environmental Art, Alice Pool is also making the most of the seemingly lockdown-proof possibilities of digital animation to create imaginary new worlds. "A lot of my films are from direct experiences… there's no beginning or an end. [The film holds] the potential of a story that isn't told, so it's up to the audience to take what they want from it or not," Pool explains.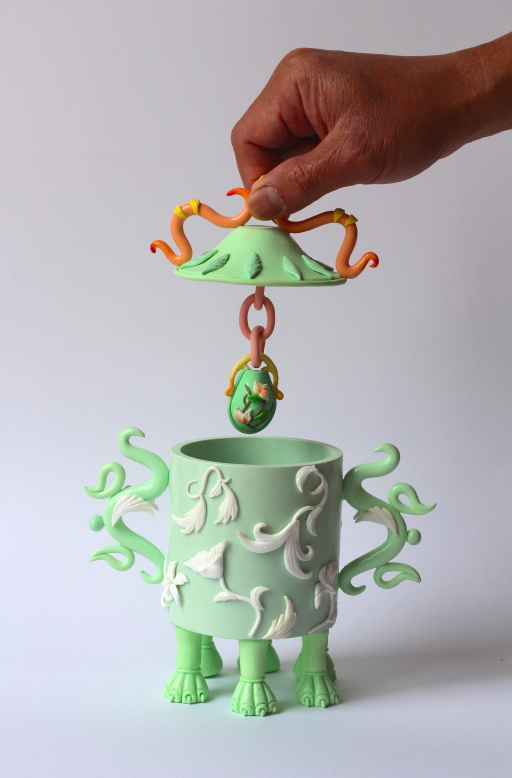 Hannah Lim (work pictured above) makes work that critically engages with Chinoiserie, the 18th-century European market's appropriation of Chinese art and design. Lim is exhibiting some small clay works inspired by the snuff bottles that Lim has observed in the East Asian sections of many museums. Lim is also showing 'flat-packed' works. These are built up by slotting flat parts together; they are ornamental but also functional. Lim's flamboyant and playful works tackle the colonial history of the historical trend, while critically reflecting on her mixed Singaporean and British heritage.
Artist Stella Rooney has made a film that is structured around four different women in industry in Dundee. One woman worked in the jute industry, one worked in the Timex watch factory. They are included along with two women who work now in hospitality and care. Rooney says: "Working-class women's history is not collected or recorded with the merit it deserves. It was important for me… to represent the women in dignified, strong ways."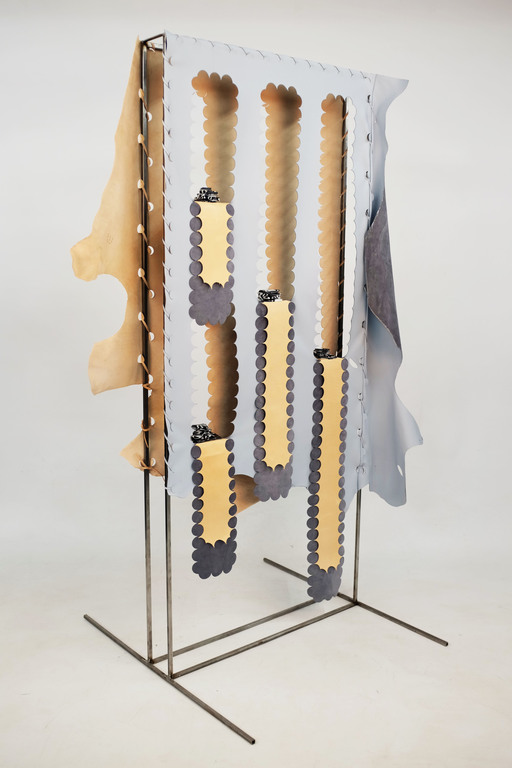 Heather McDonald's work will take the form of large scale sculptures (above), with interwoven fabric, metal, glass and wooden elements. She takes inspiration from the period when she was a full-time carer for her mum and dad, who were simultaneously diagnosed with cancer. "Some part of my brain among everything had been filtering all the information and all things I was seeing and trying to transform it in some way, hanging onto little pieces that I could make work about."
Aki Hassan describes the pandemic meaning they found themselves suddenly back in Singapore, where they lived before attending Glasgow School of Art. Here, they realised "the act of making work is what is important in my practice and the activity in the workshop is just as important as the final product." Their small scale metal sculptures are about "writing through lines and creating forms to respond to certain activities and actions." And in RSA, this body of work arises from "being held or holding."
Dylan Esposito is drawn towards the ideas behind architecture and design and more recently his work has been about failed utopian visions. "I've always drawn parallels between that and my own experiences as someone who is autistic, and not fitting in exactly as you'd like to… One of the works I'm putting in is called Carpet Burn and it's a big slide, and it obviously doesn't work: there's a rug that's draped down it." Esposito says he's "more interested in presenting [parts of his lived experience of autism] in a more humorous and human way than as something pitiable."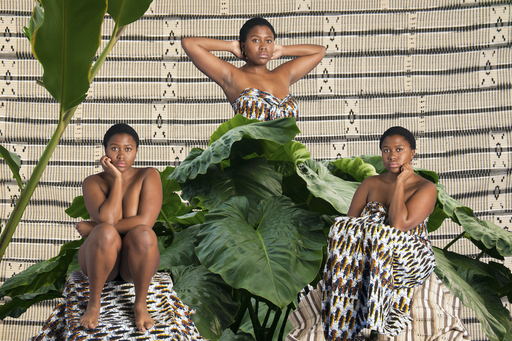 Tayo Adekunle's body of work Reclamation of the Exposition "explores the commodification, fetishisation and sexualisation of the black female body, specifically through the human displays in ethnographic expositions in the 18th and 19th centuries. The work (pictured above) is influenced by ethnographic photographs which were circulated as pornography." Adekunle's collages combine her own image literally or stylistically with the historical photography that she directly references.
One of the most traditionally technique-based contributions comes from Lauren Ferguson, who has generated a new body of carefully detailed drawings based around the Highland village Killin. Ferguson spends extended periods of time deeply researching the places her drawings depict, slowly whittling down to one single image. "In one of my pieces, I've hand-written all the times that I've spent on the drawings… it's about that time and process, about being immersed in a piece of work."
Marie Chantal-Hamrock's work combines film, sculpture and painting. Her film BUOY takes the form of a strange documentary, building a critical framework to reflect on the social oppression she observed while growing up in Ireland. Archival images of the choppy North Sea open the film, and as some way along the telling of stories about undersea moths and historical tales of women deep-sea diving in the North Sea, the film itself seems to change in mood from placid to something more difficult to map out with any certainty.
---
RSA: New Contemporaries, Royal Scottish Academy, The Mound, Edinburgh, 26 Feb - 3 Apr, £6(£4)