Black Panther
This is more like it, Marvel. H Rider Haggard meets Afrofuturism in this superior superhero adventure
Film title:
Black Panther
Starring:
Chadwick Boseman, Michael B. Jordan, Lupita Nyong'o, Danai Gurira, Martin Freeman, Daniel Kaluuya, Letitia Wright, Winston Duke, Angela Bassett, Forest Whitaker, Andy Serkis
Before Black Panther, director Ryan Coogler had just two – admittedly very impressive – films to his name. Fruitvale Station and the Rocky reboot Creed both proved strong enough to garner the attention of Marvel, and we are lucky they did.
Set just after the events of Captain America: Civil War, T'Challa (Chadwick Boseman), better known by his alter ego Black Panther, has returned home to the fictional African state of Wakanda to be crowned king.
As we swoop over Wakanda's luscious green pastures, we discover it to be a technologically advanced African El Dorado hidden from the world and inhabited by a healthy, wealthy and happy population. The entire country benefits from the rare (McGuffin) element vibranium, which is mined to create everything from Black Panther's armour to the local monorails that snake through the capital. The setting is like an updated H Rider Haggard novel by way of Lee Falk's The Phantom, injected with a healthy dose of Afrofuturism. The colonialism is swapped out for beautifully woven African mythology, where the spaceships look like tribal masks, and a monolithic stone panther keeps watch from the mountaintop.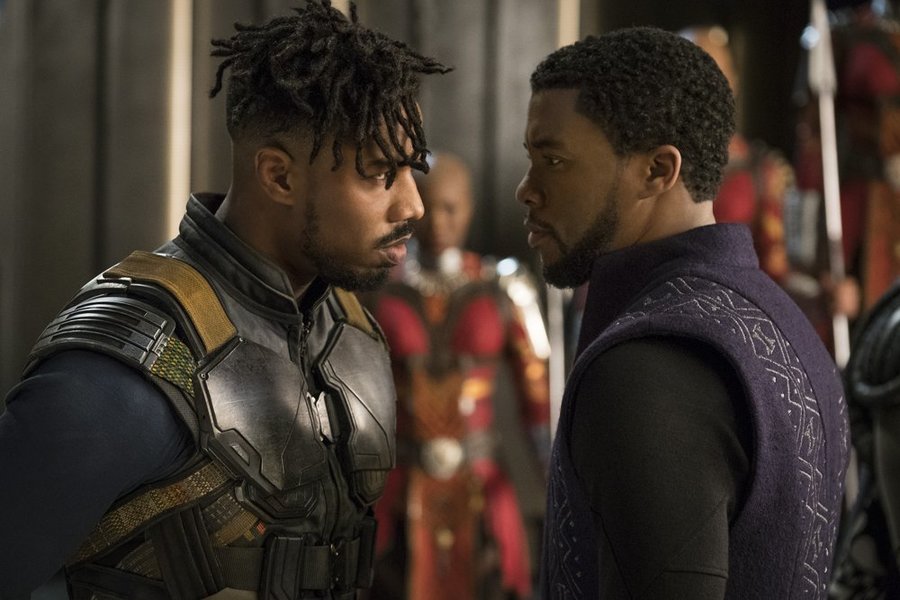 Michael B. Jordan and Chadwick Boseman in Black Panther
The story has elements of a spy-thriller, and sees T'Challa and two of his all-female bodyguards (Lupita Nyong'o and Danai Gurira) in a thrilling car chase through the streets of Busan on the tail of Vibranium thief Ulysses Klaue (Andy Serkis).
But the real flesh and blood of the tale is in the clash between T'Challa and the mysterious Erik Killmonger (Coogler's talisman, Michael B. Jordan), who are ideologically conflicted – comparisons to Martin Luther King and Malcolm X would not be unreasonable.
Black Panther sees female characters finally given space to shine in a Marvel movie, and shining brightest of all is Letitia Wright as T'Challa's sister and quartermaster Shuri. With a wicked sense of humour, Wright's Shuri offers some of the funniest lines in the film. But Angela Bassett as the majestic Ramonda is also worthy of mention.
Black Panther thoughtfully – and even at times comically – examines race from a myriad of perspectives, touching on the African diaspora, colonialism, gender, and more. As such, Coogler's film isn't just another Marvel instalment, but leaves you wanting more of the Black Panther – not as a side-element, but in his own sequel. Who knows, perhaps the folks at Marvel could even entertain the possibility of a movie where Wright's Shuri takes on the mantle instead?
---
Released 13 Feb by Disney