Scottish Music Highlights: 12-18 Sep
Gigs from Charly Bliss, Ryan Adams and Lowkey, and club nights from Jackhammer, Nightvision and Sub Club feature in this week's music round-up
Gigs in Edinburgh this week
Ryan Adams @ Usher Hall, 15 Sep
Fresh from a headline slot at this year's Green Man festival, Adams hits the Usher Hall to showcase his extensive back catalogue including new album Prisoner. Will he play anything from his full-length cover of Taylor Swift's 1989? Given that he played a surprise gig in a Belfast pub in aid of a cat shelter to kick off his European dates, we wouldn't put it past him.
The Van T's @ Teviot Underground, 15 Sep
Led by twin sisters Hannah and Chloe Van Thompson, and flanked by bassist Joanne Forbes, the three leading ladies of The Van T's are a jubilant mass of long hair, face glitter and brassy harmonies. Catch them at the delightful Underground venue at Edinburgh Uni, with support from Edinburgh indie-grunge quartet The Motion Poets.
Bonnie 2ropical EP Launch @ Playfair Library, Talbot Rice Gallery, 16 Sep
Paradise Palms Records are back with their second compilation release (Bonnie 2ropical) of local artists and to celebrate they're hosting a multimedia event in association with the Talbot Rice Gallery. There will be live performances from Hausfrau, Eyes of Others, Jacuzzi General, Total Leatherette and The Magic City. This will naturally be followed by an after-party at Paradise Palms featuring Donald Dust and Edinburgh Leisure DJs.
Gigs in Glasgow this week
Lowkey @ O2 ABC, 15 Sep
London-based rapper and political activist Lowkey has been writing and releasing music since 2001. In 2012 he officially put his music career on hiatus, but returned last year with Ahmed. Since then he's released three further singles – Children of Diaspora, Ghosts of Grenfell, and The Death of Neoliberalism. Fusing politically charged lyrics with hip-hop beats makes him one of the most relevant artists of the moment, so don't miss him. He also plays The Liquid Room, Edinburgh, 16 Sep.
Clap Your Hands Say Yeah @ CCA, 16 Sep
On the heels of The Tourist, their first new album for three years, Alec Ounsworth brings CYHSY to the CCA.
Charly Bliss @ Hug & Pint, 17 Sep
Brooklyn power pop four-piece Charly Bliss released their debut album, Guppy, in the States back in April and this month it's getting a physical release in the UK. To celebrate, they're coming over to our fair shores for a string of dates which will be their first ever in the UK. In the past Charly Bliss have opened for the likes of Sleater-Kinney and Veruca Salt; they have a really nostalgic 90s feel about them and we reckon they'll be bags of fun live.
---
Gig of the week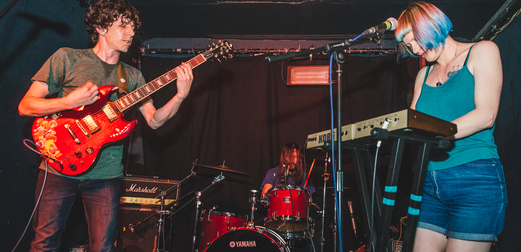 Freakender @ The Old Hairdresser's, Glasgow, 15-17 Sep
Glasgow's garage, psych and pop festival Freakender is back for round two courtesy of El Rancho, Eyes Wide Open and Fuzzkill Records – three of the city's most enthusiastic music lovers. This year's line-up includes The Black Tambourines, Holy Mountain, Yassassin, COWTOWN, Hairband, and LYLO amongst others. They'll also have merch and zine stalls and are planning a Bloody Mary Hangover Party. We're sold! Photo: Carolina Faruolo
---
Club nights this week
Nightvision presents: Patrick Topping City Takeover @ La Belle Angèle, Edinburgh, 14 Sep
Topping has no less than four shows planned for this day-long 'city takeover', with to-be-confirmed daytime sets followed by a grand finale at La Belle. We caught up with the Newcastle producer earlier this year – read our interview here.
Jackhammer presents Dave Clarke and Neil Landstrumm @ The Caves, Edinburgh, 15 Sep
The iconoclastic and pioneering Dave Clarke hits the capital for Jackhammer's latest night, with a live set from Edinburgh techno producer Neil Landstrumm also featuring.
Onloop: Moxie, Jon K & Telfort @ Sneaky Pete's, Edinburgh, 15 Sep
NTS Radio resident Moxie brings her On Loop series back to Sneaky's for a Friday night party, joined on the decks by genre-hopping Manchester selector Jon K and local ace Telfort.
Animal Farm: Function @ Sub Club, Glasgow, 15 Sep
Cited as 'one of techno's true underground heroes' Dave Sumner – aka Function – has over 20 years of experience under his belt. This Sub Club event, which also features Animal Farm's Quail and Turtle on the warm-up, is a rare opportunity to catch the Berghain resident, Ostgut Ton stable mate and owner of Infrastructure New York in very intimate surrounds.

The Psychedelic Forest Carnival @ Kelburn Castle, North Ayrshire, 16 Sep
The lush surrounds of Kelburn Castle are transformed tonight for the 2017 edition of The Psychedelic Forest Carnival, a one-night-only mini Kelburn Garden Party, this year featuring reggae, samba, Afrobeat, dancehall, garage, tropical beats and way more from a sprawling line-up of artists, DJs and selectors including Afriquoi, Electrikal Soundsystem, Samedia Shebeen and Orkestra Del Sol. Dig your carnival costume out and get involved. 
Boogaloo Freshers Party with Don't Drop @ Flat 0/1, Glasgow, 16 Sep
What would September be without a million-odd freshers parties to choose from? This Boogaloo knees-up is a free entry affair, featuring the Flat 0/1 regulars plus special guest DJs the DONT DROP residents Kris McEwan and Andrew Torrance. The event also happens to be Boogaloo's 6th birthday, so get down early and share the love. 
Subculture XXX: Derrick Carter @ Sub Club, Glasgow, 16 Sep
The Chicago house legend hits the Subbie as part of the club's continuing 30th birthday celebrations, joined by Subculture residents Harri & Domenic.