Green Man 2017: The Review
Fifteen years in and still going strong, Green Man Festival once again delivers a unique festival experience.
Happy fifteenth birthday, Green Man! While the Brecons Beacons-set event has one or two rivals for the title of Britain's coolest festival, surely none can match it for the splendour of its setting. As ever, the Glanusk Estate is a beautiful retreat and, despite the 'variable' weather – a torrential downpour on Sunday nixing any suspicion that we'd just about got away with it – the weekend is yet another triumph. Roll on 2018. 
The madcap parp of Nautilus is, as ever, the breathless overture to Anna Meredith's Far Out Stage set. Its opening section is one part tuba practice, one part emerging signature tune for the Scottish composer. It acts as clarion for thousands of festival-goers, eager to relax into the event after the incalculable stresses of travel and tent erection. Selecting from debut Varmints with care, Meredith and her exceptional band convert the initially curious with ease: beautifully riotous. 
Ride join fellow reformed shoegazers Lush and Slowdive in headlining the Far Out Stage, though they trump their peers by arriving with a fresh clutch of new songs. Weather Diaries doesn't quite carry the sonic ballast of their early work, delivering a set of trim, knotty tunes, but in a live setting it comes to life, and how. An opening one-two of Lannoy Point and Charm Assault signal the band's intent: most of their 75-minute set consists of new material. But as they settle, their focused performance (favouring detail and precision over the abandon of their youth) becomes compelling, and Mark Gardener is an unexpectedly charismatic band leader. They tease the old old stuff until the end: Vapour Trail and an explosive Drive Blind sends Green Man wild. 
"My friends, we may be Americans," announces Alynda Segarra, "but this is resistance music." Hurray For The Riff Raff's mid-afternoon Mountain Stage slot is an inspiring, electrifying piece of performance art and Segarra leads her band with fearless intent. Recent album The Navigator is a rallying call that feeds off listener/audience response, and a large crowd responds in kind. From the intimacies of Pa'lante ("I just wanna fall in love, and not fuck it up") to clued-up rabble-rousing (a closing blast of Springsteen's Dancing in the Dark absolutely hits the mark), Hurray For The Riff Raff perform a sweet, satisfying festival smash-and-grab. 
The Big Moon downplay their appeal ("Thank you to the rain for forcing you all in here to see us!"), but the Far Out tent is rammed long before the heavens open. This is guitar pop minus intensity and risk but no one could deny that it's smartly crafted, and The Big Moon (a properly capable live act) are likeable enough to pay tribute to Wales with a savvy cover of Bonnie Tyler's Total Eclipse of the Heart. Elsewhere, The Road and a closing Sucker confirm they have hooks aplenty.   
On the Mountain Stage, John Doran introduces British Sea Power as "the kings and queens of the north", and who could argue? Take them for granted at your peril: Let the Dancers Inherit the Party may have continued the crafting of their sound into something more approachable than their early work, but their ease with a crowd and continuing fondness for expanding their numbers with dancing bears, does little to diminish their raw power. They fit their landscape beautifully and The Great Skua (a wordless singalong that leaves Arcade Fire's Wake Up for dust) is a riveting finale. 
Angel Olsen pulls a huge and affectionate crowd on the Far Out Stage. That she holds on to them entirely for an hour is testament to both her advancement as a performer and the hypnotic slow burn of her My Woman album. This is a darkly magical set, one in which Olsen and her crack touring band venture out into the wilds of the material, performing with frightening commitment.
Bar an opening High and Wild (slowed to match the cadence of Olsen's current mode), it's the songs of My Woman that dominate. As both Sister and Woman unfurl and play out as the looseness of their structuring demands, the musicians delve ever deeper. They're at once engaged and removed, possessed and yet exhibiting a blankness that is almost Lynch-ian. They'd eat The Roadhouse alive. 

Green Man 2017. Photo: Max Miechowski
Pumarosa, headlining the Walled Garden, are exceptional: a beats-driven rewiring of indie-rock norms, they work the late night crowd hard. Honey is their expertly realised homage to Sonic Youth, but it's when they lock in around an extended groove that Pumarosa really connect. As Priestess finds a second gear and the crowd starts to move, Isabel Munoz-Newsome's presence is inarguable and her energy infectious. Future main stage headliners on this form. 
Who doesn't love The Orielles? The young Halifax trio get better and better. Today, Henry, Esme and Sid play a blinder. Much of their blistering set at the Walled Garden is familiar to anyone who's followed their progress this past couple of years. But there are cheers when Henry mentions their forthcoming album and the likes of Joey Says We Got It and the closing Sugar Tastes Like Salt are more than a match for these bigger stages. The latter, teased into a mighty crescendo as ever, is still their fiery high spot: a razor-sharp distillation of youthful bubblegum and pitch-perfect psyche-pop. 
Later, on the same stage, Brooklyn's Big Thief opt for an altogether more genteel mode in support of recent album Capacity: an approach that sees the curious gradually slip away. Singer Adrienne Lenker's set in the Rough Trade tent earlier in the day was quieter still, but its heightened intimacy delivered twice as much drama. Taking the approach to extremes, on the Mountain Stage, Jessica Pratt picks delicately through her ghostly On Your Own Love Again album as the sun appears. In marked contrast to the setting, her micro-examinations of shattered relationships make for an exquisitely sorrowful set. There is little to match the fragile beauty of her voice and her playing all weekend, and the Green Man crowd rewards her for both her courage and her artistry. 
Ryan Adams tweets afterwards that "Green man is absolutely fucking awesome!!!" Credit to him for that: he plays for the best part of two hours and his good spirits, energy and smartly curated set make for one of the weekend's high spots. But, too far away for him to clock, the Mountain Stage crowd is not entirely sold: around the edges, there are frowns and there is chin-stroking. Much of the recent Prisoner is aired and is electric but as the peripheral response is minimal, you dare him to toss the script. Maybe even – whisper it – pass over New York. No chance, and the lazy Goretex-ers rouse themselves for a moment. "Pearls before swine," mutters one diehard just as a jaw-dropping brace from Heartbreaker (Shakedown On 9th Street, Come Pick Me Up) confirms the ignorance of those who choose to stand and stare. Even after all this time, Adams plays like a man just getting started. 
After the regular Green Man mix of sunshine and (light) showers, Sunday gets it: heavy downpours from early afternoon turn the fields to bogs. Julia Jacklin exits before the clouds blacken but not before continuing the stealthy expansion of her UK fanbase with choice cuts from her Don't Let the Kids Win album. From an epic opening Hay Plain to a closing Pool Party, the Australian cooly manages her Mountain Stage debut like we're not even there. 
Conor Oberst rallies the wet and miserable with a set punctuated by anti-Trump tirades and a stirring mix of Bright Eyes and solo material. Perfect, of course, that he considers "the wind's indecision, the sorrowful rain" on a beautiful Train Under Water. More recent material, including an emphatic Salutations (the title track of his most recent album), buoys the sodden hardcore. "Enjoy the rest of the day," he offers in closing. "The Shins and PJ Harvey, huh? How fucking good is that?" A trooper, as always. 
Heartworms is comfortably The Shins' least essential album. An inarguably solo work, it finally confirmed what James Mercer and his followers had been swerving for year: The Shins are not actually The Shins. At first glance, it's over-cooked and tricksy, and isn't possessed of the soulful swagger of predecessor Port of Morrow. On this evidence, it earns another look, not least for the way in which Mercer's current touring band present anxiety anthem The Fear as an oblique chamber piece, built around three violins. But, hey, this is festival season and we crave the ersatz anthems that colour the repertoire: Caring is Creepy, New Slang, Simple Song, a heavenly Phantom Limb. A closing Sleeping Lessons gives way to The Shins' breakneck take on Tom Petty's American Girl and Green Man roars them from the stage. Maybe The Shin are The Shins after all?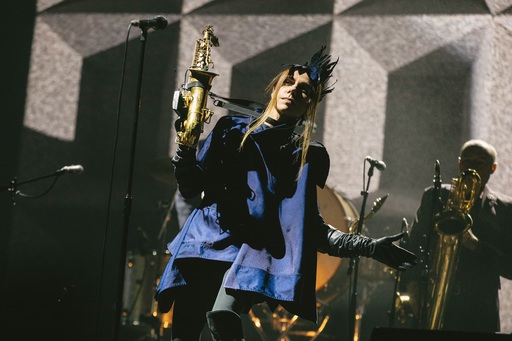 PJ Harvey at Green Man 2017. Photo: Pooneh Ghana/ Fanatic
It's easy to forget that, amongst the Boden-esque perfect families, the camping chairs and a demographic still bafflingly twat-free, that Green Man is anything but mainstream (that said, next year, a main stage headliner from the dance or electro fraternity would make a nice change). Hence, the booking of PJ Harvey, touring her The Hope Six Demolition Project album, as final night headliner on the Mountain Stage. Could a venture quite so austere really make for a rousing festival climax? Absolutely, and how. The weekend's largest crowd piles into the main arena, and witnesses a performance that tells you everything you need to know about an artist who cannot, will not, reduce her vision – and an audience who wouldn't ask her to. The video screens are switched to a sympathetic monochrome and the lighting rig all but left untouched bar a handful of strategic spots. The setting is all at once intimate and discomfiting.  
This is an audaciously programmed set: a short suite of songs from THSDP; a lengthy section featuring a half dozen songs from Let England Shake (a bruising The Words That Maketh Murder) and White Chalk; more from THSDP (The Wheel, The Ministry of Social Affairs.) With THSDP re-staged as unearthly performance art, it connects and convinces at a level that it never did in its recorded form. The musicians bringing it to life include Terry Edwards and John Parrish, and they support their band leader with rare skill and laudable attentiveness. 
Towards the end it gets really serious. 50ft Queen is outrageous, vaulting a quarter century with the brute force of a hurricane. "Nothing can touch me" indeed. Down By the Water and To Bring You My Love swap violence for blackened soul; to see PJ Harvey project the latter over and above the furthest reaches of the crowd is a rare and rarefied joy. A closing River Anacostia makes for a sobering, stirring ending. As the performers take a bow, the response is deafening. Calls for more ring out across the hills. There is no more, of course. As, with a show of this immense stature, there really shouldn't be. Still, we are awestruck and we raise our voices regardless.