Weirds – Weird Sun: Video Premiere
Watch the video for the new single by Leeds-based psych explorers Weirds, as they unveil debut EP Weird Sun 
Leeds psych-rock outfit Weirds today unveil their new single Weird Sun, a scorching six-and-a-half-minute sonic assault showcasing their immense, if somewhat chaotic imagination. 
Twisting through moments of krautrock, decimating metal and reverb-soaked grunge, the track is accompanied by a rather abrasive lyric video, so you can sing along at home whilst enjoying a trippy backdrop of hollow-eyed dolls and nuclear explosions.
Weirds also announced that their debut EP, also titled Weird Sun (weird is starting to sound weird now), will drop this summer on 26 August. Produced by Matt Peel, whose work with fellow Leeds rockers Eagulls and Pulled Apart by Horses has received much acclaim, the EP will be released with the support of PRS Foundation's Flash Funding scheme.
We caught up with frontman Aidan Razzall and guitarist Zachary Thomas to get some more info on the release.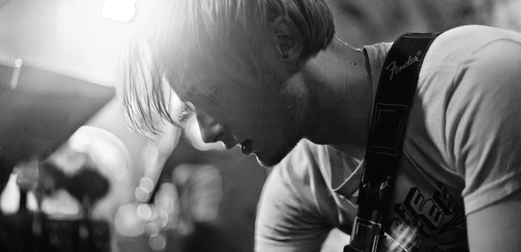 Weirds live in Manchester, photo: Wes Foster
The Skinny: Sonically and structurally, this single is much more expansive than anything you've released before, moving through what feels like an array of styles and influences. Is that something you were aiming for writing it?
Aidan Razzall: Cheers! We just wanted to write a long, strange tune. We didn't intentionally move through different styles in the song, it just kind of happened. We wrote the big crescendo section very quickly and it felt right, and that became fully realised in the studio when we could listen to it in perspective and experiment a little more.
As far as lyric videos go, this is about as trippy as it gets. Tell us a little about it: who made it, and what about the song did they want it to capture?
AR: We make all of our own videos. The visual element to our band is hugely important to us, and we always strive to make our sonic and visual worlds cohesive with one another. We would find it difficult to hand over the responsibility of creating our aesthetic to someone else, as we have a strict vision of what it should be and how it should be done.
With Weird Sun, I wanted to capture the intensity of the choruses in contrast to the mellow, trippy verses. I wanted to make a hallucinogenic story, with colours and textures which occupied the same world as our music. I also wanted the lyrics to be big on screen – something about big words and fonts is great.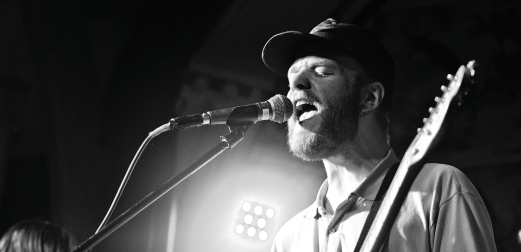 Weirds live in Manchester, photo: Wes Foster
In the lyrics and video there's some pretty chaotic, apocalyptic imagery going on. Was there anything directly influencing these themes?
AR: Lyrically, I wanted the song to be a sequence of impossible statements – tautologies almost – hence, 'I'm watching a weird sun set before it's risen'. The choruses are some of the most brutal lyrics we have; I wanted them to be militaristic and imperative.
'Super-foul dynasty / Through the ancient rock I see / A super-massive killing spree' is a comment on hollow promises, big statements and bad politics. None of my lyrics are really a spew of consciousness, I revise them a lot, and I guess they almost have to pass through a filter which trips them out a bit, that works with the song.
With the video, it just so happened that the EP artwork became part of it, and the circle became this weird, pulsating sun of energy that warps everything in its path. I was also reading a lot about nuclear explosions testing in the Nevada desert in the 50s and 60s, and wanted to incorporate the visual motifs from that. People hundreds of miles away in Las Vegas would feel the seismic vibrations, and sit on their rooftops and watch the afterglow of these death-clouds from the desert. 
Something about this resonated within the music, I don't really know how or why. It just seemed to work with the motorik style crescendo section. All a far cry from Leeds I guess.
This is the lead single off your debut EP, but at over six minutes long with an epic instrumental break-down, it doesn't fit the mould of your bog-standard radio-friendly release. How did you come to the decision to lead with something so bold?
Zachary Thomas: We just recorded it how we wrote it. I think a radio edit would probably have been the 'sensible' option and usually it's something we're not too precious about, so long as we like it, but in this case it just didn't feel right. Sure, it's a risk and we might struggle with airplay because of it, but that's not what it's about.
(Continues below)
---
---
You've recorded it with Matt Peel, who you've worked with before. Did your existing relationship affect the decision to work with him help this time around?
AR: Every time we record with Matt, our songs sound better because of his input. He is a very thorough producer and won't settle for anything under par. We love his studio in Leeds too – it's a beautifully restored church with tape machines, synths, and endless guitars. Matt's also produced some great records, and we chose to work with him on the back of his hard work on those.
The PRS Foundation backed this EP with their Flash Funding scheme, which subsidises things like vinyl pressing and tour support for artists. Could you tell us how that came about?
AR: We just applied through the PRSF website, thinking that we definitely wouldn't get the support, but were really excited when we were told that they were into us. I think funding for bands is something newer artists might not be aware of, and there are loads of opportunities to get your music out that are attainable and realistic on that front.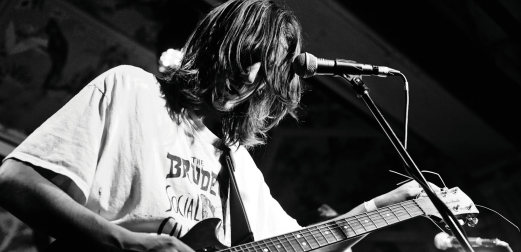 Weirds live in Manchester, photo: Wes Foster
How has the Flash Funding scheme helped you with this release?
ZT: Along with [creative packaging designers] Modo they've given us the opportunity to press 500 12''s totally independently without any pressure from a label who, going back to the point that the title track is over six minutes long, may have had opposing opinions. It's nice to deal with people who really care about the future of 'alternative' music – so much so that they'll get together and make such a scheme exist. Everyone at Modo and PRSF, Ruth [Kilpatrick] and Joe [Frankland] in particular, have been fucking wicked and we're really grateful for everything they've done.
You'll be releasing the EP at the end of August. Are there any plans for a tour being lined up?
ZT: We'll be announcing a few shows for this release in the coming weeks but we won't be doing a massive tour. We'll be back out on the road properly in the autumn. We're doing a couple of small festivals. We went in and recorded a bunch of tracks with Matt in March/April so laid off writing for a while whilst we were on tour and stuff but the itch is definitely back.
---
Weirds' Weird Sun EP is released on 26 Aug, featuring remixes by K-LONE, Kelkut and GAME_PROGRAM
The 12" vinyl edition can be pre-ordered here