Manipulate Visual Theatre Festival turns 10
With the panto season well and truly over, we turn our attention to Scotland's visual theatre and film festival
Later this month, the Scottish theatre calendar is set to wake up and kick off once more, after a brief period of traditionally-imposed panto hibernation, with the launch of the Manipulate Visual Theatre Festival, which marks its tenth anniversary this year. Produced by the team at Puppet Animation Scotland, the festival is set to once again celebrate visual theatre in all its forms, including not only animation and puppetry, but also dance and movement, to name just a few.
In keeping with previous years, this anniversary edition will include a mixture of brand new work and older favourites, and takes place in venues around the UK, from Aberdeen to Bristol. 2017 will also see the festival playing host to two world premieres, two European premieres, four UK premieres and one Scottish premiere. For a fully international flavour, this year Manipulate will also showcase work from Canada, Belgium, Spain, France and the UK – naturally including Scotland itself.
The programme will also feature familiar names performing their latest works, alongside newer, perhaps lesser-known companies, who are making their Manipulate debut – expect themes as diverse as trauma after conflict, dark fantasies, the relationship between humans and the world around them, and opposing points of view.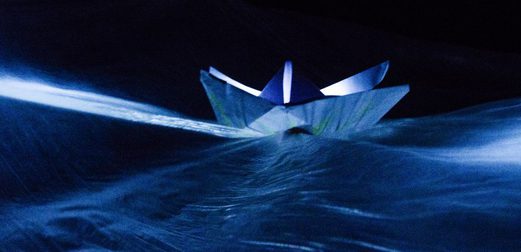 Fisk, the new work from Tortoise in a Nutshell
It all begins on 27 January at The Lemon Tree in Aberdeen with the UK premiere of Cities, by Manipulate first-timers Théâtre de la Pire Espèce; a new piece devised by Olivier Ducas and Julie Vallée-Léger which explores imaginary cities and the value that we place on objects. Another UK premiere taking place at the same venue is Poli Degaine, a Punch-style puppet show that has been performed in over 30 countries around the world and invites the audience to escape the mundane with creators La Pendue.
There's also an opportunity to see a performance of Fisk, the new work by Edinburgh-based Fringe First winners Tortoise in a Nutshell, which explores the relationship between one man and a fish, and the impact that they have upon one another.
Elsewhere, Glasgow-based Company of Wolves continue their experiments with theatre, music and dance with The End of Things, a world premiere that explores humanity's reluctance to embrace change, and marks their very first appearance at the festival. Meanwhile, Scottish theatre artist Sita Pieraccini is set to perform the world premiere of her latest work Make a HOO, which makes its second appearance at the festival and weaves together physicality, story, sound and technology.
The Snapshots: Artists@Work strand of the festival will give audiences exclusive access to see work-in-progress pieces. Consisting of performances from a range of artists and featuring a number of disciplines, this section of the festival opens up the dialogue between audience and artist and invites them to give feedback at a vital time in each piece's development – this year's snapshots include work from Faux Theatre, The Scottish Physical Theatre Diploma Course, Doctor Bunhead and Ainslie Henderson, among others.
Additionally, Manipulate will host a free scratch event featuring participants from its unique artist development programme Testroom – with appearances from Fergus Dunnet and Naomi O Kelly – while Scottish artist Robbie Thomson brings his his robotic installation The Influencing Machine to the festival, having recently returned from a three-month residency in Montreal.
Expect the fantastical, the unexpected, the unusual and the delightfully absurd, because Manipulate's tenth anniversary programme shows that this festival continues to find and showcase the most outstanding and inspiring visual theatre out there. Here's to another 10 years – or more...
---
Manipulate Visual Theatre Festival, 27 Jan-5 Feb 2017. Further details (including full listings) can be found at manipulatefestival.org