Scottish Gigs of the Week: 20-26 Jun
From frenetic banjo-plucking to your last chance to catch a group of indie mainstays – via a Talking Heads-inspired line-up of some of the country's best bands – there's something for everyone in this week's gig guide
Live music in Edinburgh
Paramore @ Usher Hall, 22 Jun
Hayley Williams and co have taken a decisive step into synth-pop territory on new album After Laughter, with some impressive results. Find out how the shift translates to the live setting as they bring their UK tour to a close in Edinburgh.
Fat Goth w/ Fatalists + Hagana @ Sneaky Pete's, 23 Jun
Dundee noise-makers Fat Goth returned with fourth album Enorme! last month – catch the trio in the flesh in the close confines of Sneaky Pete's.
---
Gig of the Week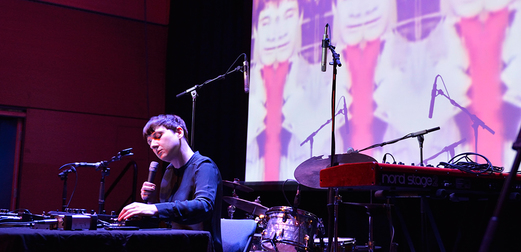 Sound + Vision: Stop Making Sense @ Summerhall, 23 Jun
Part of this year's Edinburgh International Film Festival, Sound + Vision brings together three of the acts from this year's SAY Award shortlist – composer Ela Orleans, highlife-inflected indie duo Sacred Paws and flamenco troubadour RM Hubbert – alongside up-and-coming Edinburgh quartet Indigo Velvet. Their live sets in Summerhall's courtyard will be followed by an outdoor screening of seminal Talking Heads concert film Stop Making Sense. 
---
Live music in Glasgow
Strobes @ St Lukes, 21 Jun 
Glasgow Jazz Festival kicks off with Strobes, whose members have collaborated with the likes of Three Trapped Tigers and Squarepusher. Expect "electrified polyrhythms, spaced-out synth jams and off-kilter beats" from the London trio – for a glimpse of what's in store, watch the video for Winder, taken from debut album Brokespeak. 
The Maccabees @ O2 Academy, 23 Jun
After releasing four albums over the course of 14 years together, last year The Maccabees decided to call it a day on their own terms. Along with the announcement came a note that there would be some farewell shows and this is one of them – head along to the O2 Academy tonight and sing Toothpaste Kisses one last time at the top of your lungs. You'll regret it otherwise.
Show Me The Body @ Broadcast, 23 Jun
The New York trio bring their blend of hardcore, hip-hop and nihilistic post-punk to Glasgow. Get ready for a high-energy show packed with driving bass, abrasive drums, and some of the gnarliest banjo playing you're ever likely to see. 
Zu @ Stereo, 24 Jun
Rome trio Zu's sound blends elements of math rock, heavy metal and noise rock, with past collaborators including Faith No More's Mike Patton and Buzz Osbourne of Melvins. Support comes from Thee Silver Mt. Zion Memorial Orchestra violinist Jessica Moss. 
Start to End: Jeff Buckley's Grace @ Stereo, 26 Jun
They've tackled Daft Punk, My Bloody Valentine and Radiohead, and now the Start to End crew are set to work their magic on Jeff Buckley's iconic album Grace. This show at the Stereo is one of a trio of Grace shows from the collective – catch them at the Lemon Tree in Aberdeen on 25 Jun, and Sneaky Pete's in Edinburgh on 27 Jun.