The War On Drugs: "It's fun to be the underdog in a mainstream world"
Ahead of their return to the UK this month, The War On Drugs' mainstay Adam Granduciel breaks something of a silence to share his reaction to the phenomenal success of Lost In The Dream and what the next chapter might hold for the band
The perpetual struggle of a band on the periphery of mainstream success has been abundantly documented across popular music's lifespan; what's much more rare, however, is the true success story. Ask anyone what leads to crossover acceptance and you're more likely to hear murmurings of financial backing or privileged position than the quality of the music or simple hard work. And yet, there sit The War On Drugs. With the release of 2014's Lost In The Dream LP – their third since 2008's debut album – the Philadelphia outfit, led by front man Adam Granduciel, rose suddenly from the shady fringes of the indie music world to the blinding limelight, thanks to the rarest of attributions; steady, honest, rock and roll songs.
And there they stayed for most of 2014 before something of a recoiling – if not from the stage then at least from the wide arms of the press. Instigated, perhaps, by an all-too public spat with Sun Kil Moon's Mark Kozelek, Granduciel's voice has seldom been heard from since, even as the 'album of the year' accolades came pouring his way. And it's no real surprise. He mostly kept a dignified silence throughout Kozelek's very public string of bizarre antagonisms and it was clear how keen he was to put the whole escapade behind him, especially now as the band begin to turn their attention to the next chapter in an already triumphant story.
---
"We're not going to be a band that sells a million records. Or maybe we will, I don't know, that would be pretty sweet…" – Adam Granduciel
---
At odds with the period that informed the record, which included a year of well-documented depression for Granduciel, Lost In The Dream was the most unhurried snowball; a sprawling, monumental record which steadily grew into something far greater than even the band themselves could have imagined. "I remember the start of this journey like it was yesterday," says Granduciel, when The Skinny catches up with him, mere hours before their return to Europe. "When the record first came out, shows were selling really well and we were really surprised. But you never think 'Oh wow, this record is doing great!' It's much more specific than that, like 'Oh, it's cool that so many people came out on a Sunday!' Then you open your eyes a year later and you're playing a sold-out show at Brixton Academy."
The band's rise didn't quite happen in the blink of an eye though. The War On Drugs played over 175 shows in 2014, capitalising somewhat on the burgeoning success, but also simply thriving in the cloud that was billowing around them. "I don't really know why it happened to us," he says of their climb. "Nor do I really want, or need, to know. It's just cool; it is what it is. It just felt like a record that kept growing as we kept playing shows and visiting everyone's city."
Granduciel has a charming air of composure. The War On Drugs is his project, built up over a decade, but their current standing certainly doesn't seem to faze him in the slightest. "Life is funny in many ways," he says when pushed for his own reflections. "It's been a great eighteen months both for the band and for all of us individually. Success wasn't something I'd really thought about or even really wanted," he adds. "Even the idea that a record I made would do what this one has just wasn't something I ever thought about."  
Whether it was a phenomenon he'd considered or not, the success came. With another summer of festivals ahead – including T in the Park and a whole lot more across Europe – are they at home on the big stage? "We definitely feel confident up there and that it's a place where we belong," says Granduciel. "I think some of our songs are perfect for big festivals and it feels so great to get up in front of a big crowd and just play a bunch of rockers." That being said, the band's elevated status can occasionally cast them as something of an anomaly in the field. At next week's T in the Park, for instance, they're sandwiched between David Guetta and Afrojack; not the kind of acts you would necessarily associate with the band's nuanced sun-kissed jams. "It's fun to be the underdog in a mainstream world!" Granduciel enthuses. "Sometimes it's where I feel most comfortable actually; to just get out there without too much hype and do your thing. It's just like being back in the club, like the old days!"
With talk of the days gone-by, The Skinny asks Granduciel if he ever reflects on just how far the band have come. Debut record Wagonwheel Blues sold a little over 3000 copies, before Slave Ambient opened them up to something of a larger crowd. The goodwill generated by Lost In The Dream, however, has resulted in nearly two full years spent on the road. Has he even had time to miss the life he's left behind? "Well I've been used to the touring life for a long time, but now it is getting to a point where it's truly exhausting," he admits. "But you know, that's the gig. That's the real life. I love touring more than anything. It's just what I do." That being said, Granduciel concedes that he misses aspects of home life: "I haven't been to a show for a while. I miss that. I miss that small town feeling, especially spending time with your friends and going to shows every night, or just hanging out at a bar. It's one of those things where we've been traveling for two years now and I feel completely out of the loop. I don't know what's going on in most people's lives and, while it is what it is, I'm just getting to that part of it where I notice it a lot more and it's having a greater effect on me."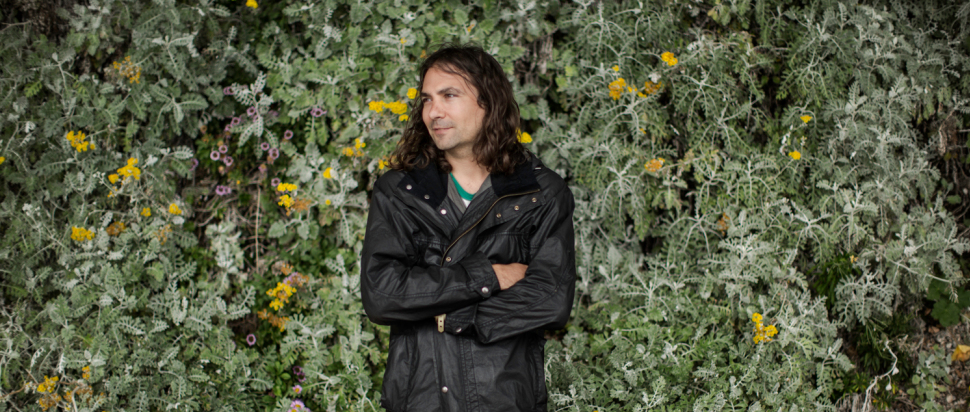 As the band begin to look at the next chapter, there have recently been murmurings of where they might go next; occasional mentions of studio time and sketches of new songs. While it would seem easy for the group to go down the classic 'life on tour' route, given that they've done little else in the time since ...Dream's release, Granduciel insists there'll be nothing of the sort. "I don't think anybody wants to hear what it's like to be on tour," he says flatly. "I don't really want to say too much more at this point but, you know, I just write about life, and it's all one life; different takes on the same thing." His reticence to fully discuss new material is understandable, though he does allude to a certain ambition for the next record. "There's still a lot of things I love about recording that I haven't taken, sonically, as far as I've either wanted to or been able to," he says with excitement. "That's where this band will really work well, I think…"
On that note, Granduciel remains circumspect, unsure of how much to divulge at such an early stage. "I had some demos that I'd written here in New York; we've played them through and the band all seem to love them. I'm just not going to get too excited," he adds. "I think you have to let it take its own shape. Wait for the songs to start talking together over time. In the moment I get very excited, and I really do love some of them, but I have to push them aside for a while as I can't offer them the necessary attention just now… like so many other things in life."
For the first time in our conversation Granduciel sounds somewhat wary, and it's true to say that the weight of expectation now, naturally, lies upon his shoulders. Not only does he have to follow up the widescreen beauty of last year's irresistably euphoric masterpiece, but there was also the recent announcement that the band has signed a two-album deal with major label heavyweights Atlantic Records.
"That was a really hard decision. It still is a hard decision," he says of the new deal. "The most important thing to me is that I continue to have the creative freedom to do whatever I want to do with the music I make, and if a label is down with that then I'll listen to what they have to say." There's an air of defiance in his voice when he says this, as if he has to justify why signing with one of the biggest names in the game is a good thing. There's always been some underhand snobbery about such issues but, in truth, it should be seen as the absolute cherry on the cake, the defining moment for the band thus far. "I'm really excited to work with them," he notes. "I mean, all labels are trying to sell as many records as possible and find new ways to sell a record – and that's all we want too. I don't think much will change; we're not going to be a band that sells a million records. Or maybe we will, I don't know, that would be pretty sweet…"
If anything sums up the band's journey over the past two years it's that moment right there; the sudden lightswitch of realisation that maybe they could now shift a million copies, happening in mid-sentence, in real time. "There might be a bit more exposure for us now, I guess." he ponders. "I think we just want to know that the next record will have a good home and that we'll be able to keep doing what we want to do, which is to make a living for these six people. That's always been the most important thing."
If The War On Drugs were indeed lost in the dream for much of the past 18 months, then now they seem anything but. As the dust begins to settle on their success thus far, Granduciel seems fully alive to the possibilities of where this road might take his band of men next; flourishing in the face of it all, thriving in a business in which so many seem to fall by the wayside. A million records? Don't bet against it.
The War On Drugs play O2 Academy, Sheffield on 9 Jul; T in the Park's Radio 1 Stage, Strathallan Castle, Perthshire on 10 Jul and End of the Road, Wiltshire on 6 Sep
http://thewarondrugs.net